Bond Granted for Latausha Nedd as New Details Undermine State's Case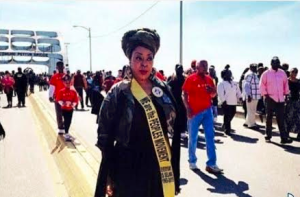 (APN) JONESBORO, Georgia –– A Clayton County magistrate judge has granted bond to Latausha Nedd, the first victory in a case that raises serious concerns about free speech rights and the power of law enforcement and vigilantes to destabilize social movements by targeting activists.
Atlanta Progressive News previously reported that Nedd, a Clayton County resident with a long track record of social justice work in Atlanta, was charged with criminal solicitation and making terroristic threats based on commentary in videos posted online.
http://atlantaprogressivenews.com/2015/10/22/clayton-activist-charged-with-illegal-speech-making-terroristic-threats/
Details revealed during a bond hearing on October 23, 2015 shed new light on videos the State of Georgia is using to prosecute Nedd.
In an earlier hearing, prosecutor Sheryl Freeman and her key witness, Clayton County Detective Brian McKay, argued that Nedd aimed to galvanize viewers to violent action against White people, specifically White law enforcement officers.
During the bond hearing, Freeman screened two videos that had been emailed to McKay by an anonymous sender.
The first video was twelve minutes long and consisted of edited clips from numerous sources. Several clips came from private video chats with eight or fewer participants, including Nedd.
"Did she intend for [the video chat footage] to go viral?  Did she intend for it to be viewed by law enforcement?" Gerald Griggs, the defense attorney asked McKay.
McKay responded that he didn't know, dealing a blow to the prosecution's argument that Nedd's commentary was intended to effect widespread influence.
It was clear that someone had hacked the chats, presumably Kevin Cook, a member of the right-wing vigilante group No Thiefs Allowed, who appeared in a clip himself.
In that clip, Cook films himself calling Nedd and badgering her.  Her voice sounded distressed as she demanded to know who he was and how he got her phone number.
"Cook hacked that screen and sent it out to the world.  Would that not be a crime?" Griggs asked, referring again to the private video chat.
McKay said he didn't know.
"Are you familiar with Georgia laws concerning invasion of privacy?" Griggs asked.
McKay responded that he was, and that the hacker had potentially committed a crime.  He added that the Federal Bureau of Investigations is looking into the identity of the sender who emailed the videos to him.
Nedd's father, Chauncey Nedd, described how his daughter had been provoked by hackers to make incendiary statements, during his testimony as a character witness.
Mr. Nedd had viewed one of the recorded video chat sessions in its entirety.
"The video started positive. She was advocating for Black-owned businesses and things like that," Mr. Nedd said.
Things turned ugly when a voice interjected in the video conversation.
It was clearly not one of the intended participants because Nedd asked who the voice belonged to and appeared "visibly disturbed," according to her father's testimony.
The hacker provoked Nedd, using the N-word and other hateful language.  Nedd responded in anger, and some of her comments were included in the reel that was emailed to law enforcement.
Other character witnesses attested to Nedd's outstanding community service.
"I always found her to be a vivacious, creative, passionate, compassionate organizer," Dianne Mathiowetz, Vice President of the Board of WRFG radio, said.
Mathiowetz had worked with Nedd extensively on planning an annual event called Poor People's Day.
Sandra Robertson, former Executive Director of the Georgia Citizens Coalition on Hunger, where Nedd was an employee, described her as a "justice-loving person," and spoke about her talents as a musical and theatrical performer.
Judge Wanda Dallas granted Nedd bond set at seventy thousand dollars.  As a condition, Nedd cannot leave the State nor post anything online, and she has to abide by a curfew until her trial.
A trial date has not been set.
(END/2015)