Dr. Rita Jackson Samuels, 1945-2018, !Presente!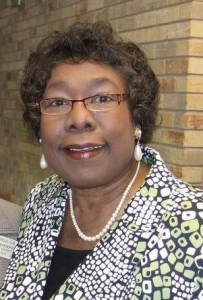 (APN) ATLANTA — Dr. Rita Jackson Samuels, a truly remarkable trailblazer and passionate advocate for civil rights and women's rights, passed away on March 27, 2018 from congestive heart failure at the age of 72.
She marched with Dr. Martin Luther King, Jr. many times, including the historic 1965 march from Selma to Montgomery.
Samuels, inspired by the Civil Rights Movement, became one of Georgia's most prolific women's rights advocates.
"Rita was always talking about women's rights, women's equality, the importance of their work and legacy.  She was a great strategist on how to maneuver through the government," Helen Butler, Executive Director of the Coalition for the People's Agenda and a close friend of Samuels, told Atlanta Progressive News.
"She would take on any task and was not afraid to challenge anybody.  I think that came from the Civil Rights Movement where she started with Dr. King at age nineteen.  It was a movement of fearlessness where people took on the establishment and that is what she has always done," Butler recalls.
In the 1960's, the women of the movement were not as recognized as the men.  
"I think that is why she formed the Georgia Coalition of Black Women to uplift women," Butler said of the GCBW.
The GCBW registered Black women to vote and became a powerful women's advocacy training and development organization.
Samuels was instrumental in helping the careers of Black women leaders including mayors, commissioners, and judges.  In 1999, she founded the Women in Government Internship Program to assist young women in government careers.
"She always spoke up for the rights of Black women … because she knew the struggles she had gone through to make the accomplishment she made," State Rep. Mable Thomas (D-Atlanta) told APN.
Thomas remembers her experience running for Congress, against U.S. Rep. John Lewis (D-GA);  and how Samuels supported her.
"When I decided to run for Congress in the Fifth District, some White women did not want me to run for that seat.  People who were friends of mine abandoned me, but Rita was very supportive of me," Thomas said.
"Rita did not like for people to discourage Black women from their dreams.  She was willing to fight for me and my right to be a Congresswoman. She would confront people in the system and let them know that they could not decide what Black women could do," Thomas said.
Samuels opened up economic opportunities in establishing Women Flying High, a successful small business that helped Black women get contracts with the city and state.  
She created Georgia's First Ladies Archive project to store their biographies.  She also served on the Board of the National Women's History Museum.
The Atlanta Business League selected Dr. Samuels as one of the 100 Most Influential Black Women in Atlanta in 1977.   
Since 1993, she has consistently been selected as one of the 50 Most Influential Women in Georgia.
"Rita was a good friend for over 35 years… and will be missed by many people," Joe Beasley, Chairman and Founder of the Joe Beasley Foundation, told APN.
"Rita worked very closely with Martin Luther King, Hosea Williams, Jesse Jackson, Ralph Abernathy, and Andrew Young.  She was deeply embedded in the Civil Rights Movement and was one of the real icons of the movement," Beasley remembers.
She also played a leading role in Rev. Jesse Jackson's runs for the Democratic nomination for President of the U.S. in the 1980's.
She was the first African American to serve on Jimmy Carter's staff when he was Governor of Georgia.   
And when Gov. Carter was elected President, "she was the first African American to go to D.C. to work in his Administration," Beasley said.
She served on the National Board of the Southern Christian Leadership Conference and worked with all SCLC presidents.  
She was also the first African American appointed by Gov. Joe Frank Harris to serve on the Georgia State Election Board.
"When Andy Young was Mayor of Atlanta, she would park her car in his parking spot," Beasley recalled, laughing telling this story.
"She was close with Dr. Joseph Lowery, and when he retired from the SCLC, he put together the People's Agenda and Rita was one of the leaders of that organization," Beasley said.
This is only a small sample of her extensive work; her complete complete achievements are listed on the International Civil Rights Walk of Fame.
Samuels was born on April 25, 1945 and grew up poor in Forsyth, Georgia, but went on to work alongside some of the most powerful and prominent people of her generation.
She attended Clafin University, Morris Brown College and Georgia State University.
Dr. Samuels was honored on Friday, March 30, 2018 for her outstanding and empowering work with women and girls in Georgia during the 20th Annual Women's History Month at the Carter Center.
Samuels is survived by her husband, Stanley Samuels; her sister Estella Jackson; and her half brother Joseph Crowder, Sr. and half sister June Danson.
Funeral arrangements are conducted by Gregory B. Levett & Sons Funeral Home, 4347 Flat Shoals Parkway, Decatur, Georgia.
The funeral is noon on Saturday, April 7 at Ebenezer Baptist Church where she was a long time member.   
(END / Copyright Atlanta Progressive News / 2018)