Courtney English Backtracks on False Statement, Amends State Filing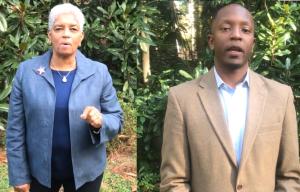 Screenshots from Youtube pursuant to fair use for educational purposes.
(APN) ATLANTA — Atlanta Public Schools Board of Education Member Courtney English (At-large Seat 7), candidate for the Post 1-at-large seat held by Councilman Michael Julian Bond, has been recently caught to have made made two false statements.
A recent article by Atlanta Progressive News, dated October 06, 2017, revealed that a senior homestead property exemption had been claimed for at least two years on a Merrill Street property that he also claimed to own.  
English is by no means a senior citizen and clearly was not entitled to the exemption, which brought down the property's APS tax assessment to as low as seventeen cents in one of the years.
APN noted two possible scenarios based on the facts as of October 06: one, he falsely claimed the exemption and evaded property taxes earmarked for school children; or two, he falsely claimed he owned the property.
http://atlantaprogressivenews.com/2017/10/16/candidate-courtney-english-appears-to-have-evaded-aps-property-taxes/
Well, Mr. English appears to have chosen the second scenario.
In an interview with the Atlanta Journal-Constitution he now admits that he "misspoke" when he told voters at a Georgia Stand-Up forum "I bought my childhood home when my parents passed away."
http://www.ajc.com/news/local-education/atlanta-school-board-chairman-responds-property-tax-questions-revises-disclosure-form/l5URFb9srBBfXZZCDDmGXN/
"I didn't buy the house," he told the AJC.
Additionally, English has now updated his state ethics filing to indicate that he does not own property in Fulton County, according to the AJC.
Therefore, while he does not use these words, he admitted to making deceptive statements.
And yet Courtney English continues to lie, insisting that Councilman Bond–who sent out a mailer regarding English's property tax situation–had lied.
Even former Mayor Shirley Franklin has allowed herself to get caught up in the mix.
Franklin–who was instrumental in getting Councilman Andre Dickens (Post 3-at-large) on the City Council in 2013–believes she can put another ally in office when it comes to Mr. English.
Franklin and English share the same philosophy as strong advocates of charter schools and privatization of education.
"When you get Michael Bond's attack piece on Courtney English, don't believe it!" Shirley Franklin said emphatically in an October 21 video posted to Facebook.
https://www.facebook.com/courtneyenglish4atl/videos/10155907415229571/
"Michael Bond is lying," Franklin said.
"Well… Mr. English's past situation is well-documented.  He's acknowledged it.  He's even acknowledged that he wasn't one hundred percent truthful.  I find the allegation disappointing, and equally as shocking, coming from someone of Mayor Franklin's supposed stature," Bond told Atlanta Progressive News.
"I want to further say, I've known Shirley Franklin since I was eight years old.  I've never had a disagreement with her privately or even publicly and I'm just saddened and dismayed by her behavior in this campaign and equally puzzled by it," Bond said.
"It's one thing to support a candidate, it's another to just launch an assault… to just go beyond the pale," Bond said.
The video also features Joyce English, stating, "I own the property at… Merrill Avenue – Joyce English name is on everything.  Everything is paid up, honey.  Stop lying, that's all I ask."
Bond responded: "I have not made any statement about Ms. English, or about whether or not the taxes were current or paid.  We've simply responded to what was on the public record, and is easily found by anyone who desires to inquire."
This issue began with English's deception.
Mr. English is the one who claimed to own the property in the Georgia Stand Up debate and in his state disclosure, even though he did not own the property.
Instead of admitting to making the deceptive statements in the video, English puts the blame on Councilman Bond for raising the issue.  APN also raised the issue, but English has never responded directly to APN, despite APN sending English an inquiry the day before the first article was published.
"They have no message but division, obfuscation, and hate," Bond said.
As previously reported by APN, Mr. English has had long-standing issues involving honesty.  He previously misused an APS credit card; was warned; and then did it again.  
When he misused the APS credit card on the second occasion, he had the Alisias PR firm send out a message from him apologizing and saying he did not know better, even though he had, in fact, been previously warned by APS.
English's misuse of the credit card, and honesty issues around it, were two of many Board governance issues covered in the AdvancED/SACS report, which led to APS's accreditation being placed on probation.
FULL DISCLOSURE: As APN has consistently disclosed, APN's News Editor, the present writer, has served as a supplier for the Office of Councilman Bond since 2014.  APN's Editor has received small consulting payments for such services as legislative drafting.  This year, APN's Editor drafted Councilman Bond's Surplus Property Affordable Housing Ordinance, which is set to pass Full Council at the November 06 meeting.
(END / Copyright Atlanta Progressive News / 2017)