GSU Press Release Misleads on So-Called Community Plan for Turner Field (UPDATE 1)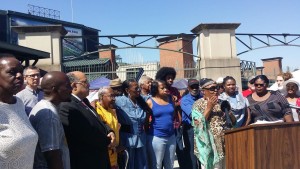 With additional reporting by Gloria Tatum
(APN) ATLANTA — On Wednesday, April 26, 2017, activists with the Turner Field Community Benefits Coalition decried a press release from Georgia State University (GSU) announcing a so-called Community Benefits Plan – an announcement that they described as "premature and in bad faith."
On Monday, April 24, GSU published a press release on their website to announce that certain neighborhood associations representing communities surrounding the Turner Field site had reached an agreement on a long-term plan for the University's engagement with area residents.
http://news.gsu.edu/2017/04/24/turner-field-neighborhoods-partnership/
This press release led the Atlanta Journal-Constitution newspaper to publish an article declaring that a Community Benefits Agreement (CBA) had been reached, even though GSU doesn't refer to it as a CBA; and even though the Coalition never agreed to the plan, and even though the neighborhood associations had also not given their final approval, Atlanta Progressive News has learned.
As previously reported by APN, GSU and developers decided to negotiate with a group of cherry-picked neighborhood association leaders who generally did not want affordable housing, and who left the Coalition months ago after Suzanne Mitchell–the sister of Council President Ceasar Mitchell–did not get elected to Coalition leadership.
For months, GSU and the developers have refused to meet with the Coalition, and in a recent article in GSU's student newspaper, the Signal, GSU President Mark Becker personally attacked Coalition members and impugned their motives.
"Don't believe for a second the TFCBC speaks for those neighborhoods.  It is a self-interested group of people that have their own personal agendas, that have historically been able to line, in some cases, their own pockets through money that looks like it's going to an organization you can never track.  There's a long history of that," Becker said the Signal.
"It goes back to when the original stadium was built, that people were paid off and there had been payments going into these organizations — supposed orgs [sic] that you can't track, for decades.  And this has been a tactic to be very loud and very vocal for a long time to try to extort money.  And we're not going to be part of that," Becker said.
"We're not going to do that [sign an agreement] with a group that's been ingenuine, misleading, continuously disrupting university events.  These are not honest actors," Becker said.
Several GSU faculty members write a letter to the editor of The Signal in their personal capacities, criticizing Becker's comments.
The letter was signed by James Ainsworth, Assoc. Prof. of Sociology; Makangu Akinyela, Assoc. Prof. of African American Studies; Robert Baker, Assoc. Prof. of History; Elizabeth Beck, Prof. in the School of Social Work; Rosalind Chou, Asst. Prof of Sociology; Alex Sayf Cummings, Assoc. Prof. of History; William A. Edmundson, Prof. of Law; Joyce E. King, Prof. of Educational Policy Studies; Miriam Konrad, Sr. Lecturer of Sociology; Deirdre Oakley, Prof. of Sociology; Erin Ruel, Assoc. Prof. of Sociology; Natsu Taylor Saito, Prof. of Law; Wendy Simonds, Prof. of Sociology; Chuck Steffen, Prof. of History; Brent Teasdale, Assoc. Prof. of Criminal Justice and Criminology; Akinyele Umoja, Prof. of African American Studies; Tanya Washington, Prof. of Law; and Elizabeth West, Prof. of English.
On Monday, April 24, there were supposed to be two meetings called by Atlanta City Councilwoman Carla Smith (District 1) with the developers regarding the proposed Community Benefits Plan: one with the Coalition, and one with the splinter group.
At the first meeting, the Coalition refused to even look at the document, pushing it back across the table, saying it was premature to consider a Plan that was drafted by the splinter group who has been meeting with GSU and the developers all this time, when this was the Coalition's first meeting to even discuss a CBA or Plan.
At the second meeting, no final agreement was reached even between the splinter group and the developers or GSU.
For the past 28 days, the Coalition has been holding a Tent City at the former Turner Field site to build pressure for a CBA.
"They (GSU) issue a press release to the press before they met with us and that is insulting," former State Rep. Douglas Dean (D-Atlanta) said.
"The Mayor has already taken our money [sale proceeds from Turner Field] and given it to Phillips Arena.  But you'll won't tell that on TV, that there is nothing in the agreement that benefits the people," Dean said.
"I call on the President of GSU and the head of Carter, the developers, to come to this table in honesty, lay aside all the games, and take off the blindfold," State Sen. Nan Orrock (D-Atlanta) challenged GSU and Carter.
"It's disappointing to see the behavior of these big institutions and deep pocket developers has been to try to flim flam people and to pick out who they want to talk to and then participate in demeaning the leaders of this community… stop the fake negotiations," Orrock said.
"Georgia State, an institution whose reputation continues to grow, should not want to risk all of that for petty gains they get by holding on to the dollars and refusing to plan collaboratively," Orrock said.
"City Council members and the Mayor have collaborated with those that would gentrify our neighborhoods," State Sen. Vincent Fort (D-Atlanta) said, adding he was proud to be part of the resistance.
State Reps. "Able" Mable Thomas (D-Atlanta) and Park Cannon (D-Atlanta) were also present for the press conference.
Councilman Kwanza Hall (District 2) said he would try to help strike a deal with GSU and Carter that would protect the interest of the neighborhoods.
Council President Ceasar Mitchell and Councilwoman Felicia Moore (District 9) attended the meeting Monday between the Coalition and Carter, with Councilman Michael Julian Bond (Post 1-at-large) participating on conference call.
Deborah Scott of Georgia STAND-UP facilitated the meeting.
Earlier this month, the Atlanta City Council approved an ordinance drafted by the Coalition and introduced by Councilman Bond to create a Trust Fund for the Turner Field communities.  The ordinance creates a revenue stream for the Trust Fund from the sale and lease of surplus property in the communities of Summerhill, Mechanicsville, Peoplestown, Pittsburgh, and part of Grant Park.
However, the Trust Fund is not in itself a CBA, which seeks a wide range of community investments such as affordable housing, infrastructure, and job training.
GSU repeatedly claimed they were legally unable to enter into an agreement.  It is not clear why they suddenly are able to enter into an agreement now.
Also, when the sale of Turner Field was announced in January of this year, Suzanne Mitchell said she was completely fine with the terms of the Sale Agreement, which provided little in the way of community benefits; and she did not seem to see any need for–or to express a desire for–a CBA.
So, something is amiss, awry, and generally off when the University who said they were legally prohibited from entering into a community benefits agreement, announce that they have entered into what is generally a community benefits agreement, with the cherry-picked neighborhood leaders who never even wanted or sought such an agreement.
As for the community benefits listed in the GSU Community Benefits Plan that GSU claims it has reached with the splinter group, most of the benefits are nothing new – the Plan is really just a repackaging of existing programs that have been in operation for years.
(END/2017)
UPDATE 1: This article has been updated in three ways.  First, to clarify that former Rep. Dean is a former Rep., not current.
Second, to cover the letter from GSU faculty members to the editor of The Signal, as described above.
And third, and most importantly, to note that, according to three members of the Coalition who attended the second meeting with the developers and the splinter group, a final agreement was not even reached with the splinter group in that meeting either.