Atlanta's People TV Again in Limbo, as Mayor Pushes RFP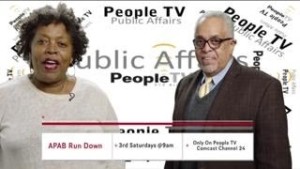 (APN) ATLANTA — Atlanta's cable Channel 24, a public access station known as People TV, will lose the fifteen thousand dollars a month funding from the City of Atlanta on June 31, 2017, and is in danger of ceasing operations at that time.
People TV has been one of the few progressive media in Atlanta for decades, and has long given a voice to low-income people and minorities in Atlanta.
For years, as previously reported by Atlanta Progressive News, the station has struggled to survive on budget allocations from the City of Atlanta, following the expiration of a funding stream from Comcast under the last Franchise Agreement with the City.
People TV's contract with the City to manage Channel 24 expired in November of 2016, and the City is funding People TV on a temporary basis to keep the channel operating.
If People TV has no money to manage the station past June 31, 2017, they will not be able to meet their programming requirements and the station will go dark.
If People TV can no longer manage the station, and there is no new entity ready to take over, Channel 24 is at risk for a takeover by Comcast.
Request for Proposals?
Katrina Taylor-Parks, a representative for Mayor Reed's administration, has publicly stated that the City is seriously considering issuing a Request for Proposals (RFP) for Channel 24 to invite a new managing entity.
"I know that the Mayor's Office is considering an RFP, but I have not heard anything about its progress," Councilwoman Natalyn Archibong (District 5), who used to chair City Utilities Cmte, told APN.
APN reached out to the Mayor's Office for comment on where they were in the process of issuing an RFP.
"If we conduct a competitive process for a new service provider, that information will be posted on the City of Atlanta website," Christina Cruz-Benton a press information officer, said.
New Franchise Agreement, PEG Fees
The City of Atlanta and Comcast are currently negotiating a new Franchise Agreement, though the City Utilities Committee of the Atlanta City Council has decided to push the deadline on making a final decision on a new agreement to November 2017.
The new Agreement, as proposed, would provide no funding from Comcast to People TV.
John Sharaf, a former board member at People TV , said that there is a source of money that should be dedicated to People TV: Public, Educational, and Governmental (PEG) fees.
"Comcast has been collecting these fees from each customer, but where is that money going?" Sharaf asked.
"We are talking about a gigantic amount of money that could be used for PEG channels.  We could use this to fund these without dipping into public funds," Sharaf said.
"Comcast and the City are in collusion to rip off the citizens," Sharaf said.
Susan Garrett, Senior Assistant City Attorney, publicly commented on PEG funding at a recent committee meeting.
"PTV is not part of the current franchise agreement with Comcast," Garrett said.
"Some of the [PEG] funding flows to People TV, but the funding is not governed by that agreement, it is based on the City's agreement," with People TV, Garrett said.
"I went through the new Comcast contract agreement in regards to People TV, the agreement was submitted by the Mayor's office," Adrian Coleman Tyler, a former Board President at People TV, told APN.
"The overall agreement is very lacking.  The [proposed] 2016 franchise agreement states that PEG channels will be up to five channels, while the last agreement allowed for six.  Why are we reducing?" Coleman Tyler asked.
Political Conspiracy?
"I think there is a political conspiracy to eliminate public access, and the way People TV is presently being run is hurting the cause of public access," Maynard Eaton, a People TV Board Member appointed by the Mayor's Office, told APN.
"I think there is a lack of faith from City officials, and I don't think the Mayor has put his weight behind public access," Eaton said.
"If the channel is taken away there will be a political scandal.  We have to build a movement to save public access," Eaton said.
"I believe this Mayor's administration like no other has pushed back on citizens engagement," Ron Shakir, a producer at People TV, told APN.
"To save People TV we need a strong mayor and citizens to raise their voices," said Shakir.
Leadership Concerns
Ms. Parks commented at a City Utilities Committee Meeting on September 13, 2016, that the Mayor's office was displeased with the leadership at People TV.
"What I am saying is that we can no longer expect status quo, we are asking for a renewed public access tv, we want to help, but we don't want to keep throwing money down a black hole, and not get the results expected from public access television," Taylor-Parks said.
John Sharaf also discussed his displeasure with the current People TV leadership, including Board President Patricia Crayton.
"My objective is to preserve public access, not necessarily People TV," Sharaf said.
Another former Board member criticized the station's leadership.
"I resigned from the board after five months, in the Spring of 2014," Rick Clear, a long-time public access television manager from Indiana, said.
"I left because there was nothing there that I could do.  The Board was being controlled by a couple of people, and we were just supposed to come and vote yes.  And I didn't necessarily agree with the budget process," Clear said.
Rick Clear is a part of a group who will bid to take over Channel 24 if an RFP moves forward.
Clear and his group had a meeting with present City Utilities Chairman Alex Wan (District 6) to discuss moving the RFP process forward.
Patricia Crayton, Board President and long-time producer at People TV, gave us her side of the story.
"I am an optimist, I don't believe the funding will run out.  Through the board we are discussing strategies for the potential RFP," Crayton told APN.
"I feel the Mayor stands behind public access television and People TV.  I feel that our creator put me here, and he didn't put me here to fail," Crayton said.
Crayton met with the Mayor in late October 2016, and she emphasized that any bad feelings between the Mayor's Office and People TV have been resolved.
Not everybody thinks an outside organization will best serve the public interest.
"We can fix leadership, but don't throw out the baby with the bathwater, we just need a little tweaking," Shakir said.
(END/2017)