Activists Blocked from Home of Mayor "Extreme Greed"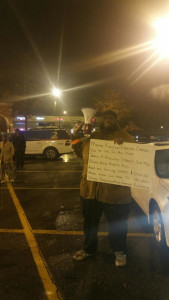 (APN) ATLANTA — On Sunday, December 04, 2016, the Street Groomers, a Black-led organization that feeds hungry people, keeps the streets safe, and cleans up neglected Black neighborhoods, planned to take the community problems of hunger, homelessness, and gentrification to Atlanta Mayor Kasim Reed's house.
However, when the group got to the Publix shopping center close to Mayor Reed's home in the Atlanta's Guilford Forest neighborhood, eight police cars were waiting for them blocking the entrance to Reed's neighborhood.
A couple weeks earlier, Mayor Reed refused to listen at City Hall to the concerns of Atlanta residents fighting from people displaced from their homes in Atlanta's Peoplestown neighborhood through eminent domain.  Activists had tried to take a petition to his office.
http://atlantaprogressivenews.com/2016/11/24/mayor-reed-thankful-for-eminent-domain-residents-advocates-fight-back/
"Mayor Kasim Reed is Mayor Extreme Greed because he is putting people out of their homes and tearing down shelters and making the homeless problem worse.  He is evicting people… and bullying the community," Brother Haroun Wakil, leader of the Street Groomers, told Atlanta Progressive News.
"We want him to treat the people better and fix the problems that he created.  After all the money he has made, he needs to remember where he comes from.  He needs to clean up these neighborhoods and put them back together," Wakil said.
Yet again, the people were locked out.
Earlier, some of the activists who protested at the rich end of Cascade, were feeding the community on the poor end of Cascade, where they provide free food for the community every Sunday.
"On Reed's side of town, they have plenty of food and jobs," Wakil said.
Many feel that Mayor Reed has forgotten his roots and the community that helped put him in office and now only listens to developers and big money people.
Wakil held up a sign on Cascade Road that reads, "Mayor Kasim Xtreme Greed use [sic] to live in the hood… in the Bluffs a/k/a English Avenue… he is forcing people out of they're homes over there to [sic]."
The Street Groomers plan to continue to take the problems of hunger, homelessness, and gentrification of Black neighborhoods to Mayor's Reed doorstep, until he starts to help Black neighborhoods instead of evicting people and stop supporting the unmitigated development of expensive luxury apartments.
"We are bringing the community to him, since he won't come to the community.  We are going to let him know how we feel about closing up shelters and pushing people out of their homes," Brother Taalib Rahaman, with the Street Groomers, told APN, referring to the City's use of eminent domain against the Metro Atlanta Task Force for the Homeless as well.
(END/2016)