City of Atlanta Adopts Climate Action Plan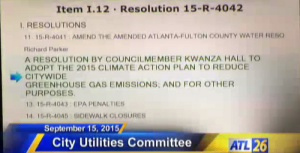 (APN) ATLANTA — The City Council of Atlanta adopted the City of Atlanta Climate Action Plan at the Monday, September 21, 2015, Full Council Meeting by a vote of 12 to 0 as part of the consent agenda.
Sponsor Kwanza Hall (District 2), and Councilmembers Ivory Lee Young (District 3) and Cleta Winslow (District 4) were absent from the vote.
The plan lays out ambitious goals for reducing the city's carbon footprint:
Reduce energy consumption in commercial buildings 20% by 2020 and 40% by 2030
Reduce energy consumption in residential buildings 20% by 2020 and 40% by 2030
Reduce GHG emissions produced by transportation 20% by 2020 and 40% by 2030
Increase waste diversion rate to landfills up to 80% by 2020.
The resolution first went through the City Utilities Committee and Community Development and Human Resources Committee (CD&HR), where it also passed without opposition.
"Basically a Climate Action Plan is a comprehensive plan that cities have put together to reduce emissions from carbon footprint," Dr. Jairo H. Garcia, Sustainability Management Analyst for the Mayor's Office of Sustainability, told the CD&HR committee.
Atlanta joins other major U.S. cities, including Los Angeles, California; Chicago, Illinois; Boston, Massachusetts; and Miami, Florida, that have adopted similar plans.
"We do not have a comprehensive plan adopted, so during the last year the Mayor's Office of Sustainability worked with more than fifty experts around the city to put together this plan," Garcia said.
The resolution states that "cities have a unique role to play in reducing greenhouse gas emissions;" and that the plan targets "commercial and residential buildings, energy production, waste and water-waste, transportation, and urban green spaces."
The City contacted several experts for this initiative, including Georgia Tech and Georgia State University, as well as organizations like Southface, Atlanta Regional Commission, and the Chattahoochee Riverkeepers.
Councilwoman Natalyn Archibong (District 5), Chair of the City Utilities Committee, specifically asked about solar panels, an area APN has recently covered.
LINK
"So the goal is to identify all the buildings, all the City-owned buildings, where we can deploy solar.  And we already have had some conversations with Watershed Department and with the airport, and we identifying the areas for the City to install solar," Garcia said.
The Climate Action Plan is based off the Statewide Energy Efficiency Collaborative (SEEC) template, developed out of California in a collaboration between three nonprofit organizations and California's four investor-owned utilities.
The complete plan can be found at: http://p2catl.com/wp-content/uploads/2015/09/Atlanta-Climate-Action-Plan-07-23-2015.pdf
(END/2015)