Myriad Drama Abounds in HD 55 Special Election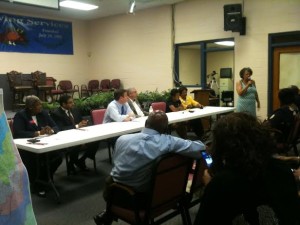 With additional reporting by Anna Simonton.
(APN) ATLANTA — There has truly been a lot of drama in the State House District 55 Special Election, with early voting having already taken place and the upcoming election on this Tuesday, June 16, 2015.
Mailers and robocalls have gone out attacking two of the likely frontrunners, Shelitha Robertson and Marie Metze, including one robocall identifying itself as from the Democratic Party of Georgia (DPG).  DPG denied knowledge of the robocall and is requesting an investigation.
Meanwhile, the on-again, off-again status of Tyrone Brooks, Jr., with respect to appearing on the ballot, has voters quite confused, and may have already disenfranchised many.
And a debate hosted by Quality Living Services revealed that several candidates were unknowledgeable or prepared to discuss public policy issues.  Shelitha Robertson emerged as the only candidate with a comprehensive, progressive policy platform.
ATTACK MAILERS AND ROBOCALLS
"FACT: Shelitha Robertson has CLOSE TIES to the BLUE FLAME STRIP CLUB," an attack mailer delivered on or around June 10, 2015, states, according to a copy posted by District 55 resident Grayson Daughters, on Twitter.
"FACT: STRIP CLUBS are a source of crime and HUMAN SLAVERY."
"FACT: Shelitha Robertson ran for three offices in the past six years AND LOST."
It is not immediately clear who was behind the mailer.  In interviews with Atlanta Progressive News, Tyrone Brooks Jr. and Marie Metze both denied knowledge.
However, Robertson says she believe the Metze campaign is responsible for the mailer, because Mitzi Bickers is working for the Metze campaign and this is the type of mailer seen in other campaigns for which Bickers has worked in the past.
Robertson tells Atlanta Progressive News that her work with the Blue Flame has consisted of providing legal representation, and that she is proud of her work for the company.
Robertson said that as a former city attorney for the City of Atlanta, she was the one who represented the City in court in enforcement actions against the Blue Flame.  After leaving the City, Robertson said she received an offer from Blue Flame to work for them and help them improve their operation and comply with the law.
She added that we don't need closed-minded or intolerant representatives at the State Capitol.
Following the mailer, a robocall went out attacking Metze and blaming her for the mailer.
"My husband and I are outraged and ashamed of Marie Metze for sending filth and garbage to our homes.  And we denounce these shameful, vicious attacks on Shelitha Robinson [sic] for this reason.  My husband and other community members will be voting and supporting Shelitha Robinson [sic].  Our community has been riddled with scandal after scandal.  Marie Metze has once again proved she is mean-spirited and this is not what we want from our represented [sic]," the robocall stated, the voice purporting to be a District 55 voter, according to the Atlanta Journal-Constitution Political Insider blog.  It is unclear if the spelling and grammatical errors were in the robocall or in the AJC's transcript of the call.
According to a statement issued by the Democratic Party of Georgia (DPG), but apparently not sent out widely on its normal press distribution list, the Party is not pleased with the robocall.
"It has come to our attention that a phone number associated with the Democratic Party of Georgia was illegally used—and without authorization—as the caller ID number for a negative robocall attacking a State House candidate in district 55. These actions—uncondoned, unethical, and unacceptable—are currently under scrutiny by our attorneys and appropriate legal recourse will be taken at the end of the investigation," Michael Smith, Communications Director, said in a statement.
"The Party's attorneys have also been in contact with the FCC and will assist with their investigation regarding the robocalls," Smith said.
BROOKS JR. DISQUALIFIED IN RESIDENCY CHALLENGE; APPEALS; ALLOWED BACK ON BALLOT PENDING SUPERIOR COURT RULING; HEARING DATE MOVED TO MONDAY
Meanwhile, as previously reported by APN, Tyrone Brooks Jr. has been facing a residency challenge.
The residency challenge was filed by Dorothy Hart, and claimed that Brooks did not reside in the 55th District as of one year before the Special Election date, noting that he recently voted in a different District and that his voter registration listed an address in a different district as well.
Brooks Jr. claimed in an interview with APN that Hart worked for Robertson.
However, in an interview with APN several weeks ago, Robertson claimed little knowledge about the residency challenge.  A review of several years of campaign disclosures show no expenditure by any previous Robertson campaign directly to a Dorothy Hart.
When asked more recently whether Hart has worked for Robertson's campaign, she declined to comment.
On June 08, 2015, an administrative law judge, Michael Malihi, ruled that Brooks had not proven the establishment of residency for the one year period prior to the Special Election.  Later the same day, Secretary of State Brian Kemp affirmed the ALJ's ruling, thus disqualifying Brooks.
Judge Malihi found that Brooks moved to an address on Magnam Lane, in District 55, on July 25 2014, one month after the threshold date of June 16, 2014.  He found, however, that Brooks did not live in District 55 between June 16 and July 25, 2014.
Brooks claims he lived with his father, then-State Rep. Brooks, during that time.  However, he provided insufficient documentation to show this: only a driver's license.
"There is nothing in the evidentiary record to indicate that respondent ever received mail, paid utility bills, purchased property, registered a vehicle, voted, registered to vote, served on a jury, or claimed a homestead exemption anywhere in House District 55 prior to July 25, 2014," the ruling states.
"Respondent admits that, as of late as November 2014, he voted outside of House District 55.  He remained registered to vote in House District 57 until April 28, 2015," the ruling states.
And Brooks admitted using an address outside of District 55 on his 2013 tax return, filed in 2014.
"To establish residency or domicile, parties must demonstrate a physical presence and an intention to remain permanently," the ruling states.
Because the ballots had already been printed, it was too late to take Brooks off the ballot.  Thus, the County had planned to place notices at voting precincts, stating that Brooks had been stricken from the ballot and that any votes cast for him would not be counted.
This had already threatened to disenfranchise any early voters who had voted for Brooks.
On June 10, 2015, Brooks filed his appeal in Fulton County Superior Court, and the case was assigned to Fulton County Superior Court Judge Kimberly Esmond Adams.
On June 11, 2015, Judge Adams first issued a ruling, setting a hearing for June 18, 2015, two days after the Special Election, and ordering that Brooks's name be restored to the ballot.
"Accordingly, Respondent is hereby ENJOINED and RESTRAINED from posting notice at each affected polling place advising voters of Petitioner's disqualification and voiding ballots cast for petitioner until further Order of the Court," the ruling stated.
Fulton County issued a statement stating they would alter their signage to indicate that his name was back on the ballot.
"The Fulton County Department of Registration and Elections will be complying with the Rule Nisi issued by Fulton County Superior Court regarding the disqualification of Tyrone Brooks, Jr. as a candidate for State House District 55.  The Department will not post notices of the disqualification in affected precincts nor will the candidate's name be removed from the ballot," Fulton County stated.
This situation threatened to potentially disenfranchise more voters because if they voted for Brooks, it was still not clear whether he would remain qualified, pending the hearing outcome.  This created a disincentive for voters to select Mr. Brooks.
Meanwhile, on June 12, 2015, Secretary Kemp issued a letter to Judge Adams, indicating his intent to not comply with the order.  Kemp said that Adams's order did not comply with OCGA 9-10-2, which requires timely notice to the Secretary of State, which was not provided.
In response, Adams rescheduled the hearing for today, Monday, June 15, 2015.
As of press time, Judge Adams had not reached a decision on early Monday afternoon, June 15, according to Jared Thomas, a spokesperson for Secretary Kemp.
LACKLUSTER DEBATE PERFORMANCES
APN also covered the one candidates debate that was held in this race, hosted by QLS.
Robertson gave the most comprehensive introductory statement.
She described her experience as a police officer, public defender, and an attorney for the City of Atlanta.  Then she laid out her platform, saying she would fight to fully fund public education, stop any attempts to revive the Religious Freedom Restoration Act, expand Medicaid, and ensure that more minority-owned businesses receive government contracts.
In contrast, most of the other candidates spoke in less than concrete terms, and some appeared uninformed on pressing issues.
Marie Metze was at a loss when asked whether she was in favor of the Religious Freedom Restoration Act, which would have possibly legalized some forms of discrimination, had it passed the 2015 General Assembly.
"I'll continue to research it and then I'll have an answer," she said.
Metze also filed her APN questionnaire untimely because she said she needed more time to research the answers.  To be sure, when filed, her answers were detailed and progressive.
When asked about his position on Common Core, a standardized national curriculum, candidate John Guest replied, "I'm not too sure what that is, honestly."
Guest was also unclear on the details of the Governor's Opportunity School District (OSD) legislation, which will allow the state to take over "failing" schools if voters approve a constitutional amendment on the November 2016 ballot.
When asked simply whether or not he supports the OSD plan, Guest said, "If the Governor's bill offers the possibility of local control, I wish I had the information to tell you––"
"It doesn't," the moderator said, interrupting Guest, who then reluctantly stated he was opposed to the OSD.
This contradicted his response to APN's questionnaire, in which he stated that the OSD method "deserves a try."
One man in the audience stood up and remarked, "A lot of people here are not prepared for the General Assembly.  I think the desire to serve is great, but there is too much at stake to put your name on the ballot just because you can afford the qualifying fee."
(END/2015)