WRFG Rallies Listeners to Help Save the Legendary Station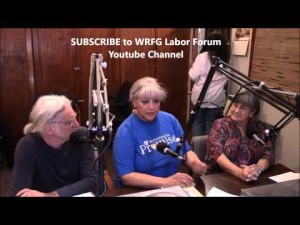 (APN) ATLANTA — Atlanta's only independent, non-profit community radio station is again in danger of leaving the airwaves.
For over forty years, Radio Free Georgia, WRFG 89.3 FM, has lifted up marginalized voices through public affairs, news, and music programming that now reaches thirteen Metro Atlanta counties from its station in Atlanta's Little Five Points Community Center.
Now the station needs to raise 20,000 dollars, or else risk defaulting on its tower rental payment plan.
"We broadcast from the studio, but the signal goes out from our transmitter, which is at a different location," Joan Baptist, WRFG's station administrator, explained to Atlanta Progressive News.
The transmitter is attached to a tower that is owned by a private company.
Until recently, the tower was owned by a company that was lax in collecting rent.
"They understood that we are a non-profit and that our revenue stream changes all the time and they worked with us tremendously.  We would fall behind and catch up, fall behind and catch up," Baptist said.
Part of the rent shortfall was due to an incident in which someone spilled water on the station's broadcast equipment, according to one Board Member.
Recently, however, the tower was bought by another, bigger company with a different approach.
The new company is "working with us, I want to say that up front, but not necessarily in the same way.  They want the rent paid on time," Baptist said.
WRFG negotiated with the company and agreed to a seven-month payment plan: They will have to pay 7,700 per month, plus several thousand dollars more in utility bills and fees.
After seven months, the rent will go back down to the usual 3,600 dollars per month.
When the agreement was reached two months ago, the station immediately set out to raise 40,000 dollars as quickly as possible.  Listeners have already donated 20,000 dollars.
"These last couple of months have been amazing.  People are sending cards with these wonderful messages like, 'I can't live without my WRFG.'  These are people from all walks of life, from all areas of the Metro area, really stepping up," Baptist said.
This is not the first time WRFG has been in a financial pinch.
On February 26, 2009, WRFG sent out an email entitled, "It's an Emergency – Please Help WRFG… We need to raise $20,000 in 10 days."
"Due to a recent loss of grant income and to the expense of our new transmitter, WRFG faces a funding shortfall," WRFG said at the time.
WRFG has dealt with a widely fluctuating income for years now.
Tax forms 990 available on the Guidestar database show 2009 as a high point for WRFG, with revenue at 240,500 dollars.  The next year, 2010, that had plummeted to only 189,000 dollars.
The lost revenue was due to a grant that wasn't renewed, sending WRFG scrambling to raise 20,000 dollars in ten days, which it did.
After that, revenue climbed steadily to just over 200,000 dollars in 2011 and 236,000 in 2012.  But in 2013, WRFG only made about 190,000 dollars.
Some years, it has been possible for the station to get by on less income, but at other times it has needed to ask for serious support to cover big expenses.
In 2006, WRFG had to raise over 200,000 dollars for a new "tower of power," which solved broadcasting problems resulting from the low elevation of the station's previous tower.
http://atlantaprogressivenews.com/2006/08/24/wrfg-aims-for-bigger-antenna/
http://atlantaprogressivenews.com/2007/11/07/wrfg-expands-reach-with-new-tower-of-power
WRFG began as a scrappy community radio station, founded at a time when such a thing existed only in New York; and Los Angeles and San Francisco, California.
In the 1970s, a group of radio activists sought to start community radio stations in more cities across the country, and sent someone to Atlanta to connect with activists here.
Harlon Joye and Barbara Joye were some of the first people involved in founding WRFG.
In a 1993 interview, Mr. Joye told WRFG producer Heather Gray that the station's first transmitter was acquired from a barn in Ohio.
"We had to wipe the hay off the transmitter," he recalled.
The station raised money by selling egg rolls at a booth in the Piedmont Arts Festival, and secured larger donations from several individuals.
They built their first antenna themselves and obtained a contract with Channel 11 to attach the antenna to Channel 11's tower.
That became a problem when the Atlanta Police Department's (APD) Subversive Control Unit pegged WRFG as a threat comprised of "Trotskyites, Communist Party members, Weathermen, homosexuals, Black Panthers, and dopesmokers," according to Joye's account.
APD pressured Channel 11 to revoke the contract with WRFG and Channel 11 complied.  WRFG then sued Channel 11 for violating the contract and won.
The station's original advisory board included State Rep. Julian Bond (D-Atlanta); U.S. Rep. John Lewis (D-GA); members of the women's liberation and queer liberation movements; and other politically involved, progressive community members.
"When any political person was in town, we'd interview them," Joye said in the 1993 interview.
"We had all kinds of community programs: the Kirkwood Community Program, the Cabbagetown Program, the Pittsburgh Community Program.  We had old age programming," Joye said.
While the public affairs programs have changed over time, the station's mission remains to "provide a voice to those who have been traditionally denied access to the broadcast media."
"The public affairs programs are largely locally-based but they deal with issues of international concern: peace and justice, the environment, we even have an animal rights program… poverty issues, women's health, we have all different kinds of public affairs programs," Baptist said.
"And it's not the standard 'experts' you would hear on a commercial station, but local experts that really care about the constituency they serve.  So we bring a lot of information, a lot of news, a lot of victories people have that you aren't going hear on commercial radio," she said.
WRFG's music programming also offers listeners options they would be hard pressed to find on any other station.
"We provide a unique, eclectic format for our listeners by programming music from all different regions, nationalities, and cultures. That helps, in this day and age, to provide real bridges to cross to unite with people they may not be familiar with and cultures they may not be familiar with. As a society that is very segregated by design, the whole question of uniting people, of bringing them experiences they wouldn't normally have is a very important thing," Baptist said.
From 2006 to 2010, APN reporters appeared weekly on Adam Shapiro's Current Events program every Thursday at 12:03 p.m.
Over the last ten years, APN reporters have appeared on several programs to discuss APN reporting, including Radio Free Activists, Alternative Perspectives, Just Peace, and the Labor Forum.
Listeners can help save WRFG by donating directly to the station and also by shopping at Sevananda grocery store and rounding up their purchases.  The added change gets donated to WRFG during the month of May 2015.
(END/2015)