Symbolic Memorial Service Held for Victims of Police Killings in Georgia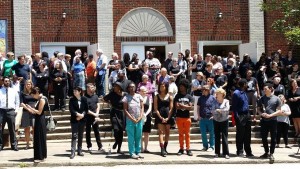 (APN) DECATUR — On Saturday, May 02, 2015, a symbolic funeral procession, for Black people killed by police, started in Atlanta's West End neighborhood, wound through downtown Atlanta, and ended nine miles later at Oakhurst Baptist Church in Decatur.
The procession was led by one hundred bicycle riders, a black hearse with a Rest in Power banner on the side, and was followed by over one hundred and fifty processional cars.
The purpose of the event was to raise awareness and provide a visible space for public mourning and healing for all black lives lost in Georgia by police and vigilante violence.
"The world needs to see our pain, our hurt, our sadness.  On a daily basis our neighbors, family and friends are being take away from us due to state violence," Nelini Stamp, Co-Founder, Rise Up Georgia, said in a press release.
The event also focused attention on the growing mass incarceration of U.S. citizens.
"A lot of people turned out for Black lives matter.  We got respect and support from people on the sidewalks and people in cars blew their horns in support," Barry "Copper" Rogers, a bicycle participant, told Atlanta Progressive News.
Another participant, Justin Moody, said he saw numerous motorists join in solidarity with the funeral procession.
About four hundred people packed Oakhurst Baptist Church to honor the humanity of those lives, taken too soon, and to listen to family member remembering their loved ones.
"We are here today to lift up our unarmed brothers and sisters who have been brutalized and murdered by police officers.   Black lives matter, and all lives matter, but when you look at who is being killed in the streets and whose communities are being torn down and gentrified, it is Black people.  Stop killing us," Dawn O'Neal, member of Rise Up Georgia, told APN.
Atlanta Progressive News previously reported on the deaths of Kevin Davis, Anthony Hill, Nicholas Thomas, and Kendrick Johnson; and the disfigurement baby "Bou Bou."
Marcus Coleman, with Save Ourselves (SOS), was the spokesperson for Kendrick Johnson and Bounkham Phonesavanh a/k/a Baby Bou Bou.
Coleman explained that a one million dollar settlement has been paid out to the Phonesavanh family.  However, most of that settlement went to unpaid medical bills.  The Habersham County officers responsible for Baby Bou Bou's disfigurement have not been charged yet.
http://atlantaprogressivenews.com/2014/06/07/rally-held-for-baby-injured-by-police-grenade-during-no-knock-home-invasion/
Lots of questions still swirl around seventeen year-old Kendrick Johnson's controversial and mysterious death in Valdosta, Georgia.   He was found dead rolled up in a gym map.  The official story is that he fell head first into the mat and died.
http://atlantaprogressivenews.com/2015/04/18/five-activists-arrested-in-march-to-valdosta-for-kendrick-johnson/
The first autopsy concluded Johnson died of positional asphyxiation.  The second, requested by his family, concluded he died of blunt force trauma.
"Kendrick was missing every major organ in his body, brain, heart, lungs, tongue, and windpipe were removed.  He was not an organ donor.  Some feel organs were removed in order to not prove the actual cause of death," Coleman said.  "Johnson's clothes, that he was wearing that day, are also missing."
"Cameras, within the school system, were miraculously stopped around the time it would have shown people coming in and out of the gymnasium," Coleman said.
The Kevin Davis family and his sister DeLisa Davis described Kevin.
"He had a huge heart and he loved his family and friends and we loved him," DeLisa said through tears.
http://atlantaprogressivenews.com/2015/02/28/kevin-daviss-girlfriend-april-edwards-talks-about-shooting/
http://atlantaprogressivenews.com/2015/02/05/protesters-camp-at-dekalb-courthouse-over-kevin-davis-police-killing/
Kevin worked at a sandwich shop in Decatur.  "He would save his tip money and buy medication for one of his disabled customers," DeLisa said.  "He would take thrown away parts of bikes and make new bikes for kids in the neighborhood.  He was good to his family and to other people."
Anthony Hill's partner, Bridget Anderson, described how the first time she meet him it was love at first sight.
http://atlantaprogressivenews.com/2015/03/14/rally-hold-for-dekalb-police-killing-of-anthony-hill/
http://atlantaprogressivenews.com/2015/03/23/feature-in-san-antonio-anthony-hill-wouldve-been-helped-not-shot/
The family of Nicholas Thomas are organizing.  "If this could happen to me, it can happen to you.  These police officers have to stop being the judge, jury and executioner," Felicia Thomas, Nicholas's mother said.
http://atlantaprogressivenews.com/2015/04/02/1000-demand-justice-for-nick-thomas-slain-by-smyrna-pd/
Nick's death has forced his mother into the movement to stop police killings.  She said she is looking for fifty strong and powerful women from fifty states to form something big.
Rev. Brady Radford, Associate Pastor, Oakhurst Presbyterian Church, gave an eulogy that got people on their feet, clapping and shouting.
"Sixty percent of wealth was taken from the African American communities when the banks crashed… our homes have been foreclosed on… our communities are in distress," Stamp told APN.
"I see violence as people not being able to have food on their table or a home over their head or people being afraid to walk down the street.  We believe what will make this stop is an overhaul of the system and to be able to have economics or build our own economic system.  The way this is going to turn around is to organize and fight for the struggle," Stamp told APN.
Rise Up Georgia in collaboration with Active Voices hosted the event, entitled, #RestInPower: A Memorial For Black Lives.
(END/2015)