City of Atlanta Annexation, South Fulton City Efforts Clash, Fail, for now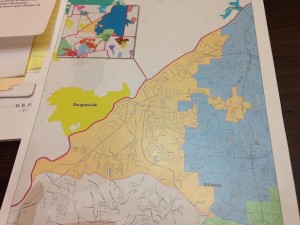 With additional reporting by Matthew Charles Cardinale
(APN) ATLANTA — The first year of the 2015-2016 legislative session featured a heavily contentious debate over whether to make South Fulton its own city, out of the remaining portions of unincorporated Fulton County; or whether to allow part of that area to annex into the City of Atlanta.  As proposed, both were not an option; the Legislature settled on doing neither.
Atlanta Mayor Kasim Reed and his team of lobbyists were busy at the Capitol trying to keep the South Fulton cityhood effort from succeeding, while at the same time attempting to annex some of that land away from the proposed South Fulton boundary, into the City of Atlanta.
State Reps. Pat Gardner (D-Atlanta) and Tyrone Brooks (D-Atlanta), and State Sen. Horacena Tate (D-Atlanta), introduced legislation, HB 587 and SB 214, respectively, to allow the City of Atlanta to annex a large portion of unincorporated Fulton County, including land that is also proposed as part of the City of South Fulton.
Atlanta Progressive News broke the news regarding the proposal:
http://atlantaprogressivenews.com/2015/03/09/city-of-atlanta-proposing-major-southwest-expansion-to-legislature/
Also introduced were HB 638 and SB 227, which would repeal a local constitutional amendment, which states that if an area is annexed to the City of Atlanta, any schools in those areas become part of Atlanta Public Schools.
Local constitutional amendments are unconstitutional anyway, and they are being repealed one by one, State Rep. Pat Gardner tells Atlanta Progressive News, adding that Robbie Ashe is currently challenging this amendment in court, so that it may be unnecessary for the Legislature to repeal.
Gardner says she wants any schools in unincorporated Fulton to have the choice regarding whether to join APS or stay part of Fulton County Schools, should the annexation take place.
"We introduced them [the legislative package] to get the discussion going, to have a hearing in the City of Atlanta delegation meeting, to see if we could get the signatures we needed," Gardner said.
"There's no reason we couldn't get the signatures, it was a timing thing," she said.
"When I got the bill, it was late in the Session – I wanted to get them introduced for the purpose of discussion," Gardner said.
"Then we had a hearing, and people [legislators] started signing them," she said.
"When the City of South Fulton passed [the House], we put that on hold to see where that was going to go, because there was overlapping maps.  It passed the House, it did not pass the Senate as you know," she said.
"We did have a very well-attended delegation meeting in the House, with people from both sides presenting, certainly a lot of people from the neighborhoods just south of the City limits who wanted to become part of the City of Atlanta, rather than a City of South Fulton, rather than a new city," she said.
When asked why she thinks City of Atlanta annexation would be a good thing, Gardner replied: "The City of Atlanta certainly wants to welcome people who want to be part of the City of Atlanta.  In my opinion, consolidation is a better solution to the unincorporated areas, rather than the continual creation of new governments.  Really, it was a response to what the people who lived there wanted to do."
"There are several points of view – many of them wanted to remain unincorporated, but once the rest of the county became municipalized, there became issues of how to provide services, it became inefficient at that time.  Some people didn't want to be in a city; but if they were going to be in a city, they wanted to be in the City of Atlanta," Gardner said.
"I introduced this as the Chairman of the City of Atlanta delegation, in response to the request from those neighborhoods," Gardner said.
Both pieces of Atlanta annexation legislation for south Fulton died in the House and Senate, after receiving only readings, but no committee votes.
The City of South Fulton advocates blame Atlanta annexation advocates for disrupting their plans for a second cityhood referendum [the first one failed in a vote of 15 percent to 85 percent].
"It was just a mess all the way the around.  Pat [Rep. Gardner] on the House side was carrying two bills and she had no clue.  I went to her very respectfully and asked her questions that were hard; she threw up her hands and said 'I'm just in the middle I don't know,'" Debra Bazemore of the South Fulton effort told APN.
"She called a hearing for the Atlanta Delegation.  How can the Atlanta Delegation dictate what is going on in South Fulton?  The only person that signed all of those bills was [now-former State Rep.] Tyrone Brooks, to have a portion annexed, and he's not coming back," for another term, Bazemore said.
"I am really disappointed in Sen. Fort, arguing with his colleagues about South Fulton," Bazemore said, noting that Fort has been opposed to the creation of a City of South Fulton.
"We all know he was on the other side.  His 'poll' said that his constituents didn't want it but I am a constituent and I never saw a poll," Bazemore said.
In the poll conducted by Insight LLC, 56 percent of respondents were not in favor of forming a City of South Fulton, 22 percent favored a new city, and 22 percent were unsure.
"Any time you get results you don't like, this is what happens.  Usually a poll is 300 to 400 people; in this case of the South Fulton poll, there were 800 to 900 people… that's as good as it gets," Sen. Fort told APN.
Bazemore also claims that Sen. McKoon stalled South Fulton out of spite.
"Sen. [Josh] McKoon, came behind him [Fort, while in the House Chambers] and asked for the bill to be tabled.  I called him out on Tuesday [three days before the Session ended], and said, can I ask you why you did that?" Bazemore said.
"Sen. McKoon responded, 'My bill, the freedom of religion bill, was in committee and they didn't allow us to come out committee.'  So because his bill failed to come out of committee, he chose to stall our legislation out spite for his fellow legislators," Bazemore claimed.
"He said to me, 'Hope it works out for you, but I've worked on my bill for two years.'"
"Everybody is saying, I'm not sure if it's factual, but I heard it from everybody, that the [Atlanta] Mayor's office has been Black for forty years," Bazemore said.
"Those [Black] votes were moved out with revitalization.  They are trying to capture the Black vote by annexing Black areas in.  He [Reed] almost lost the election to Mary Norwood [in 2009], because of the Black votes moving out.  When you move people out and build out the area and they can't afford to come back in, you lose those votes.  Those people were faithful voters and now they all live in unincorporated South Fulton," she said.
(END/2015)