Georgia Senate Passes Pitiful Medical Cannabis Research Bill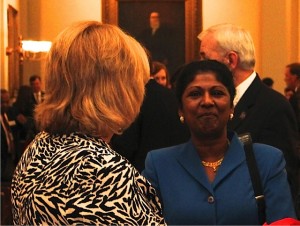 (APN) ATLANTA — On Friday, March 13, 2015, the Georgia Senate passed SB 185, a medical cannabis research bill, which provides for clinical trials of cannabidiol-containing products to treat Georgia residents under 18 who have medication-resistant cases of epilepsy.
It passed the full Senate by a vote of 54 yeas and one nay.
The only nay was State Sen. Curt Thompson (D-Gwinnett).  Sen. Thompson's bill, SB 7,  the Therapeutic Relief Act, was more comprehensive and a better approach to medical marijuana  than SB 185 or even HB 1.
As previously reported by Atlanta Progressive News, advocates preferred Thompson's medical bill, SB 7, to State Rep. Allen Peake's (R-Macon) HB 1.  However, SB 185 is so watered down and pitiful that it makes HB 1 seem substantial.
SB 185 grants immunity for children already in a study currently being conducted by Georgia Regents University.  It only allows three percent THC in the study group while the House bill, HB 1, allows five percent THC.
Three percent THC is considered too low to be medically effective, but the irrational hysteria around higher percentages of THC by some Georgia legislators is blocking scientific evidence.
Another major difference between SB 185 and HB 1, is that HB 1 would have allowed immunity to anyone with a qualifying condition, registered with the state, to possess cannabinoid oil.  However, it would not have provided for in-state cultivation. [Only Sen. Thompson's SB 7 would have done that.]
HB 1 would also allow for the treatment of nine different medical conditions with cannabis oil.
The nine diagnoses are: cancer, ALS, seizure disorders, multiple sclerosis, Crohn's disease, mitochondrial disease, fibromyalgia, Parkinson's disease, and sickle cell disease.
It would encourage medical refugees from Georgia's repressive laws the opportunity to return home.
Law enforcement officers, whose job security may depend on keeping prohibitions on cannabis, are also not supportive of expanding medical cannabis to other illnesses or higher levels of THC in the oil.
In essence, SB 185, does nothing but wrap medical cannabis in bureaucratic red tape and study groups for years, while Georgians continue to suffer and die without the medicine they need.  Not to mention the fact that Georgia has had a medical cannabis program on the books for 35 years that it has never implemented, as previously reported by APN.
"There is no need for another study group, it [cannabis] has been studied for thousands of years.  The science is already there and has shown that the medicine has never killed anyone, but has helped an array of illnesses.  Georgia does not need to recreate the wheel," Dr. Uma Dhanabalan, a Cannabis Therapeutic Specialist, with a Master's Degree in Public Health from Harvard University, said in an interview with Atlanta Progressive News.
Even though cannabis is listed as a schedule one drug, which the U.S. government purportedly considers the most dangerous drugs with no medical benefits, the U.S. government has a patent #6630507 on cannabis.
It lists cannabinoids found within the plant as useful in neurodegenerative disease such as Alzheimer's and Parkinson's diseases and HIV dementia.
"The categorizing of cannabis as a schedule one drug is purely political.  The government is lying to the American people.  This medicine should not be on any schedule,  " Dr. Dhanabalan said.
On March 10, 2015, U.S. Sens. Cory Booker (D-NY), Rand Paul (R-KY), and Kirsten Gillibrand (D-NY) introduced a bill to end the federal ban on medical cannabis.  It would downgrade marijuana with the Drug Enforcement Agency from Schedule 1 to Schedule 2.
U.S. Sen. Dean Heller (R-NV) joined as a co-sponsor on March 11.
"Doctors, not politicians, should be determining how cannabis should be used and which patients should use it.  Patients need safe access to medicine and have their health information protected," Dr. Dhanabalan said.
State Rep. Peake hopes that both chambers can reach an agreement to include the nine conditions outlined in HB 1.
"SB 185 excludes thousands of our citizens who suffer from medical conditions beyond epilepsy and could benefit from cannabis oil, and the immunity language in the bill does not bring our medical refugees home.  That remains my top priority and commitment," Sen. Peake said in a statement.
HB 1, passed the full State House on February 25, 2015, with 158 yeas and 2 nays.  The two nays were State Reps. Darlene Taylor (R-Thomasville) and Darrel Ealum (D-Albany).
http://atlantaprogressivenews.com/2015/02/25/medical-cannabis-bill-passes-georgia-house/
"HB1 is a good start, but it does not allow for in-state cultivation or for whole plant medicine.  The whole plant has over four hundred chemicals and over eighty different cannabinoids.  We need the whole plant not just bits and pieces of the plant," Dr. Dhanabalan said.
"Cannabis in not an entrance drug; it is an exit drug from dangerous pharmaceuticals and narcotics.  We must educate the public, legislators, and health care providers to remove the stigma and myths to achieve necessary reforms.  Cannabis should be a first option, not a last resort in patient care," Dr. Dhanabalan said during her visit to Georgia to educate for medical cannabis reform.
"The U.S. is five percent of the world's population and yet we consume eighty percent of opioid prescriptions for chronic pain," Dr. Dhanabalan said.
These opioid prescription drugs destroys the liver and adversely impact the whole digestive system.  Patients build up a tolerance and take more and more until they may overdose and die.
Cannabis medicine does no harm and can get people off these dangerous pharmaceutical opioid drugs.
Below is a link to overdose statistics by the Center for Disease Control (CDC).
http://www.cdc.gov/homeandrecreationalsafety/overdose/facts.html
SB 185 is sponsored by State Sens. Lindsey Tippins (R-Marietta), Sen. Renee Unterman (R-Buford), Sen. Fran Millar (R-Atlanta), Sen. Bruce Thompson (R-White), Sen. Butch Miller (R-Gainesville), and Sen. Judson Hill (R-Marietta).
"I am… grateful that the Governor's floor leader, Senator Butch Miller, will be carrying HB 1 in the Senate.  However, I am hopeful that our chambers can reach an agreement on this issue and get a bill to the Governor as soon as possible.  We must ultimately pass legislation this session that works to bring medical refugees home and offers protection for Georgians," Peake said.
(END/2015)