City of Atlanta Proposing Major Southwest Expansion to Legislature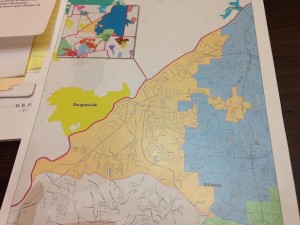 (APN) ATLANTA — The City of Atlanta's lobbyists at the Georgia Legislature last week circulated a map proposing a major expansion of the southwest quadrant of the city further to the west, through the annexation of a significant portion of unincorporated south Fulton County.
While the City had been previously exploring annexation of the Sandtown and Loch Lomond communities, as previously reported by Atlanta Progressive News, the new map is much more expansive.
The newly proposed map–a copy of which has been obtained by Atlanta Progressive News–includes Sandtown, Loch Lomond, West Cascade, the area by Westlake, as well as a large portion of Fulton Industrial Boulevard.
It includes three schools that are part of the Fulton County School District: Philip Randolph Elementary School, Sandtown Middle School, and Westlake High School.
A notice was published on March 06, 2015, in the Fulton County Daily Report, that the legislation would be introduced.
"NOTICE OF INTENTION TO INTRODUCE LOCAL LEGISLATION Notice is given that legislation will be introduced at the 2015 regular session of the Georgia General Assembly to amend the charter of the City of Atlanta, approved April 15, 1996 (GA. L. 1996, p. 4469), as amended, so as to change the corporate limits of the city by annexing certain property into the city; to provide for related matters; and for other purposes," the notice states.
http://legals.dailyreportonline.com/singleLegal.asp?l=120091203325&searchKeywords=
State Rep. Pat Gardner (D-Atlanta) is going to introduce the legislation, according to State Sen. Donzella James (D-Atlanta).  Gardner did not immediately return a voicemail seeking comment.
If enacted, the annexation would further chip away at unincorporated south Fulton County, the last remaining part of Fulton County to be unincorporated.
As previously reported by Atlanta Progressive News, recent and pending annexations by Union City, Chattahoochee Hills, College Park, and Palmetto have already reduced, or would reduce, if enacted, what is left of South Fulton.
http://atlantaprogressivenews.com/2015/03/02/annexations-whittling-away-at-unincorporated-south-fulton/
Pending bills, introduced by State Rep. Roger Bruce (D-Atlanta) and State Rep. Donzella James (D-Fulton), to create a City of South Fulton, have passed committees in both the State House and Senate.
"I think they need to let that area stay intact, and let the people vote whether they want to be a city or not.  If not, then start annexing," State Rep. Bruce told APN.
"They've had ten years to annex," Bruce said.
As previously reported by APN in 2014, an annexation petition was submitted by Loch Lomond neighbors to the City of Atlanta to annex by way of the "sixty percent method," which requires the signatures of sixty percent of the residents.
http://atlantaprogressivenews.com/2014/09/22/loch-lomond-estates-in-south-fulton-seeks-annexation-into-atlanta/
However, the Clerk's Office rejected the petition because it did not comport with formatting requirements.  The effort was supposed to start over, but apparently they have not been able to get to sixty percent thus far.
"They've not been able to get the 60 percent," Bruce said.  "Now it appears they're going to get the Legislature to stick it in there by creating a referendum."
"Basically you've lowered the threshold from 60 percent down to ten or eleven percent," Bruce said, referring to the likely level of voter turnout in what would be a special election on annexation, if the Legislature passes Atlanta's plan.
Rep. Bruce said a major issue is the schools that are part of Fulton County School District.  The District has already stated it will oppose efforts to transfer the schools to the Atlanta Independent School System.
Therefore, it currently seems that if south Fulton residents annex into Atlanta, some children that are currently attending the south Fulton schools will have to transfer into and start taking buses into Atlanta Public Schools.
"They've always wanted the schools, they just haven't been able to get it," Rep. Bruce said.
"They are convinced if they put the schools inside the city limits, they'll be able to take the schools… Fulton County [Board of Education] has made it clear they won't give up the schools without a fight," Rep. Bruce said.
"WHEREAS, the Fulton County Board of Education, having considered all factors it deems necessary and prudent in connection with the subject matter, finds that it is in the best interests of the Fulton County School System to object to and challenge the transfer of the Property to another school system or municipal entity, specifically, the City of Atlanta or to the Atlanta Independent School System," the Board stated in a resolution adopted on February 10, 2015.
"They'd be going to Benjamin Mays [High School], Therrell [High School], and a couple other schools," he said.
Meanwhile, Sen. James and Rep. Bruce raised concerns regarding a local constitutional amendment that they say prohibits Atlanta from annexing Fulton Industrial.
"That area has indicated they want to come into the new [proposed South Fulton] city, and they don't want to give up that Constitutional protection – their position is, create a city and we will come," Rep. Bruce said.
"Somehow they'd have to get that local constitution amendment repealed," Bruce said.
Mayor Kasim had offered a ten year tax break to the residents of Sandtown if they joined the City of Atlanta.  It is not clear if that offer is still on the table or if it extends to all of the impacted neighborhoods.
Rep. Bruce also noted that a current portion of southwest Atlanta currently relies on a Fulton County fire station, paying several hundred thousands of dollars per year to Fulton County for access to the station.
"With the new people, what fire station will they have?" he asked.
The City of Atlanta has also been pursuing annexation of the North Druid Hills area in DeKalb County.  It is not immediately clear whether legislation related to this proposal will be introduced this Session, with only five days left to go until Crossover Day.
(END/2015)