No Knock Warrant "Reform" Would Actually Codify No Knock Warrants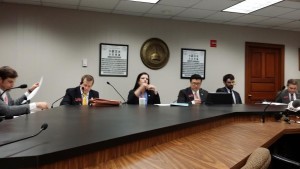 With additional reporting by Matthew Charles Cardinale
(APN) ATLANTA — On Monday, February 09, 2015, the Pak Subcommittee of Judiciary Non-Civil Committee passed the language in HB 56, commonly called the "No Knock bill," with only minor tweaks.
http://www.legis.ga.gov/legislation/en-US/Display/20152016/HB/56
The bill's supporters say it will reform Georgia's problematic practice of no knock warrants on the part of of local law enforcement agencies, who have killed and injured innocent people.  Recent controversies include the police murder of Kathryn Johnston, 92, and the horrific injuries brought upon Bounkham Phonesavanh, 19 months, known as Baby Bou Bou.
However, critics of the bill say that, in the process of reforming No Knock warrants, the bill will actually codify the practice, whereas the practice is not currently a part of the Georgia code.
"Both bills actually legalize no knock warrants.  The Georgia Code O.C.G.A. 17-5-27 says that no knock warrants are illegal and requires all search warrants with verbal notice.  There's a reason they are not in the Georgia Code: no knock warrants are an offense to our founding principals as Americans," Catherine Bernard, a criminal defense lawyer, told Atlanta Progressive News.
Indeed, the current version of the Georgia Code does state that law enforcement is required to provide notice of their intent to enter a property, specifically, "verbal notice or an attempt in good faith to give verbal notice by the officer." (O.C.G.A. 17-5-27).
Thus, not only would HB 56 codify "no knock warrants," but it would purport to nullify the existing provisions that appear to disallow no knock warrants.
NEED FOR REFORM
Kathryn Johnson was killed by Atlanta police when they went to the wrong house with a no-knock search warrant looking for drugs.  Then they planted drugs in her house to cover up their mistake. The City of Atlanta paid her family almost five millions dollars and three police officers eventually went to prison.
In Habersham County, Baby Bou Bou was hit with a stun grenade and was seriously burned, injured and disfigured when police broke into his home looking for drugs.  Again the police had the wrong house.  The family have over one million in medical bills.  Lawsuits are still pending on this case.
http://atlantaprogressivenews.com/2014/06/07/rally-held-for-baby-injured-by-police-grenade-during-no-knock-home-invasion/
Incidents like these have created a public outcry for more restrictive use of no-knock warrants and demands for accountability, reform, and demilitarization of police departments.
Another bill dealing with no-knock search warrants, SB 45, has been introduced by State Sen.  Vincent Fort (D-Atlanta) and is known as "Baby Bou Bou's Law."
http://www.legis.ga.gov/legislation/en-US/Display/20152016/SB/45
HB 56 CODIFIES NO KNOCK WARRANTS, BUT PLACES LIMITS
HB 56 would require that, in order to obtain a No Knock warrant, police would have to show probable cause that evidence of interest would be destroyed and that officers' lives would be endangered if they knocked at a suspect's door.
The bill, in most cases, bars the use of no-knock warrants at night between 10pm and 6am.
Although not perfect, some believe it is a first step to bring new regulations into play before a warrant is given to an arresting officer.
State Rep. Kevin Tanner (R-Dawsonville), a co-sponsor of HB 56, wrote the procedures and requirements in the bill for a no-knock search warrant.  Rep. Tanner is a veteran law enforcement officer from Dawson County in North Georgia.
The new regulations require a supervising officer to approve the no-knock warrant and that a supervisor be present during the execution of a no-knock search warrant.  The regulations in HB 56 also require local police to have an operational plan and require department to provide training on how to properly execute a no knock warrant.
The current version of HB 56 has no penalty for violating the requirements, and still allows for evidence collected in an illegal no-knock search to be used against the resident.  Several people at the hearing took issue with these omissions.
One part of HB 56 that all stakeholders present seemed to like would require monthly reporting on the number of search warrants sought, issued, and executed, including the number of no-knock search warrants.
"This bill will put sunshine on no-knocks warrants in lines 128 through 142," State Rep. Brian Strickland (R-McDonough) on the Judiciary Non-Civil Committee said.
SOME STAKEHOLDERS HAVE CONCERNS ABOUT HB 56
Not everyone thinks HB 56 will solve the problem.  Some say No Knock warrants have been allowed due to judicial activism.
"What we are dealing with is judicial activism over decades, combined with influence by law enforcement officers.  They are being influenced by federal money that's pouring into militarization [of police].  It's a huge and radical expansion of government," Bernard told APN.
Bernard expressed her concerns during the subcommittee hearing.
Rep. Tanner countered Bernard's claim that no-knock warrants were illegal.
"If the courts had found that conducting no-knock search warrants were unlawful in Georgia, there would be a lot of cases thrown out of court.  It's a clear precedent that has been set by the courts that allow for no-knock search warrants to be executed in Georgia," Rep. Tanner told the subcommittee.
With so many Georgians owning guns today to protect their homes and their families from a home invasion, no-knock warrants present a growing danger to everyone, including citizens and police alike, when police officers break into a home without announcing who they are.
"If the government can break into your house without even telling you it's the government first, we have lost something dear.  This is a dangerous concept, regardless of party affiliation, we should reject as an unacceptable infringement on our rights as American citizens," Bernard testified at the hearing.
The right-wing Georgia newsletter, Political Vine, also recently sent out a bulletin expressing their concerns with HB 56, mirroring Bernard's comments.
"HB 56: Purposely Designed for Subterfuge & Misdirection," was the title of the Political Vine, February 17, 2015 edition.
"HB 56 is a bill designed to white-wash decades of judicial activism that enabled LEO [law enforcement officers] to obtain and execute illegal search warrants, which are referred to as 'no-knock warrants' in the common environment," Political Vine stated.
"HB 56 is a whitewash because it actually amends current law to define 'no-knock warrants' where no such term currently appears, and it obliterates the existing law (OCGA 17-5-27) that prohibits warrants that allow no verbal announcement from LEO before they breach a door," Political Vine wrote.
Co-sponsors of HB 56 are State Reps. Kevin Tanner (R-Dawsonville), Rich Golick (R-Smyrna), Carolyn Hugley (D-Columbus), Chuck Efstration (R-Dacula) and Dan Gasaway (R-Homer).

(END/2015)