Kemp Faces Lawsuit over Forty Thousand "Missing" Voter Registration Form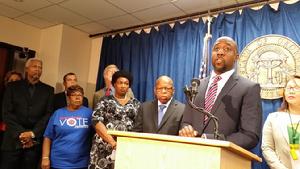 With additional reporting by Matthew Charles Cardinale, News Editor
(APN) ATLANTA — The Lawyers' Committee for Civil Rights Under Law, a national organization, has filed a lawsuit in Fulton County Superior Court against Secretary of State Brian Kemp and five Georgia counties, regarding more than 40,000 voter registration applications that they say remain unprocessed.
They filed the suit on behalf of Third Sector Development, the parent organization of the New Georgia Project (NGP); the national National Association for the Advancement of Colored People (NAACP), and the Georgia State Conference of the NAACP. The lawsuit seeks a writ of mandamus, forcing the State and/or counties to process the applications in time for the General Election.
Additional attorneys include the law firm Robins, Kaplan, Miller & Ciresi L.L.P; the law firm Sandler, Reiff, Lamb, Rosenstein & Birkenstock, P.C.; and attorneys for the NAACP.
Kemp, a Republican, came under fire this week as elected officials and several Metro Atlanta civic engagement groups cried "foul play" in what they say is his office's mishandling of voter registration applications, primarily those submitted by NGP.
As previously reported by Atlanta Progressive News, NGP, a nonprofit, 501(c)(3) group headed by the Georgia State House Minority Leader Stacey Abrams (D-Atlanta) had recently collected some 85,000 voter registration applications targeting minority voters across the State.
They began registering voters in March 2014 and completed their work for the upcoming election in September 2014.
40,000 of these remain unprocessed by the county election boards, officials and nonprofit leaders said earlier this week.
At a press conference in the Georgia Senate press room on Monday, October 06, 2014, U.S. Reps. John Lewis (D-GA) and Sanford Bishop (D-GA), and State Rep. Abrams gathered with community leaders and local ministers to express concerns regarding approximately 40,000 applications, which have seemingly gone missing.
Standing with the elected officials included Rev. Raphael Warnock, the senior pastor at Ebenezer Baptist Church; Helen Butler, Georgia Coalition for the People's Agenda; and representatives of Georgia STAND-UP; Georgia Association for Latino Elected Officials; Asian American Legal Advocacy Center; Georgia Women's Action for New Directions; and others who have been actively registering new voters.
"Our question is basic: where are these new voters? Without a clear explanation from the State's top election official, the Secretary of State, we are left with a black box, with no understanding of what has happened to their applications," Rep. Abrams said.
In addition to 40,000 "missing" applications–which according to NGP, have not even appeared on a pending list–some of the citizens who filled out registration forms appear to have been placed on pending lists, where the counties are requesting additional information.
"For example, individuals are receiving letters requesting information that is due back after Election Day, asking for details that are already submitted, or using confusing language and dates. The complicated process to make it to the voter rolls has created barriers that must be broken down," Abrams said.
Partisan tension is heating up at the State Election Board hearings as well.
Board Member David Worley has raised his concern about potential bias from the SOS office, stemming from the office's handling of its investigation of NGP beginning in September 2014, when, according to NGP, the validity of 51 applications of the 85,000 submitted were questioned, representing a margin of error of .06 of one percent of those submitted.
As the NGP has been open and willing to work with the SOS office, the group was ultimately not implicated in any fraudulent behavior regarding submissions.
Kemp's chief investigator, Chris Harvey, acknowledged the NGP has accommodated his requests for information and assisted in identifying the problematic forms.
Harvey's action of calling an unprecedented press conference without authorization from the State Election Board during the investigation is drawing suspicion of partisanship and questions towards Kemp.
Kemp, also over the summer had spoken out in a public address warning fellow Republicans that Democrats might win because they are registering minority voters. The audio of Kemp's remarks was posted on YouTube by the organization Better Georgia.
On the missing registrations, Kemp has pushed back by stating the local county boards are the responsible parties; and that any backlog, if there is a backlog, is taking place at the county level.
Abrams counters it is ultimately the responsibility of the Office of Secretary of State to protect the elections process in Georgia and to ensure that every eligible voter is able to cast a vote in the upcoming election.
Some of the registrations in question are reported to have been submitted as far back at April 2014.
U.S. Rep. Lewis urged rapid action and resolution, and suggested that outreach to the U.S. Department of Justice may be warranted.
With high profile U.S. Senate and Gubernatorial races looming in Georgia's upcoming General Election, and the potential of Georgia turning into a swing state over the next few election cycles, registering and getting voters to turn out at the polls will determine the future of Georgia.
Jared Thomas in Kemp's office denied that his office had any knowledge of the 40,000 alleged missing applications, but said they were well-aware of the allegations.
"All applications that are received by the counties or at State levels are processed if they come in on or before the deadline, which was October 06," 2014, Thomas told APN.
"Any eligible voter from those forms or anywhere else will be able to cast a ballot in the General Election," Thomas said.
While NGP says an approximate total of 85,000 applications were turned in, Thomas said, "They were delivered to the counties," adding that his office has no idea what the total amount was.
"The counties sent us suspicious forms for investigation, those came to us from the counties," Thomas said.
"The reason we issued the subpoena [to NGP], is we received suspicious forms, many of which were confirmed forgeries. At this point, we have examined 133 suspicious applications. Of those, fifty have been confirmed forgeries; 49 are still under investigation, considered suspicious; 34 turned out to be fine," Thomas said.
"If anyone feels they should be in the voter database and they are not, they should contact the county or the State," Thomas said. "We have people calling every day asking if they are registered, and we let them know. If there's a pending status, we'll let them know what that is."
"We are in contact with the counties every single day. There is no county that has told us there is any problem processing the applications that they have for this election," Thomas said.
Earlier this week, activists asked to meet with Kemp's office in order to, as they put it, avoid having to pursue litigation.
"We had no time to meet with this group that would not provide us with specific claims, we felt it was just generalities, and with the workload we have, we did not feel it would be a productive use of our time," Thomas said, explaining his office's denial of the meeting request.
As for the registration forms pending status, Thomas did admit: "We are seeing an unusually high number in a pending status, especially in larger counties." However, even this does not address the 40,000 alleged "missing" applications.
When counties place citizens in a pending status, they are to send them a letter within forty days, Thomas said. If the pending status is not cleared within forty days, the citizens come off of pending status, he said.