APS Candidate, Hayes-Tavares, Has Arrest Record, PTA Ban, Pending Lawsuit
(APN) ATLANTA — Shawnna Hayes-Tavares, a candidate for Atlanta Public Schools Board of Education (District 6), has an arrest record and is the subject of several investigations and actions involving JC Young Middle School, Atlanta Progressive News can reveal.
Hayes-Tavares was arrested on August 08, 2011, by DeKalb County Police, on three charges, including giving a false name and false information to the police, a misdemeanor; driving while license suspended or revoked; and maximum limits, according to the arrests.org website.  The website posts arrests records from jurisdictions across the US, based upon open records requests.
The website also posts a copy of Hayes-Tavares's mug shot, available here:
http://georgia.arrests.org/Arrests/Shawnna_Tavares_7086301/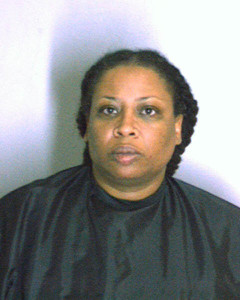 In addition, APN has obtained a copy of several Meetings Minutes from the JC Young Middle School (JCYMS) Local School Council (LSC) Meetings raising several concerns about Hayes-Tavares's record as a parent leader.  
Currently, the LSC is preparing to take legal action against Hayes-Tavares over approximately 970 dollars in funds that Hayes-Tavares allegedly collected from parents.
Some of these minutes used to appear on the school's website, but were taken down by APS after Hayes-Tavares complained and threatened to take action against APS.
APN has also obtained copies of email correspondence between Hayes-Tavares and several school officials, where she requested numerous times–in an escalatingly threatening manner–that the minutes be removed from the school's website.
"Let this serve as a notice that if this is not taken down within 48 hours, you, JCYMS, APS will be held accountable for this action," Hayes-Tavares wrote in an email dated August 12, 2013, to JCYMS Principal Kelvin Griffin.
"My next steps will be to report you to the APS Internal Resolutions and attend every single Board meeting to speak against this character you are exhibiting.  As well as start the legal process in this matter.  This is not a threat, but a way of to [sic] resolve this issue," Hayes-Tavares wrote in an email dated August 15.
Hayes-Tavares was President of the Parent Teachers Association (PTA) at JCYMS "during school year 2006-2007 when the use of ~$10,000 + or – funds were under investigation by PTA. The investigation could not be completed because all the JCYMS PTA books/records were stolen," the March 2012 minutes state.
"PTA sent a letter to JCYMS/Principal Thomas Kenner stating that this parent [Hayes-Tavares] could no longer serve on PTA," the March 2012 minutes state.
"At the beginning of school year 2011-2012, the same parent announced she was returning to JCYMS and was asked by a local school council member and the Principal (Dr. Griffin) about the PTA incident and the letter.  The parent acknowledged that there was a letter from PTA banning her from PTA but she added that she has a letter dated shortly after the incident from PTA that clears her of all charges.  The parent never produced the official letter from PTA clearing her to participate as a leader and fund collector for PTA," the March 2012 minutes state.
However, Hayes-Tavares's financial management issues continued after her return to JCYMS, according to the minutes.
"In late February 2012, the JCYMS LSC was asked by JCYMS parents to inquire about gift certificates that were collected by one parent – Shawnna Hayes-Tavares to be given as gifts to the teachers before Christmas 2011.  The parent collecting the gift certificates said she left them on a desk at the school and they were stolen.  The parent could not produce a record of what was collected," the March 2012 minutes state.
The June 2012 minutes included a report on further investigation into Hayes-Tavares's record at APS, including a report based on information provided by Sandra Perrino, Tenth District Director for the Georgia PTA.
Perrino "responded on official Georgia PTA letterhead that in 2007 Shawnna Hayes-Tavares was president of JCYMS PTA and it was brought to the attention of Georgia PTA that funds were possibly misappropriated," the June 2012 minutes state.
"An audit was completed and the following was found: 1. Deposits came up short 2. Receipts not accounted for 3. Inappropriate use of petty cash 4. Lack of attention to details 5. Not insuring that a monthly reconciliation and treasurer's report was completed 6. Not completing the appropriate forms to request funds," the June 2012 minutes state.
"Shawnna Hayes-Tavares was asked to sign a document which would give the PTA association some understanding of a clear relationship and actions she would abide by within the association.  Shawnna Hayes-Tavares did not sign the document," the June 2012 minutes state.
"Furthermore, Georgia PTA is unaware of a letter exonerating Shawnna Hayes-Tavares in this incident," the June 2012 minutes state.
"The official response from PTA clearly states that Shawnna Hayes-Tavares has not been exonerated and the matter has not been resolved.  Shawnna Hayes-Tavares was given access to funds based on the untruth she told Dr. Griffin.  The JCYMS LSC finds that Shawnna Hayes-Tavares has broken the trust of the community at large.  The JCYMS LSC concludes that Shawnna Hayes-Tavares cannot hold any positions of leadership at JCYMS – to include but not limited to committee chair positions, facilitating meetings, organizing, and coordinating afterschool programs," the June 2012 minutes state.
The March 2013 minutes describe yet another financial mismanagement issue.
"It came to the attention of the LSC that Shawnna Hayes-Tavares, a parent at JCYMS, held a Majorette camp during July 2013 at Jean Childs Young Middle School without permission and charged parents for the camp and for majorette uniforms," the March 2013 minutes state.
"The JCYMS LSC is concerned because Mrs. Hayes-Tavares did not have permission from the administration to have the camp on the school's campus or collect money from the parents.  Mrs. Hayes-Tavares was told by Dr. Griffin, principal at JCYMS, to end the camp, return receipts, and return all monies collected to Ms. Scott (Dr. Griffin's administrative assistant).  To this date, Mrs. Hayes-Tavares has not returned any money, receipts or uniforms to the parents, Dr. Griffin, or Ms. Scott," the March 2013 minutes state.
"Per the students and parents/guardians – a total of $970 was paid to Mrs. Hayes-Tavares. Parents were given receipts for the $25 camp fee.  Most were not given receipts for the uniform payments," the March 2013 minutes state.
"The seamstress that was contracted by Mrs. Hayes-Tavares to make the uniforms was contacted and asked if she received money to sew the uniforms.  She stated in writing that she only received $25 for pattern.  She turned in a receipt that shows that she paid less than $20 for the majorette uniform pattern (receipt and email are on file at the school).  She did not receive any other monies," the March 2013 minutes state.
"Dr. Griffin met with Mrs. Hayes-Tavares after he shut the camp down and asked her to provide his office with copies of any receipts, contracts and communications regarding the camp and uniforms.  He also asked for all monies to be returned to the school," the March 2013 minutes state.
"Mrs. Hayes-Tavares acknowledges that she was asked to provide these items in an email dated Thursday, August 2, 2012 (on file at the school) to Dr. Griffin," the March 2013 minutes state.
"To this date, no monies, receipts or uniforms have been provided by Mrs. Hayes-Tavares.  Angry parents/guardians demanded their money from Dr. Griffin and JCYMS paid the parents/guardians a total of $970 to make them whole," the March 2013 minutes state.
"The JCYMS LSC agreed to pursue legal action against Shawnna Hayes-Tavares to attempt recovery of the $970 paid out to the parents and for her use of the facility.  Bill Scott, Director of the Office of Internal Compliance for Atlanta Public Schools will be contacted to start the investigation process," the March 2013 minutes state.
APN requested a copy of the police report in connection with the 2011 arrest from the DeKalb County Police Department's Public Information Officer, but was referred to another office to make an open records request.  As of publication, APN had not immediately heard back from the open records administrator.
Hayes-Tavares did not respond to numerous requests from APN for response to several questions posed by APN regarding the arrest and PTA issues, including numerous phonecalls, an email, and a text message.  Prior to receiving the questions, Hayes-Tavares had been generally responsive to APN and had participated in an interview about her position on APS issues.
Also running for the District 6 seat is Eshe Collins.  Collins has never responded to an APN media request.  APN recently reported that Collins is one of four former Teach for America (TFA) alumni seeking an APS BOE seat, and that TFA is generally pushing its alumni to run for office to promote an agenda of privatization, charter schools, and undermining of teachers' unions.
(END/2013)