Atlanta BOE Considering Four Finalists for At-Large Seat 9
Images by Adrian Paulette Coleman, Atlanta Progressive News.
(APN) ATLANTA – The Atlanta Board of Education (ABOE) selected four finalists from a pool of fifteen applicants for Board appointee to serve the unexpired term of At-Large Seat 9, which was vacated by Jason Esteves on December 31, 2022.  
As previously reported by Atlanta Progressive News, Esteves was elected to the State Senate.  Per law, based on the timing of Esteves's resignation, the Board is tasked with selecting the replacement until the election for that seat.
https://atlantaprogressivenews.com/2022/11/21/aps-appointing-new-board-member-after-esteves-elected-to-state-senate/
The finalists are Stephanie Flowers, Jessica Johnson, Nkoyo Effiong Lewis, and John Ramseur. 
ABOE At-Large Seat 9 Finalists (left to right:  Stephanie Flowers, Nyoko Effiong Lewis, Jessica Johnson, and John Ramseur)
The two-year term of ABOE At-Large seat 9 ends December 2023, and the seat will be up for re-election in November 2023.  
Through open records request to the Atlanta Board of Education, Atlanta Progressive News obtained redacted applications, candidate checklists, and questionnaires submitted for At-Large Seat 9 Board appointment, and available for public review at http://bit.ly/3VIEgJR
Information about  Atlanta Board of Education appointment is available on ABOE website https://www.atlantapublicschools.us/domain/17578
Videos of Atlanta Board of Education Board Appointment community forums are available on Facebook. 
Forum #1 https://fb.watch/htIwnAEzcy/
Forum #2 https://fb.watch/htIDEUbVsE/
ABOE BOARD APPOINTEE COMMUNITY FORUMS
ABOE hosted two community forums on December 13, 2022, as an opportunity for parents and the public to meet and hear from the finalists.  
Finalists were presented with questions submitted by the public during the community forums, with each candidate given an opportunity to respond.   
STEPHANIE FLOWERS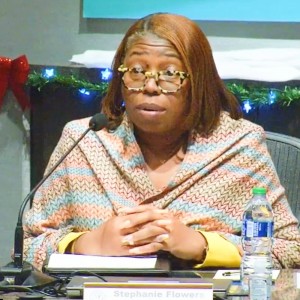 "I understand that it takes a multi-faceted approach to address academic outcomes for kids and families," Stephanie Flowers said.
"I've spent years addressing those things, and I understand that it's not just the school district's role to make those changes," Flowers said. 
"I spent maybe ten years working closely with Atlanta Public Schools, the District, and with parents on trying to improve and bring services that support the school and the students," Flowers said.
"I think that my role here as I understand how to work with policy, how to use policy to practice a system change.  I think that my knowledge around the community and working with systems will bring a better vision to the Board."
JESSICA JOHNSON
"I've had some amazing opportunities to partner with almost every single APS High School and so I am bringing to this board seat opportunity, an intimate awareness of the partnerships, the resources, and the energy," Jessica Johnson said.
"I really have watched the current board leadership shepherd the students, and the entire school system through a pandemic and I feel like there is an energy around reimagining what education could be like; and as a social entrepreneur, I'm really excited about the possibility of joining in that moment," Johnson said.
NKOYO EFFIONG LEWIS
"As we all know the world has shifted and it is now more urgent than at any other point in time that we work collaboratively, that we're bold, and that we do what is in the best interest of children," Nkoyo Effiong Lewis said. 
"And so I hope to join the great work that is already happening in the District and continue to advance it forward to ensure that every single child has the opportunity to not only meet their fullest potential, but to do that in an environment that serves them as a whole being," she said.
JOHN RAMSEUR
"What I want for all of APS is what I want for my sons.  I want APS to have an offering for every person and student within the City of Atlanta," Ramseur said.  
"And for every family who has a choice.  I want there to be an offering for every family; and for those who don't have a choice of where they want to live in the city or which school district they want to live in.  It's important that every school within APS is capable of providing a quality education to every child and to meet that where their needs are," Ramseur said. 
One question asked at the forums was: "What issue do you believe our District is in need of addressing in our academic programs?  What changes would you recommend?"
The responses included:
Stephanie Flowers: I don't see one academic challenge, but I will say for me, I would have to look at more closely what has happened this far, in order to think about what is academically needed and what the challenges are. 
But I will say just from where I'm sitting,  I think there is a gap between our high performing students and our kids that are I won't say low performing, but right there in the middle.  I see within my community that there is a gap there, and so is it a challenge? 
Jessica Johnson:  In a District that is 150 years old, there's always opportunities to do something new, to be bold enough to try something, to really analyze what's happening and working well in other school districts and other communities. 
I think that our District is doing a good job of pulling some of that information, but how do we immediately deploy that in a way that is tangible for our young people? 
I think there are some opportunities and I'm hearing, I won't name the curriculum, that maybe sounded good, but teachers didn't buy into it.  I think there is an opportunity for us to listen to them again and really get into the classrooms and have an opportunity to see for ourselves what's working and what's not. That's some of the things I'm excited about.
Nkoyo Effiong Lewis:   When I think about this question, what I think is how are we engaging, and investing in the community to understand what their needs are, what their concerns are, what they feel is potentially lacking?  How are we having those conversations with our educators from their vantage point of what is needed?  
John Ramseur: One of the driving motivators for me is the issue of equity within the school system.  I would say that it expresses itself in many forms. One thing in particular that we lo ok at is student outcomes.  That's not just outcomes, in terms of your grades or your scores at the end of the year, it is the outcome of the student entirely.  What kind of man or woman will they grow to be?  How will they contribute to society and the community? 
I think that in a city like Atlanta, where we are, generally can be considered a cultural center of the country.  In terms of the music that comes out of Atlanta, the film industry, some of the other arts, academic changes I would like to see would be a little bit more emphasis on arts programs.  Not that we have none.  We have college and career readiness to get students ready for college.  We can get students ready for trade organizations.  There's a tremendous economic opportunity here to prepare students for careers in the arts.  I would like to see a little bit more emphasis on that as an alternative path as well for students to go.  This is a particular city where we've had much success already in those industries.  I think we have had state financing back the film industry.  I think we should have some educational backing for the arts as well.   So that we can grow a community where these students have alternative paths to express themselves and to make a living doing something that they enjoy.
Atlanta Board of Education members will conduct interviews with finalists in early January.  
Non-finalist applicants for At-Large Seat 9 appointment are: Bobby K. Montgomery, Darryl J. Terry, II, Dominique Johnson, Dr. Georgianne Thomas, Jason B. Allen, Julius R. Farrington, Lani R. Preis, Mick D. Rehrig, M.S.W., L.C.S.W., Patreece Hutcherson, Tanysha Monique Nunnally, and Attorney Yolanda K. Johnson.
Allen previously ran for the seat, against Esteves.
Dr. Thomas told APN she learned about the vacancy from APN and that she decided to apply after reading our prior article.
Yolanda Johnson formerly served on the Board.
(END / Copyright Atlanta Progressive News, Inc. / 2023)