Mayor Bottoms Testifies to U.S. Senate on Climate Change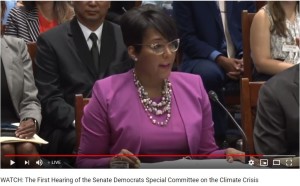 (APN) ATLANTA — City of Atlanta Mayor Keisha Lance Bottoms was on-hand in Washington, D.C., as the Senate Democrats held a critical hearing that is a step toward taking emergency action on climate change at the federal level on Wednesday, July 17, 2019.  
Republican Senators, while invited, declined participation in the hearing.
The hearing, by U.S. Senate Democrats' Special Committee on the Climate Crisis, was called "A Blueprint for Success: U.S. Climate Action at the Local Level."
https://www.youtube.com/watch?v=hoy7ZtNFmdw
"Climate change may well be the equity challenge of our time," Mayor Bottoms told the Committee.
"While everyone is impacted by climate change, the sad reality is that the most vulnerable residents are most susceptible to harm," she said.
"As leaders, it's incumbent upon us to make it plain to all of our constituents why climate change matters, as it is our most vulnerable population who will pay the steepest price for any inaction around this issue," Bottoms said.
"As the cradle of the Civil Rights Movement, I'm proud to say that Atlanta's Clean Energy Plan puts equity and resilience at the heart of its agenda," Bottoms said.
"Our Clean Energy Atlanta Plan is our commitment to transition to one hundred percent clean energy by 2035, an effort that includes both municipal operations and private businesses," Bottoms said.
As previously reported by Atlanta Progressive News, the City Council passed a resolution adopting that plan in 2017.  Since then, then plan was amended by Council to move the target date for both government operations and private businesses to 2035; it had previously been 2025 for government compliance and 2035 for private compliance.
http://atlantaprogressivenews.com/2017/05/04/atlanta-passes-100-clean-energy-resolutions-for-2025-2035/
"Atlanta's inland geography is a major factor that contributes to unique climate circumstances in our city," she said.
"We rank third nationally for increases in the Urban Heat Island effect," she said.
"If current trends continue, Georgia is projected to see an increase in dangerous heat days from twenty days a year today, to more than ninety per year by the year 2050," she said.
"By that time [2050], the average high summertime temperature in Atlanta is projected to be 92.6 degrees, a jump of 4.1 degrees," she said.
"That increase in temperature will lead to the increased frequency of weather extremes, and make drought and extreme wet weather more frequent and longer-lasting," she said.
"Hurricanes and sea level rise in coastal regions of the Southeast are likely to create climate refugees, who seek rapid resettlement in Atlanta.  We saw this in the aftermath of Hurricane Katrina," she said.
"Atlanta is especially vulnerable to drought as well.  It's one of the few major cities not built on a body of water.  Thus we are converting an abandoned quarry into a new reservoir holding 2.4 billion gallons of emergency drinking water," she said.
"This project will increase our reserve supply from the current five days to thirty days or more," she said.
In conclusion, Mayor Bottoms called for increased federal funding for the Low-Income Heating Assistance Program to support the payment of energy bills for low-income people; and for the Community Development Block Grant (CDBG) and Community Service Block Grant (CSBG) program to support renewable energy initiatives.
Also testifying at the hearing were Mayors Kirk Caldwell of Honolulu, Hawaii; Melvin Carter of Saint Paul, Minnesota; William Peduto of Pittsburgh, Pennsylvania; and Ted Wheeler of Portland, Oregon.
"Over the coming months, we will establish the predicate for action through hearings both here in the Senate and out in the field, we will build the coalitions to move forward," U.S. Sen. Martin Heinrich (D-NM) said in his introductory remarks.
Members of the Committee include U.S. Sens. Sheldon Whitehouse (D-RI), Jeff Merkley (D-OR), Michael Bennet (D-CP), Tammy Baldwin (D-WI), Heinrich (D-NM), Ed Markey (D-MA), Tammy Duckworth (D-IL), Catherine Cortez Masto (D-NV), and Tina Smith (D-MN).
(END / Copyright Atlanta Progressive News / 2019)