Extraordinary Turn in Federal Lawsuit to Reclassify Cannabis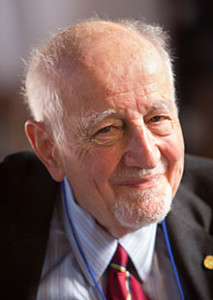 Official photograph of Judge Guido Calebresi.
(APN) ATLANTA — There has been an extraordinary turn of events in the federal lawsuit to reschedule cannabis ("marijuana") from a Schedule 1 drug, the most dangerous classification of drugs, which also includes heroin and LSD.
As previously reported by Atlanta Progressive News, in 2017, a federal lawsuit, Washington et al. v. Sessions et al., was filed in the Southern District of New York to reschedule cannabis.  The case is now Washington v. Barr, naming the new U.S. Attorney General as lead defendant.
Several of the plaintiffs and their children, including a DeKalb County family, have testified in court how medical cannabis has helped the children with their medical conditions.
http://atlantaprogressivenews.com/2017/08/15/family-in-dekalb-sues-sessions-over-cannabis-classification/  
U.S. District Court Judge Alvin K. Hellerstein ruled the plaintiffs did not exhaust their administrative remedies in that they failed to petition the U.S. Drug Enforcement Agency (DEA) for relief before filing a lawsuit.
In a ruling, on May 30, 2019, U.S. Court of Appeals Judge for the Second Circuit Guido Calebresi has agreed with the lower court.  Guido authored the opinion for the two-judge majority on the three-judge panel.
However, the U.S. Court of Appeals has taken the unusual step of retaining jurisdiction of the case–by holding the case in abeyance–because children with dire medical needs are involved, and has put the DEA on notice that the Court expects reclassification to occur in the coming months.
"It is possible that the current law, thought rational once, is now heading towards irrationality, it may even conceivably be that it has gotten there already," Judge Calebersi wrote.
Meanwhile, even though the lower court judge, Alvin K. Hellerstein, ruled against the plaintiffs on the above-mentioned technicality, he agreed on record that medical cannabis has helped these Plaintiffs.
"Your clients are living proof of the medical appropriateness of marijuana… I have to take the plausible allegations in your complaint as true.  How could anyone say that your clients' lives have not been saved by marijuana? How can anyone say that your clients' pain and suffering has not been alleviated by marijuana?" Judge Hellerstein said, per a court hearing transcript obtained by APN. 
Alexis Bortell, a child, suffers from intractable epilepsy; Jagger Cotte, a child, suffers from Leigh's Disease; and Jose Belen, a veteran, has Post-Traumatic Stress Disorder (PTSD): all three have been helped by medical cannabis. 
The DEA has owned a medical cannabis patent since 2002 and an international patent since 1999 to cover cannabinoids that are medically useful.  
It is hypocrisy for the federal government to keep cannabis in Schedule 1 stating that it has no medical use, while at the same time having a patent on the plant for its medicinal use. 
"If a federal court is saying the designation is on its way to being irrational, that means it is on its way to being unconstitutional," Michael Hiller, the Plaintiff's lead attorney, tells APN.
In addition, Plaintiffs are now in the process of filing their petition with the DEA to reschedule cannabis; they expect to file in the next few weeks.
The DEA relies on the advice of the U.S. Department of Health and Human Services on the issue cannabis scheduling.
The DEA has had a history of delay in being responsive to administrative petitions to reschedule cannabis.  
In 2011, it denied a 2002 rescheduling petition filed by Coalition for Rescheduling Cannabis.  
https://www.federalregister.gov/documents/2011/07/08/2011-16994/denial-of-petition-to-initiate-proceedings-to-reschedule-marijuana
In 2016, it denied a 2011 rescheduling petition filed by then-Governors Lincoln Chaffee of Rhode Island and Christine Gregoire of New Jersey. 
https://www.federalregister.gov/documents/2016/08/12/2016-17954/denial-of-petition-to-initiate-proceedings-to-reschedule-marijuana
"The constitutional issue for Equal Protection purposes is, simply, whether there is any conceivable basis to support the placement of marijuana in the most stringent schedule  under the CSA," Judge Hellerstein opined, referring to the Controlled Substances Act.
"This is powerful evidence that the law is unconstitutional; and if the DEA does not rescind the designation of cannabis as a Schedule 1 drug, the Court is likely to do it for them," Hiller told APN.
Plaintiffs argue having to go through the administrative process will prolong their ordeal of living with uncertainty about their access to life-saving medications; or cause them to lie in fear that pursuing such medical treatment may subject them or their loved ones to devastating consequences due to its federal illegality. 
"There are important benchmarks coming up in the lives of our clients.  If the DEA has no response by early next year, we will be petitioning the 2nd Circuit to ask them to move this along," Hiller said.
(END / Copyright Atlanta Progressive News / 2019)