Quarry Yards Marketing Materials Prompt HUD Complaint (UPDATE 3)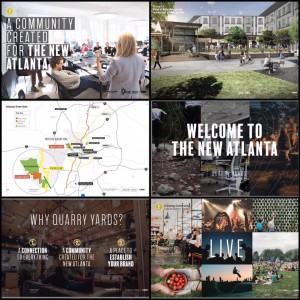 Photograph includes images from Quarry Yards marketing materials, pursuant to Fair Use doctrine for educational purposes.
(APN) ATLANTA — Quarry Yards, a planned upscale development in Atlanta's historic Grove Park neighborhood, may have violated Fair Housing laws by publishing marketing materials that appear to exclude legacy residents who are mostly Black and low-income.
"CREATED FOR A NEW ATLANTA" and "WELCOME TO THE NEW ATLANTA" say two marketing slides contained in a presentation posted to the Quarry Yards website.  Other slides show renderings of the project with illustrations of White yuppies and professionals.
This messaging–which intentionally excludes existing, legacy residents–raises concerns in light of the federal Fair Housing Act.  This stated intent of exclusion would be consistent with the unaffordable pricing of the units. Basically, legacy residents need not apply, this is not designed for you.
On Monday morning, July 08, 2019, at 10:30 a.m., community advocates will be filing a Fair Housing Complaint at the Atlanta Regional Office of the U.S. Department of Housing and Urban Development.
https://www.facebook.com/events/351639725454713/
The complainants include Diane Wright, former Resident President of Hollywood Courts public housing community and the Jurisdiction-Wide Resident Advisory Board of all public housing in Atlanta; activist Joe Beasley; as well as APN's News Editor, the present writer.
Atlanta resident James Jay Bailey posted the slides to Facebook, which have been shared dozens of times among residents concerned about gentrification.
"Wow.  This is so disturbing.  COMPLETELY written out of the narrative for 'A Community Created for the New Atlanta' – on the WESTSIDE," Bailey wrote.  "Yet another wake up call Atlanta."
So, what is the New Atlanta?  
The Marketing Feasibility Analysis for Parkside at Quarry Yards, obtained by Atlanta Progressive News, reveals that the developers are aware that they are developing units that will not be affordable to existing residents in the Bankhead neighborhood.
https://www.dca.ga.gov/sites/default/files/2018-525parksidequarryydsms.pdf
So, the housing units have been knowingly priced to exclude existing residents and are created for a demand of prospective new residents, with higher incomes, who would move into Atlanta's Bankhead neighborhood.  
In case the unaffordable pricing wasn't exclusionary enough, Quarry Yards has made it clear that the units are intended for "the New Atlanta."
Diane Wright believes that the Quarry Yards is just another step in a racist gentrification scheme that began with the demolition of public housing communities on the Westside such as Bowen Homes, Hollywood Courts, Bankhead Courts, and Herndon Homes.
Those public housing communities were demolished with no plan for redevelopment, but many of the former residents have held out hope that at least some of them would be able to return to the community.
"Poor people are being pushed out of Atlanta so that the rich can come in," Wright told Atlanta Progressive News.
"What's going to happen to the Old people from Atlanta, people who need housing?  You got the families under the bridge that should be in the complexes they're gonna build.  But they'd rather have them under a bridge or in a shelter than to put them in affordable housing," Wright said.
As for the so-called "affordable housing" being included in the Parkside development, it is priced at sixty and eighty percent of the Atlanta-Sandy Springs-Marietta Area Median Income used by HUD.
"That's not affordable," Wright said.  "Affordable is thirty percent AMI."  
Indeed, the marketing study itself confirms that sixty and eighty percent AMI is twice or nearly three times what existing residents could afford.
The listed developer of Quarry Yards is Urban Creek Partners; CBRE is also involved as the company that is leasing out space at the development.  The listed developer for Parkside at Quarry Yards is Prestwick Development Company.
Parkside at Quarry Yards has received Low-Income Housing Tax Credits through the Georgia Department of Community Affairs, while Quarry Yards has received Opportunity Zone designation from HUD.
Title VIII of the Civil Rights Act of 1968, commonly known as the Fair Housing Act, prohibits discrimination in housing on the basis of several protected classes, including race and color. 
"Yesterday I came across the marking materials for a development that were really troubling to me — and an example of moving Atlanta in the wrong direction… This project has literally been designed and promoted to erase and ignore the families currently living in that community," Atlanta City Councilman Matt Westmoreland (Post 2-at-large) said in a statement posted to Facebook.
"We shouldn't be seeking to create a 'New Atlanta.'  City government has to make a commitment moving forward to only work with developers who share our values of building an equitable, inclusive, and diverse Atlanta for all who call this city home."
(END / Copyright Atlanta Progressive News / 2019)
UPDATE 1: Updated to include quote from Councilman Westmoreland.
UPDATE 2 and CORRECTION: Location of Quarry Yards corrected from Bankhead to Grove Park.
UPDATE 3 and CORRECTION: A previous version of this article had listed CBRE as a developer, but the article has been corrected to reflect that CBRE's role is to lease out space at the development.