Georgia Approves New E-Voting Regime, but will Paper Record be Utilized?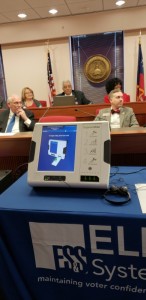 With additional reporting by Matthew Charles Cardinale.  Photograph by Gloria Tatum.
(APN) ATLANTA — On April 02, 2019, Gov. Brian Kemp signed HB 316, a new law to require the State of Georgia to purchase new electronic voting equipment for Georgia elections.  
The law attempts to address some of the concerns raised by elections integrity activists in Georgia over the last nearly twenty years, by adopting the use of touchscreen Ballot Marking Devices (BMD's) that create a paper record of voters' votes.
Our current E-voting machines in Georgia, Direct Recording Electronic (DRE) machines in place since 2001, create no paper record.
With the new machines, voters will still interface with a computer to select their candidates and their responses to any ballot initiatives.  Then, after the voters make their choices, the machines will generate a paper ballot that is supposed to reflect their selections.
Voters will have the opportunity to review this paper record in order to make sure it reflects their votes, before hitting a confirmation button to finalize their vote.
However, computer experts say that barcodes used by BMD's are vulnerable to hacking; meanwhile, the law does not specifically require that the paper ballots be used in a recount.
WILL PAPER RECORD BE USED?
"There is a paper record produced supposedly of the voters' votes," Garland Favorito, an elections integrity activist with VoterGA, who previously sued Georgia over its current E-voting machines, told Atlanta Progressive News.
"There are several issues.  The paper ballot could have [its] votes embedded in a barcode," Favorito said.
"If they pick a ballot marking device that embeds," and if the barcode is what is used in tabulations and recounts, "it's unverifiable.  It's barely better than what we have now," Favorito said.
"To have verifiability, you have to tabulate what the voter saw," Favorito said.
HB 316 "doesn't mandate the type of Ballot Marking Device.  It allows any type… to be used. The RFP (Request for Proposals) also left it open.  This was a big issue," Favorito said.
In addition, HB 316 leaves open the question of whether the paper ballot or the barcode will be used in tabulations or recounts.
"We proposed a Human Readable Tabulation Amendment to tabulate what was human readable," Favorito said.
Favorito said this amendment passed the Senate Ethics Committee and full Senate last year, but not this year when HB 316 actually passed.
APN reached out to Secretary of State Brad Raffensperger's office, which recently issued an RFP to voting machine vendors pursuant to HB 316, to see whether they agreed with Favorito's analysis.
However, a spokeswoman for the office stated that while the RFP is in process, they cannot speak about anything that could impact the RFP process, citing the Georgia Procurement Manual.
THE LANGUAGE OF HB 316
APN reviewed the language of HB 316 to attempt to find the answer.
HB 316 amends the definition of "official ballot," to include "paper ballots that are read by ballot scanners;" yet, it appears to leave open the possibility that an "electronic" record, such as a barcode, will be an official ballot.
The definition, as now amended, reads as follows: "(18) 'Official ballot' means a ballot, whether paper, mechanical, or electronic, which is furnished by the superintendent or governing authority in accordance with Code Section 21-2-280, including paper ballots that are read by ballot scanners."
Even if the State selects a vendor that allows for barcode scan technology, that does not automatically mean that the barcode is what will be tabulated, although one might ask what is the purpose of a barcode, if not to be used?
It is not immediately clear from HB 316 who is supposed to decide whether to use the paper ballot or the barcode as the official record.  However, given the obvious problems that would come if each election superintendent chose to do it differently, it appears to be the Secretary of State's decision.
As for recounts, HB 316 states as follows: "The paper ballot marked and printed by the electronic ballot marker shall constitute the official ballot and shall be used for, and govern the result in, any recount… and any audit."
This language does not specifically preclude reliance on information contained in a barcode, but seems to reference being "marked," which one could argue means that in a recount, the information verified by the voter on the paper ballot is what would be used in a recount.
Currently, recounts with Georgia's existing E-voting machines are merely a re-running of electronic totals and there really are no such things as individual ballots.
LEGISLATIVE DEBATE
HR 316 was sponsored by State Reps. Barry Fleming (R-Harlem), Jan Jones (R-Milton), Jon Burns (R-Newington), Ed Rynders (R-Albany), Sam Watson, R-Moultrie), and Trey Kelley (R-Cedartown).
http://www.legis.ga.gov/legislation/en-US/Display/20192020/HB/316
HB 316 passed the House of Representative on February 26, 2019 along party lines, 101 to 72.  
On March 12, the Senate also voted along partisan lines 35 to 21 to pass HB 316 after over three hours of heated debate in the full Senate chamber.
"It reeks of corruption prioritizing vendors over voters… and it stains this body for passing it,"  State Sen. Elena Parent (D-Atlanta) said on the Senate floor.
"There is nothing more important to a democracy than the right to vote, it is what separates us from fascism…. Our constituents are concerned about our elections…and they are unconvinced that the process is fair," Sen. Parent said.
"This process seems to be driven by one vendor… it looks like we are passing a bill for a company and not the people of Georgia," State Sen. Steve Henson (D-Stone Mountain), Senate Minority Leader, said on the Senate floor.  
Other problems include a conflict of interest with an Election Systems & Software (ES&S) lobbyist now working in the Governor's office, and a six million dollar fiscal burden on counties.
Republican lawmakers ignored the advice of leading cyber and election security experts and national computer scientists who warned them that BMDs using a barcode technology were insecure and vulnerable to hacking.   
NEW REPORT ON BMD'S
A new report, Ballot-Marking Devices (BMDs) Cannot Assure the Will of the Voters, has been released by cybersecurity experts Andrew Appel, Princeton University; Philip Stark, University of California, Berkeley; and Richard De Millo, Georgia Tech.
https://papers.ssrn.com/sol3/papers.cfm?abstract_id=3375755    
The report states, "computers… can be hacked and misprogrammed.  A hacked BMD can print a vote on the paper ballot that differs from what the voter expressed, or can omit a vote that the voter expressed."  
Hacking, bugs, and configuration errors each can cause the BMSs to print votes that differ from what the voter entered and verified electronically.
Therefore, BMDs should not be used by voters who can use hand-marked paper ballots, the authors recommend.
The report points to design flaws with the ES&S Express Vote model, the ES&S Express Vote XL model, and the Dominion ImageCast Evolution (ICE).  
All three of these machines have serious security vulnerabilities, according to the report: they can mark the paper ballot to add votes or spoil already-cast votes.    
Vote-stealing software could easily be constructed that looks for undervotes on the ballot and marks those unvoted spaces for the candidate of the hacker's choice.
http://atlantaprogressivenews.com/2019/02/04/safe-commission-seeks-new-e-voting-machines-experts-warn-against-model-selected  
"From a cybersecurity standpoint, there is no difference between the touchscreen BMDs favored by Brian Kemp and the paperless touchscreen DRE's that Georgia currently uses," Richard DeMillo, a computer scientist at Georgia Tech, told APN.   
(END / Copyright Atlanta Progressive News / 2019)