General Assembly Acts on Some Cannabis Bills, Stalls on Others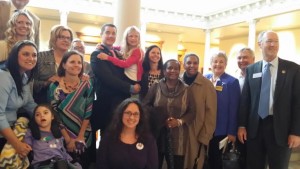 With additional reporting by Matthew Charles Cardinale.  File photo.
(APN) ATLANTA — Georgia legislators introduced at least four cannabis bills during this 2019-2020 Legislative Session of the Georgia General Assembly: HB 213 ("Georgia Hemp Farming Act"), HB 324 ("Georgia's Hope Act"), SB 10 ("Decriminalization"), and HB 268 ("Record Restriction for Simple Cannabis Possession").
So far, it looks like two bills–the hemp bill and the medical cannabis oil access bill, Georgia's Hope Act–have a good chance of passing this Session.  Both have passed the Georgia House and crossed over to the Georgia Senate.
On the other hand, Georgia's decriminalization and record restriction bills have not advanced to date.
HB 213 GEORGIA HEMP FARMING ACT
http://www.legis.ga.gov/legislation/en-US/Display/20192020/HB/213  
HB 213 is an industrial hemp bill.  The intent of this bill is to promote the industrial cultivation and processing of hemp and hemp products for commercial purposes and move the state to the forefront of the hemp industry.
HB 213 passed the Georgia House nearly unanimously, in a vote of 163 to three, on February 28, 2019.
"As of today, Hemp has not been defined in Georgia law.  The Federal definition of Industrial Hemp is cannabis sativa L containing not more than 0.3 (three tenths) of a percent of THC on a day weight basis.  Hemp is a strain [of cannabis] that has been bred to produce practically no THC," Tom McCain, Executive Director of Peachtree NORML (National Organization for the Reform of Marijuana Laws), told APN.
Hemp products Include rope, clothing, shoes, paper, fuel, sunscreen, and CBD oil that does not have enough THC to be considered illegal under federal law but still has other powerful cannabinoids.
The bill provides for academic research of hemp, the licensing and permit requirements for hemp growers, testing of hemp crops, and to make known the many rules and regulations and penalties of controlled substances .  
The bill provides that no person will be issued more than one hemp growers license or have an interest in more than one hemp growers license.   
Sponsors of HB 213 are State Reps:  John Corbett (R-Lake Park), Tom McCall (R-Elberton),  Jimmy Pruett (R-Eastman), Carl Gilliard (D-Garden City), Robert Dickey (R- Musella), and Matthew Wilson(D-Brookhaven).
It is currently in the House Committee on Agriculture and Consumer Affairs.
HB 324 GEORGIA'S HOPE ACT / MEDICAL CANNABIS OIL ACCESS
http://www.legis.ga.gov/legislation/en-US/Display/20192020/HB/324
On yesterday, March 05, 2019, HB 324 passed the Georgia House in a vote of 123 to forty.  It was reported favorably out of the Regulated Committee on March 01.
HB 324 is a bill to provide for production, manufacturing, and dispensing of low THC oil in Georgia and to provide for an exception to possession of certain quantities of low THC oil.     
In 2015, the General Assembly allowed Georgia patients to legally possess up to twenty fluid ounces CBD oil with low (five percent) THC for medical purposes, but provided no way for patients to legally purchase the oil.    
So, for the last four years, parents and patients who buy, sell, or transport the CBD with low THC–in order to buy the medicine they are legally allowed to possess–have been subject to the possibility of prosecution under Georgia law, in addition to incarceration and huge fines.
Georgia's Hope Act, HB 324, is an attempt to remedy these conflicting laws and establish the Low THC Oil Patient Registry that would allow Georgia's some six thousand medical cannabis patients to legally buy the oil for the first time.
"In 2015, a lot of people advocated for other forms of ingestion and that a lot of people needed higher percentages of THC.  This is a baby step to appease the fact that we need access and that is what they are trying to provide," James Meissner, founder of OnePlant, an advocacy platform on social media, told Atlanta Progressive News.
A huge bureaucracy and security system is being set up to strictly regulate the cultivation and dispensing of cannabis oil.  The regime will provide broad oversight of production licenses, retail licenses, and a tracking system of the THC oil from seed to sale, plus draconian fines and penalties for violations.  
Possession of 160 or more fluid ounces of low THC oil would be a felony offense.
Lead co-sponsors on HB 324 are State Reps. Micah Gravley (R- Douglasville), Mark Newton (R-Augusta), Alan Powell (R-Hartwell), Calvin Smyre (D-Columbus), David Clark (R-Buford), and Scot Turner (R-Holly Springs).
SB 10 – DECRIMINALIZATION OF POSSESSION OF UNDER TWO OUNCES OF CANNABIS
http://www.legis.ga.gov/legislation/en-US/Display/20192020/SB/10
SB 10 would amend Georgia law to make possession of up to two ounces of cannabis a misdemeanor.
SB 10, if passed, would make possession of one-half ounce or less of cannabis a fine not to exceed three hundred dollars.
The bill would make possession of one-half ounce but not more than two ounces a misdemeanor with penalties of imprisonment not to exceed twelve months or a fine not to exceed one thousand dollars or both; or community service not to exceed twelve months.
Currently in Georgia the threshold between misdemeanor and felony possession is one ounce or more of cannabis.  
"The key thing is that you don't have a felony that keeps a person from voting, college students from losing HOPE scholarships, you can lose government assistance, and [a felony] can stop you from taking the Bar Exam," State Sen. Harold Jones (D-Augusta) told APN.
"We are still making changes to the bill to mirror the DUI statute.  Under DUI if you have a first and second misdemeanor, the third is a high and aggravated misdemeanor, and the fourth is a felony, so we are going to change this (bill) to fit that," Jones said.
In 2017, the City of Atlanta signed legislation making possession with less than an ounce of cannabis a 75 dollar fine with no jail time.  Additional Georgia local governments that have decriminalized cannabis similarly are the cities of Clarkston, Forest Park, Savannah, South Fulton, and Statesboro; and unincorporated Fulton County.
The Senate Judiciary Committee met on February 07, 2019, and decided to delay action on the bill, according to "Cannamedic" Stanley Atkins II.  Since then, the Senate has taken no further action on the bill as of press time.
Lead co-sponsors on SB 10 are State Sens. Jones, Steve Henson (D-Stone Mountain), Michael Rhett (D-Marietta), Donzella James (D-Atlanta), Elena Parent (D-Atlanta), and Sheikh Rahman (D-Norcross).   
HB 268 – RECORD RESTRICTION  
HB 268 would allow those convicted of simple marijuana possession to petition the court to restrict access to their records.
http://www.legis.ga.gov/legislation/en-US/Display/20192020/HB/268
The lead co-sponsors on this bill are State Reps. Billy Mitchell (D-Stone Mountain), Sandra Scott (D-Rex), and William Boddie (D-East Point).
It is currently assigned to the House Judiciary Non-Civil Committee, and has not advanced out of committee.
(END / Copyright Atlanta Progressive News / 2019)