Vogtle Reactors Move Forward, despite Co-owner Concerns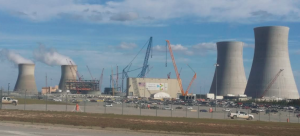 (APN) ATLANTA — After a debate on a "go or no go" vote, the co-owners–Municipal Electric Authority of Georgia (MEAG), Oglethorpe Power, and Dalton Utilities–decided to continue construction on the planned Plant Vogtle nuclear reactors Units 3 and 4, despite never-ending cost overruns.
The vote was triggered by a recent 2.3 billion dollar jump in the budget announced by Southern Company in its quarterly earnings call in August 2018.
The Vogtle budget has doubled from fourteen billion dollars to almost thirty billion dollars with no end in sight.
That is why Oglethorpe Power asked for a cap on the runaway costs and pressured Georgia Power to assume the risk for any further cost increases.
Oglethorpe Power is a public power utility, not a for-profit company like Georgia Power; and does not have shareholders who could absorb this increase.  They called for a cost cap on anything above the 2.3 billion dollars and an 800 million dollar contingency.
Georgia Power pushed back and accused Oglethorpe of trying to burden others by making unreasonable demands and not honoring the obligations of their contract by accepting the risks in the project.
Oglethorpe responded that they had a duty to protect their members and customers
On Wednesday, September 26, 2018, Georgia Power and Oglethorpe, after two days of negotiations, reached an agreement to move forward with no cap on project costs.
"Georgia Power's refusal to accept any cap… should alarm every Georgians who pays an electric bill… Georgia Power has little incentive to contain those costs, which leaves Georgians exposed to unchecked financial risk," Kurt Ebersbach, Senior Attorney for Southern Environmental Law Center (SELC), said in a press release.
With the new agreement, Georgia Power agreed to take on a disproportionate share of the risk of future cost increases, in exchange for greater control over decisions regarding Vogtle's future.   
"The other owners gave up the right they had to vote to cancel the project in exchange for some minor financial aid down the road," Liz Coyle, Executive Director, Georgia Watch told Atlanta Progressive News.
Now only Georgia Power can cancel the project; the last pretense of a safety net is gone.     
"Georgia Power agreed to assume the financial responsibility of 55.7 percent of future cost overruns up to 1.6 billion dollars and 65.7 percent of cost overruns over 1.6 billion," Debbie Dooley, Co-Founder of the conservative Tea Party Patriots, wrote in a Facebook post.  
According to the deal, the co-owners have an option to sell a portion of their shares of Vogtle to Georgia Power if future cost overruns continue to go up over a certain amount.
"I believe Georgia Power shareholders should be eating all the cost overruns… My expectation is that Georgia Power will seek to recover any cost associated with the cost overruns from their customers," Coyle said.
"They are the ones who have been managing the project and now it is totally under their management with Southern Nuclear in charge.  They currently stand to earn an extra five billion dollars for their shareholders with the mismanagement of the project," Coyle said.  
Dalton Utilities voted yes to move forward.
MEAG Power Board of Directors voted unanimously to support the completion of the project with no conditions attached and over objections by one of their Power Purchase Agreement (PPA) partners, Jacksonville Electric Authority (JEA).
JEA wants out of its agreement with MEAG to buy power from Vogtle 3 and 4 for the next twenty years and is in litigation to get out of a bad contract they entered into back in 2008 before all the cost overruns and delays.
They claim that Vogtle has become too expensive and they can buy energy cheaper other places.  
http://atlantaprogressivenews.com/2018/09/22/activists-push-vogtle-co-owner-meag-to-end-the-insanity-of-units-3-4/  
"If JEA prevails in court to nullify their contract with Vogtle partner MEAG, Georgia Power has agreed to loan MEAG 250 million dollars to help defray the loss of revenue," Dooley said in a Facebook post.  
Power South Energy, a co-op in Andalusia, Alabama, is also not happy with their agreement with MEAG, but is willing to honor their commitment.
"If I had to do it over again, I wouldn't do it, but you don't get do-overs in life," Gary Smith, President and CEO of Power South, testified to the MEAG Board of Directors.
(END / Copyright Atlanta Progressive News / 2018)