Councilman Bond Seeks Videotaping of Atlanta Council Briefings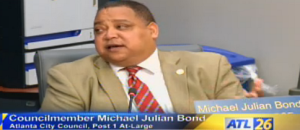 (APN) ATLANTA — Atlanta City Councilman Michael Julian Bond (Post 1-at-large) has introduced an ordinance that would require the Committee Briefings of the Atlanta City Council to be videotaped.
The videos would be required to be posted online on the City Council's website as well as available through the Municipal Clerk.  
While the Atlanta City Council's seven Committee Briefings may have been opened to the public in 2013, transparency issues continue to plague the Briefings.  First, the Committee Briefings are not videotaped. Second, meaningful minutes are not kept, Atlanta Progressive News has learned.
The seven Committees of the Atlanta City Council routinely hold Committee Briefings.  The Briefings are held prior to the respective Committee Meetings.
While the Briefings are not required to be held per the City's Code of Ordinances, in practice they originated as meetings for the seven Committee Chairs to be briefed about items on the agendas of their respective committees.
The Committee Briefings instead developed over time into quasi-mini-Committee Meeting dress rehearsals where Councilmembers sometimes ask substantive questions of Department heads.
In 2011, APN first reported on the Committee Briefings being closed to the public.  APN's News Editor filed a lawsuit in Fulton County Superior Court in 2011, which was re-filed in 2012, challenging the closed-door Briefings.
In 2013, the Briefings were opened to the public and the Council adopted an ordinance drafted by APN's News Editor, and introduced by then-Councilman Kwanza Hall (District 2) to subject the Committee Briefings to the requirements of the Georgia Open Meetings Act.  These requirements include, among other things, openness, pre-meeting advertising, agendas, and minutes.  Meanwhile, the litigation was settled in 2013.
In reality, it is difficult for members of the public to attend seven Committee Briefings, which are held during the work week during business hours.  It is difficult enough to attend all seven Committee Meetings, as it is.
Even if members of the public wanted to attend all fourteen meetings–the seven Committee Meetings and the seven Committee Briefings–it would actually be impossible because three sets of Meetings and Briefings happen at the same time.
For example, the Public Safety/Legal Administration Briefing, held every other Tuesday at 2:30 p.m., is, for some unknown reason, held at the same time as Community Development/Human Services Committee, which is scheduled on the the same Tuesdays from 1:00 to 3:00 p.m.
Therefore, it is imperative for the public to have other ways to view the Committee Briefings, particularly if they are interested in a particular issue that may have been discussed in the Briefing.
The City is required to post Committee Briefing minutes online, but the City appears to not be doing so.  A review of the City Council's video page does not appear to show any Committee Briefing minutes posted to date.
http://citycouncil.atlantaga.gov/legislation/city-council-meeting-minutes
City code, Sec. 2-133(a) requires Council Committee Meeting minutes to be posted online, while Sec. 2-133(g), as amended in 2013, subjects standing Committee Briefings to the requirements for meetings.
Earlier this month, on or around July 14, 2018, Atlanta Progressive News made a request for copies of the last three Committee Briefing minutes compiled for all seven Committees.
What the Municipal Clerk's Office provided, as the Committee Briefing minutes, were basically copies of the Committee Meeting Agendas enhanced with notes about staff comments.
According to one committee analyst, they compile notes about the staff comments during the Briefings and then add them to the agenda margins, thus creating Briefing minutes, as quickly as possible after the Briefing.
However, as compiled, these minutes, while they may serve as a rough guide for what occurred in the Committee Briefings, do not include information about who said what in said Briefings.  That is, the minutes do not give an account of which Councilmembers asked what questions of what legislation, nor of what answers were given by which members of the administration.
While the state's open meetings requirements for minutes do not require them to contain specific information regarding the discussion of items at meetings, the bottom line is that these so-called Committee Briefing minutes do not give a meaningful window into what was actually discussed and by whom, therefore making it all the more important for the Council to provide a video record of the Committee Briefings.
Councilman Bond has said repeatedly that he does not believe in the Briefings in terms of what they have evolved to be.  However, as long as Committee Chairs continue to hold the Briefings, this ordinance is intended to give equal access to all Atlantans, including those who are unable to attend them personally; as well as to create a historical archive.
The ordinance will be heard at the Committee on Council Meeting on August 06, 2018, in Committee Room 1, at 11:15 a.m.  If approved by COC, it will be heard by Full Council at 1 p.m. 
APN's News Editor drafted the proposed ordinance for Councilman Bond.
(END / Copyright Atlanta Progressive News / 2018)
EDITOR'S NOTE: In full disclosure and as previously disclosed, APN's News Editor has worked as a paid legislative consultant for Councilman Bond, and is currently working on affordable housing legislation for Councilman Bond.