Atlantans Protest Trump's Immigrant Family Separations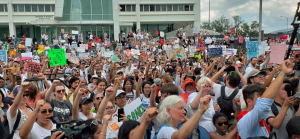 (APN) ATLANTA — On Saturday, June 30, 2018, thousands of Atlantans joined millions across the U.S., in over seven hundred protest rallies nationwide, in marching to oppose Trump's zero-tolerance policy that separates immigrant children from their non-criminal, non-violent parents who are seeking asylum.
A smaller group of protesters maintained an overnight presence at the Atlanta Detention Center through Monday, July 02, although police twice removed tents due to the violation of the City's urban camping law.
One woman, Tori Ashton Tremayne, was arrested for alleged disorderly conduct that police say occurred when they were trying to remove the tents on Sunday, July 01.
City of Atlanta Mayor Keisha Lance Bottoms has signed an Executive Order that temporarily prohibits the City jail from accepting any new detainees from U.S. Department of Immigration and Customs Enforcement (ICE).   Unfortunately, they will probably be sent to Stewart Detention Center or Irwin County Detention Center, both with a histories of neglect and abuse of immigrants.
Over 2,300 children, some only months old, were ripped from their mothers' arms and put in cages to be transported under the cover of night thousands of miles away and scattered to the wind, possibly never to be reunited with their parents.
From a smuggled audio recording, we hear babies crying "mommy" and "papa."
These parents are refugees and asylum seekers fleeing poverty, violence, rape, and murder in their own countries, to seek safety in the United States.  Some have traveled over one thousand dangerous miles to save their children from violent drug cartels so they could have a better life in the U.S.
But upon reaching the border, the legal ports of entry were closed, which forced asylum seekers to enter illegally, where they were arrested like criminals and put in detention camps and their children taken from them.
At least some of the parents say they were told if they signed a voluntary deportation order, they would get their children back at the airport.  In desperation many signed, but that appears to have just been another lie.  Many parents were deported to face death.

The Trump Administration never had a plan to reunite the families, so cruelly torn apart.
The United Nations Human Rights Office has called Trump's family separations a violation of human rights and an abuse of children, and urged for the U.S. to stop this policy and practice.
In Atlanta, over fifteen thousand people of conscience gathered at the Atlanta Detention Center to march to the Richard B. Russell Federal Building to protest Trump's zero-tolerance policy, or as some have called it, "Trump's zero humanity policy."
"We will march and not stop until every crying and victimized child by Trump's policy is back in the arms of their parents," U.S. Rep. Hank Johnson (D-GA) said to the crowd.
Adelina Nicholls, Executive Director of Georgia Latino Alliance for Human Rights (GLAHR),  spoke about witnessing buses full of children arriving at the detention center in Tornillo, Texas, which is in the desert in 105 degree weather.
Reporters have complained about the secrecy surrounding these detention camps for children.  They are not allowed to take pictures nor talk with the children.  The pictures shown on television are government pictures, which are sanitized for public consumption.  
No one seems to know where all the children and their parents are.  
"We have been fighting for immigrant rights for over fifteen years… and we are feeling the heavy hand of White supremacy policies approaching all of us," Nicholls said.
"White supremacy, racism, and discrimination needs to be exposed… we must demand decriminalization of migration and abolish ICE," she said.
Trump has tried to justify his "zero tolerance" policy around fear of the MS-13 gangs entering the country.   
"We are tired of seeing little babies taken from their mothers.  That's not right, not fair, history will not be kind to us, and as a people we can do better.  When I heard the tape of the babies crying, it made me cry," U.S. Rep. John Lewis (D-GA) said.
"It does not matter if we are Black, White, Latino, Asian American, or Native American, we are all one people," he said.
And yet some of Trump's supporters appear to be motivated by racism.  In Tennessee, there are billboards that read, "Make America White Again."  Republican commentator Ann Coulter calls immigration the "browning of America."
Azadeh Shahshahani, Legal and Advocacy Director of Project South, explained that Trump's recent Executive Order, purportedly issued to keep families together, actually would put children and parents in cages for months or even years.
"This will mean more profit for prison corporations while immigrant families continue to suffer," Shahshahani said.
Private prison corporations donated hundreds of thousands of dollars to a Trump SuperPAC; now they are being rewarded with huge profits from zero tolerance.  
The tent cities that hold children cost 775 dollars per child per night, according to the U.S. Department of Health and Human Services (HHS).
It is projected that an average of more than 50,000  people will be held in immigration detention prisons in 2018 at a cost between 140 to two hundred dollars per day.  
Family residential detention jails will costs around 300 dollars per family per day, according to Department of Homeland Security.
The more beds a private prison can fill, the more funding they will get from the government.
ICE inadvertently admitted that to make so many arrests, which the Trump administration wants, they collaborate with local law enforcement agencies that stack gang databases with the names of people who are not gang members and pose no public safety threat, according to The Nation magazine.
If Trump spent as much money, time, and energy on MS-13 as he does kidnapping babies, traumatizing them, and putting them in baby jails, perhaps he could do something about the MS-13 gangs about which he claims to be concerned.
"We are in a battle against evil and we are fighting for the soul of our nation.  What kind of country do we want to be? A fearful, insecure, hate-filled, walled-off, homophobic, xenophobic, Islamophobic, racist nation?  Or will we be a nation of all the people?" Reverend Dr. Raphael Warnock, Ebenezer Church, said.
"If you did not know that elections matter, you know now that elections matter.  You've got to vote," Rev. Warnock warned the gathering.
Bernarda Thomas, a U.S. citizen from Guatemala, told Atlanta Progressive News that she is worried about her daughter who still lives in Guatemala.  
"My daughter had three hair salons and gang members were making her pay one hundred dollars weekly for each salon.  She had to close her salons and also a bicycle parts shop," Thomas told APN.
Thomas explained that her daughter's husband asked a gang member "Why you asking for money?"  She said the gang member replied to Thomas's daughter, "Now you have to pay 2,500 dollars or we will kill your husband." Thomas explained.
"My daughter is very depressed because she no longer had any way to make money."    
Her daughter has been trying to come to the U.S. with her family for over seven years.  Now she has to hide from gang members, has no way to make money, and can't come to the U.S.
This is what asylum seekers are facing in their home countries, and that is why so many are risking everything to escape the violence, extortion, threats, and murders.  
The American Civil Liberties Union has filed a lawsuit on behalf of families separated by Trump's policy.  
U.S. District Court Judge Dana Sabraw granted a preliminary injunction saying that all migrant children must be returned to their families within thirty days and that children under age five must be returned in fourteen days.
(END / Copyright Atlanta Progressive News / 2018)