Atlanta Implements No Cash Bail for Misdemeanors, after Fiery Debate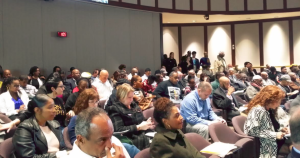 With additional reporting by Matthew Charles Cardinale
(APN) ATLANTA — On Thursday, March 01, 2018, the City of Atlanta began implementing its "no cash bail" policy for certain non-violent misdemeanor offenses.
Under the new process, most persons who are arrested for non-violent, misdemeanor offenses will be booked in under charges for which they were arrested; receive a self-bond ("signature bond") designation; and be released.
"The Chief of Corrections shall not accept cash bonds on any offenses under the jurisdiction of the Atlanta Municipal Court except as set forth in Section 62-31 (b), (c), (d) and (f) of this Chapter," the ordinance states.
The exceptions–which were subject to vigorous debate among Councilmembers–include "Disorderly Conduct – Act of violence toward another;" "Disorderly Conduct – Fighting;" "Disorderly Conduct – Physical obstruction of another;" "Driving Under the Influence;" any citation that includes domestic violence written on the ticket; idling and loitering for illicit sex; and "Other offenses the Corrections Chief reasonably believes involve violence or threat of violence to a person."
Additional exceptions are offenses that are only bailable before a superior court judge; and defendants who are currently on probation or parole.  
Any person whose case falls under one of the above exceptions may be considered for cash bond; however, the municipal judge is required to consider their ability to pay.
"The Court's written determination shall include a finding regarding the defendant's present ability to pay the financial condition set," the ordinance states.
"The Municipal Court shall not establish a financial condition for pre-trial release that results in a defendant being detained solely because he or she does not have enough money to meet the financial requirement," the ordinance states.
"Since Mayor Keisha Lance Bottoms signed the cash bail ordinance into law, the Department of Corrections has worked tirelessly with the City's Law Department, our jail management system, the bond clerk, the municipal judges and courts, Office of the Public Defender, Solicitor's Office, and Department of Atlanta Information Management to ensure we address all potential issues and concerns in preparation for the implementation of our new digital signature bond process," Chief Patrick Labat, Department of Corrections, said in a statement.
The Office of the Public Defender will provide additional legal and social services so that  defendants are not released into the public without the necessary support and resources needed to successfully integrate back into their communities, according to the City.
FIERY DEBATE AMONG COUNCIL AND STAKEHOLDERS
On Monday, February 05, 2018, the Atlanta City Council unanimously approved 18-O-1045, an ordinance by Councilwoman Natalyn Mosby Archibong (District 5), in a vote of thirteen to zero.
http://atlantacityga.iqm2.com/citizens/Detail_LegiFile.aspx?ID=14292
The Southern Center for Human Rights had previously threatened to file a lawsuit over Atlanta's practices.  Other cities across the U.S. have also been eliminating money bond.
Many of the City's municipal ordinances contained in Chapter 106 target or disproportionately burden homeless people, as previously reported by Atlanta Progressive News.
http://atlantaprogressivenews.com/2016/06/28/homeless-fill-atlantas-jails-due-to-quality-of-life-policies-over-100000-qol-arrests-in-three-years/
http://atlantaprogressivenews.com/2018/02/10/apd-enforcing-laws-criminalizing-burdening-homeless-people/
During the public comment portion of the Full Council Meeting, Marshall Rancifer of the Justice for All Coalition, shared statistics where 462 people–the majority of whom were poor and homeless Black and Hispanic men and women–were arrested 42,486 times between January 2009 and July 2015.
98 percent could not make cash bail on the misdemeanor quality of life ordinances with which they were charged.  
"A lot of the people I do outreach to are homeless because of the criminal justice system and the cash bail system because, once they get arrested, they can't make bail, and they lose their jobs and apartments," Rancifer told the Council.
Rancifer asked the Council why the City is arresting people for urban camping after the closure of the Metro Atlanta Task Force for the Homeless shelter in Downtown Atlanta.
"I have been in jail many times and I normally stay thirty to 45 days and sometimes sixty.  I don't know what they are talking about, that they let you right out; no they don't," Jihad Muhman, a homeless man, told APN.   
Muhman said he has been arrested for jaywalking, sleeping, standing, and asking for a cigarette or food.
"I got arrested on the third, and my birthday was on the fourth, for drinking a beer in the park.  You just can't be human no more and just be in peace without breaking the law," Larry McNeil, a homeless man, told APN.
"It's hard when you call your family to get out and they don't have the money to get you out.  When you do get out, it's hard for you to have a place to stay and get a job because you are caught up in the system," Lyndell Banks, a homeless man, told APN.   
Monique James with Don't Count Me Out commented about working with Judge Terrinee Gundy and the Hilton Corporation to make sure that people arrested for low-level misdemeanors get a job when they are release on a signature bond.
The bail industry opposed the ordinance and several testified that this ordinance will make it easier for criminals to commit felonies and avoid jail.   
Several people spoke about receiving robocalls from the bail bond industry warning about murders, rapes, and criminals breaking into your home and all sorts of misleading statements, apparently with the intent to create fear in people.
However, as previously stated, the ordinance only covers non-violent misdemeanors for people who have not been convicted and can be released on their own recognizance .
"The ability to pay your bond may only mean you have a thriving drug business," Rev. Raphael Warnock, pastor, Ebenezer Baptist Church, noted in his comments.
Mawuli Davis and Gerald Griggs, criminal defense lawyers, spoke to the absurdity of granting bond to alleged murder suspect with the ability to pay cash, while not allowing a homeless person a signature bond for violation of a so-called "quality of life" ordinance.  
"I implore you to evaluate laws that criminalize people simply because they are poor.  You have to dismantle this system of economic apartheid.  It is much cheaper to house the homeless than it is to jail them," Dr. Dwanda Farmer said.
"I was sick and sleeping outside and they locked me up for loitering, and I stayed in jail for 35 days.  We are out there cold and homeless and we need help," Undra Williams, a homeless man, testified.   
"The whole pretrial detention system and cash bail has resulted in mass incarceration of homeless people.  Since the huge emergency overflow Peachtree & Pine shelter has been closed, there have been eleven deaths in a few weeks this winter," Anita Beaty, former executive director of the Metro Homeless Task Force for the Homeless, said.   
"You can't make poor and homeless people disappear and you can't continue to use incarceration as a deterrent to poverty and homelessness," Beaty said.
(END / Copyright Atlanta Progressive News / 2018)