Lawsuit, Investigation Request Keep PSC, Georgia Power on their Toes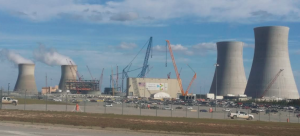 (APN) ATLANTA — The Georgia Public Service Commission (PSC) is facing a new lawsuit, while Georgia Power is facing a possible investigation – both in connection with challenges to the continued construction of new nuclear reactors 3 and 4 at Plant Vogtle.
LAWSUIT AGAINST PUBLIC SERVICE COMMISSION
Three groups–the Southern Environmental Law Center (SELC), Partnership for Southern Equity, and Georgia Interfaith Power and Light–have filed a lawsuit in Fulton County Superior Court on Monday, February 12, 2018 against the PSC.   
The Petitioners claim the PSC's December 21, 2017 decision and holiday gift to Georgia Power to continue Vogtle 3 and 4 violated Georgia law and the PSC's own governing rules, making their decision illegal.     
http://atlantaprogressivenews.com/2018/01/30/psc-sticks-with-nuclear-reactors-approves-two-refunds-for-customers/
The PSC's decision ensures Georgia Power Company billions of dollars in additional profits, while saddling ratepayers with billions in additional expenses.
The Commission's decision put the interest of Georgia Power's shareholders ahead of the interest of ratepayers, especially low-income customers.  
Finally, there is a lawsuit that asserts the obvious – that the so-called "Public Service" Commission is and has been working as an agent of Georgia Power for years instead of protecting the ratepayers.  
As previously reported by Atlanta Progressive News, the PSC vote overruled its own staff's recommendations, which stated that to go forward would hurt ratepayers financially and reward Georgia Power's bad management with additional profits.
The staff recommended that any cost above nine billion dollars should be absorbed by the Company, not ratepayers; and if the Commission could not agree to that, then the project should be cancelled.
The lawsuit contains five Counts, or legal claims:
Count 1: The Commission erred by approving significant changes to the cost and schedule without an amended certification proceeding, the lawsuit claims.
The Commission violated the Integrated Resource Planning statute and its own rule by pushing major changes to the project cost and schedule into a routine construction monitoring proceeding, the suit claims.
The proper procedure for the Company would be to submit an amended application for certification for significant changes to the schedule and cost estimate, Plaintiffs argue.
Count 2: The Commission erred by approving the revised cost estimate and schedule, and declaring them to be "Reasonable."
The Commission finding of reasonableness of Georgia Power's revised schedule and cost forecast is beyond the limits of fairness, Plaintiffs argue, as the forecasted work is already years behind schedule and billions over budget.   
The suit argues that the Commission improperly allowed Georgia Power to carry its burden of proof as to the reasonableness of billions of dollars in excess costs, and did so well in advance of Unit 3's completion and before such sums are even spent.
Count 3:  The Commission erred by refusing to observe its ex parte rule.
Georgia Power violated the ex parte rule–which requires that all communications be through the formal proceeding and transparent to all parties–by communicating behind closed doors with PSC Commissioners days ahead of the controversial December 2017 vote to continue construction on Vogtle 3 and 4, the complaint alleges.
These illegal communications resulted in terms that favor Georgia Power at the expense of ratepayers, the lawsuit argues.
Count 4:  The Commission erred by truncating its review.
The Commission's decision to shorten the time frame of its review by 47 days did not allow for careful consideration of the evidence in the record or allow Petitioners and other parties time to properly prepare and submit final briefs, the lawsuit argues
Count 5:  The Commission erred by issuing a decision devoid of detailed analysis and findings.
Finally, the lawsuit also argues that the Final Decision was made in violation of a statutory provision (O.C.G.A. 50-13-19(h)(1); was made upon unlawful procedure; is arbitrary and capricious; and is an abuse of discretion and affected by other errors of law.
The Petitioners request relief on all five counts, including a reversal of the PSC's final decision to continue construction on Vogtle 3 and 4.
INVESTIGATION REQUESTED
Meanwhile, Nuclear Watch South has submitted a brief to the Georgia Board of Professional Engineers & Land Surveyors to open an investigation into the license status of Southern Nuclear and Southern Company to ensure the validity of engineering licenses and blueprint review practices at Vogtle 3 and 4 in order to ensure safety.
Records show that Southern Nuclear's engineering license (PEF003372) expired on June 30, 2000 and has continued to be expired for over 17.5 years, according to the brief.
Also the "Southern Company – Engineering & Generation Services" license number (PEF003472) expired on April 11, 2000 and has not been renewed.
Neither Southern Company nor Southern Nuclear are licensed to practice engineering in Georgia and appear to be in violation of Georgia law.
The bankrupted Westinghouse contractor did not use professional engineers to approve the blueprints for Vogtle; and used unqualified and unlicensed individuals to design aspects of V.C. Summer nuclear plants.  
The seriousness of these allegations from multiple sources have resulted in The National Society of Professional Engineers to seek an investigation into the matter in South Carolina.
The blueprints in South Carolina had so many flaws that an estimated 600 engineering changes were made per month, according to an audit produced by Bechtel.  Westinghouse is the design authority for both V.C. Summer and Vogtle 3 and 4 designs.
NWS is requesting an investigation into the expired engineering licenses of Southern Nuclear and Southern Company; and has made an amended request for an investigation of related allegations of unreviewed, unstamped engineering blueprints at Vogtle 3 and 4.
In response to NWS request for an investigation, Georgia Power claims that the federal Nuclear Regulatory Commission (NCR) is overseeing Westinghouse's practice of using drawings by unlicensed individuals – as if the pro-nuclear NRC's blessing is some overriding credential.
Georgia Power asserts that the investigation should be denied because NWS did not list which drawings are noncompliant.
The National Society of Professional Engineers (NSPE) has requested an investigation into the amateur blueprint issue in South Carolina; and NWS want the same type of investigation in Georgia.
(END / Copyright Atlanta Progressive News / 2018)