PSC Sticks with Nuclear Reactors, Approves Two Refunds for Customers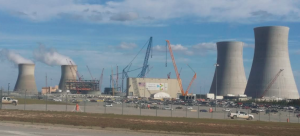 Photograph by Gloria Tatum.  Photograph shows Vogtle Units 1 and 2 alongside the cooling towers for planned Units 3 and 4.
(APN) ATLANTA — Just in time for the New Year, the five Public Service Commissioners (PSC), publicly elected by ratepayers, gave Georgia Power pretty much everything they wanted, as usual.   On December 21, 2017,  with a unanimous five to zero to continue construction on the controversial Plant Vogtle Units 3 and 4 in Burke County, Georgia.
The final decision came after three days of hearings, where even the PSC Staff and expert witnesses repeatedly said that any amount over nine billion dollars to complete Vogtle 3 and 4 should be sucked up by Georgia Power and not passed on to ratepayers.   
http://atlantaprogressivenews.com/2017/12/18/ratepayers-experts-urge-psc-to-cancel-vogtle-nuclear-reactors-3-and-4/
Many advocates pled with the PSC to discontinue the project altogether.
The project is years behind schedule with massive cost overruns.
In a shocking revelation, PSC Staff testified that Georgia Power's profits have increased five billion dollars because of the delays.   
As advocates have witnessed, the longer the project takes, the more money Georgia Power makes.
Just like the schedule keeps changing, so does the cost: Georgia Power's original share of the cost was 6.1 billion dollars; now they are asking 7.3 billion more to complete the project.
Georgia Power owns 45.7 percent of the project, while Oglethorpe Power, MEAG, and the City of Dalton own the rest.  
Thus, Georgia Power's official cost to complete the project is approximately 14 billion dollars; and adding in the other owners, the total official cost to complete is over 28 billion dollars and will probably go higher.  So much for 'too cheap to meter.'  
With Georgia Power's history of being consistently wrong on forecasting the schedule and budget, it would be a miracle if these numbers do not change upward again.
Altogether, the nuclear reactors are only forty percent complete.
The PSC approved the motion by Commissioner Tim Echols (District 2), which contained 16 proposals.
Commissioner Lauren "Bubba" McDonald gave a rebuttal argument in his three motions that only Proposals 7 and 9 in Echols's 16 point motion constituted real concessions by the Company to ratepayers.
Proposal 7 was that Georgia Power's return on equity (ROE) is to be reduced from ten percent to 8.3 percent on January 1, 2020; and further reduced to 5.3 percent on January 1, 2021.
These cuts in the Company's profits are incentives for the Company to complete the project on time.
Proposal 9 was that if Vogtle Unit 3 is not operational by June 1, 2021 the Company ROE will be reduced further and if Vogtle Unit 4 is not operational by June 1, 2022 the Company's ROE will be reduced further.
But Commissioner McDonald said Proposal 8 undoes all of the reductions to ratepayers given in 7 and 9.
http://cms.psc.state.ga.us/site/assets/files/3231/echols_motion.pdf
Proposal 8 is that Unit 3 will go into commercial operation in November 2021 and be added into the rate base at that time.
McDonald moved Proposal 8 be deleted, saying it violates the SIR (Supplemental Information Review) Stipulation that Unit 3 would not go into rate base until Unit 4 was in Commercial Operation a year later.
If Unit 3 goes into rate base, as soon as it is in Commercial Operation, "that means the ROE on approximately 2.5 billion dollars would jump from seven percent or 5.3 percent to 10.95 percent for one year which is 50 million [dollars] more in profit for the Company," McDonald explained.
"That cancels out half of the profit reduction in number seven and ratepayers would pay 50 million in depreciation expense, which would cancel out the other half," McDonald said.  
The Commission approved and verified 542 million dollars in expenditures on the 17th VCM from January 1, 2017 to June 30, 2017; and found the company's new schedule as reasonable.
Georgia Power is also to credit ratepayers accounts with 25 dollars for three consecutive months in 2018.  Finally a few crumbs back for ratepayers.
"This is money coming from the Toshiba payment, not money from the Company stockholders," McDonald said.
"If voters are not happy with the decision we make, they can send us home," Echols said.
Two weeks later the PSC approved a separate one time refund of about seventeen dollars per customer because Georgia Power made 43.6 million dollars in excessive profits in 2016.
They made more than the 10.95 percent return on equity for that year.  The PSC staff will make recommendations on how the funds are to be allocated to customers.
"The people of Georgia are fed up with the long stream of rationalizations and broken promises about Vogtle… The relationship between the PSC and the utility is just too cozy," John Noel said in a press release.  
Noel is seeking the Democratic nomination for PSC District 3 in 2018, seeking to challenge Republican incumbent Chuck Eaton.
(END / Copyright Atlanta Progressive News / 2018)