Councilman Bond Seeks Right to Public Comment at Council Work Sessions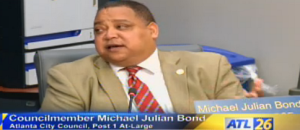 (APN) ATLANTA — At the last Full Council Meeting on October 16, 2017, Atlanta City Councilman Michael Julian Bond (Post 1-at-large) introduced an ordinance, 17-O-1674, that would codify the right of members of the public to make at least one minute of public remarks at every Work Session held by one or more committees of the Atlanta City Council.
The ordinance has been referred to Committee on Council, where it will be on the agenda for the Monday, November 06, 2017 meeting.  If it passes Committee on Council, it will be heard by Full Council later that day at the 1 p.m. Full Council Meeting.
The City Council's seven Committees hold several Work Sessions every year.  
The purpose of Work Sessions is to go into detailed discussion–typically on a piece of pending legislation or package of legislation–when the required discussion is expected to be too lengthy to confine to a regular Committee Meeting.
Over at least the last several years, it has been the position of the Councilmembers, Council staff, and policy analysis that it is the Committee Chair's discretion whether to allow public comment at each Work Session.
That has placed the public in a difficult position because they do not know whether or not they will be allowed to comment, and would have to contact the Committee Chair's office to learn whether or not it will be allowed.
At a Work Session on the Cannabis ("marijuana") Decriminalization held by the Public Safety/Legal Administration Committee, we did not learn whether or not public comment would be allowed until minutes before the meeting.  Chairman Andre Dickens (Post 3-at-large) was magnanimous enough to share that he would allow a public comment opportunity.
When Community Development/Human Services and Finance/Executive Committees held a Joint Work Session on the Surplus Property Affordable Housing Ordinance, the present writer had to call CD/HR Chairwoman Natalyn Archibong (District 5)–who had to confer with Finance Chair Howard Shook (District 7)–just to confirm that public comment would be allowed.
"People can't plan effectively to be there.  We can't take for granted the public's interest in wanting to participate in what we do.  And if people can't depend on reliable circumstance, then they can't plan to participate," Councilman Bond told Atlanta Progressive News.
"So, we want to make this clear that at all times we welcome the public's participation, not only with our words, but with our practical functionality," Bond said.
Councilwoman Felicia Moore (District 9), who chairs the Committee on Council and is running for Council President, says she believes some Work Sessions are not appropriate venues for public comment.
APN previously interviewed all three candidates for City Council President–Moore, C.T. Martin (District 10), and Alex Wan (District 6).  Martin and Wan support the right to make public comment at Work Sessions; Moore does not.
"Work Sessions are for the Council and the Committee, and there are some times when there needs to be just the Council directly talking about an issue," Moore said at the September 18, 2017 Committee on Council Meeting.
"I do think there's also a good place just for the Council to get information and deliberate too.  Either it's a Work Session that includes public comment; or it's a Work Session between the Council and the Administration, which I believe are more appropriate as well," Moore said.
"Somehow your Atlanta Progressive News keeps getting it wrong, but I've actually been one of the Councilmembers who's asked for public comment at Work Sessions," Moore said.
Moore has asserted an error in APN's reporting.  However, APN has been consistent in reporting Moore's position that it shouldn't be a right, even though she says she personally supports public comment at Work Sessions.  
That's kind of like when Michelle Nunn ran for U.S. Senate and said she supported same-sex marriage personally but not as a federal right.  When we're talking about public policy, we're interested in rights, not personal preferences.  Atlanta Progressive News has issued no correction despite Moore's assertion of a factual error.
"Typically what happens is when they are scheduled it's noted on the notification whether there's going to be public comment taken, or whether it's going to be an internal Council-Administration type thing, and they're always publicized.  So I don't know why you keep getting that wrong," Moore said.
However, here are the notices for the Sept. 28 Work Session on Surplus Property, and the Sept. 19 Work Session on the City's Emergency Preparedness Plan.  
Neither notice contains a mention of public comment.
http://citycouncil.atlantaga.gov/Home/Components/Calendar/Event/1445/18?toggle=allpast
http://citycouncil.atlantaga.gov/Home/Components/Calendar/Event/1477/18?toggle=allpast
As far as the Committee hearing from experts or the administration during Work Sessions: "That can still occur, and you hear from the public.  That doesn't preclude us from making space to comment on what we're doing," Bond said.
"The idea of a Work Session implies the Council is working, but that doesn't mean you can't sit for a few minutes to hear what our bosses have to say about it," Bond said.
"Often the citizens provide great ideas.  Most of the legislative ideas that I've really gotten credit over the years, going back to 1994, has some genesis in a member of the public formally or informally bringing me a concept or an idea," Bond said.
"We're a representative government.  We're not just there on our own – we're persons representing vast amounts of people, and we're always better served when we offer access and input into what we're doing," Bond said.
"It certainly shouldn't be perceived by anyone as an imposition.  So I would hope for unanimous votes in Committee and in Full Council," Bond said.
"The paper's written so there's still room for interpretation of a chair to allow the comment at the end, or do the comment any way they choose.  But it should be known that when we meet and congregate on behalf of those citizens, those citizens have the right to comment on what we're doing," Bond said.
State Sen. Vincent Fort (D-Atlanta) told APN that during his time as a citizen advocate in the City of Atlanta, prior to joining the State Senate, he recalls several occasions where he said the Council's expectation was for the public to sit there quietly during Work Sessions.
If Sen. Fort's recollection is correct, the City of Atlanta may have actually violated the City Charter by not allowing public comment at any specific Work Session.
That is, despite the various claims that Committee Chairs have discretion, Atlanta Progressive News has learned that the Atlanta City Charter provides that the "council and its committees shall provide a reasonable opportunity for the public to be heard during its meetings," per Article II, Chapter 3, Section 2-303 ("Meetings").
Work Sessions are a meeting of one or more committees, so the reasonable opportunity to make remarks applies.
While the word "reasonable" gives a great deal of discretion to Councilmembers, it is unlikely that not allowing public comment at all would qualify as "reasonable."
The City's Code of Ordinances gives further direction about public comment at Full Council Meetings and regular Committee Meetings – particularly, allowing a minimum of one minute per person.  (Chapter 2, Article II, Division 2, Subdivision II, Section 2-104 "Remarks from public"; and Division 3, Subdivision I, Section 2-136 "Remarks from public")
Bond's ordinance would add Work Sessions to Section 2-136, thus further clarifying that a reasonable opportunity to make public comment at Work Sessions means no less than one minute per person.
At the heart of this ordinance is the notion that the Council's "work" is not antithetical to public participation, but intrinsically includes it.
More practically, the right to make public comment at Work Sessions is important because Work Sessions play an important role in the City's legislative process.  
That is, typically, after a Work Session is held on a piece of legislation, the paper's author is often then working with other Councilmembers, stakeholders, and possibly the administration after the Work Session to craft a substitute ordinance that would incorporate suggested amendments.
Therefore, it is critical that citizen input be heard at the stage of the Work Session.
Allowing a minimum of one minute of comment will provide consistency and allow advocates to proactively plan their effective participation in the legislative process.
The ordinance was drafted by APN's News Editor on behalf of Councilman Bond to address a longstanding barrier to citizen participation.  APN has raised the issue in candidate questionnaires and interviews throughout the 2017 Municipal Election season.  
(END / Copyright Atlanta Progressive News / 2017)
DISCLOSURE: As APN has consistently disclosed, APN's News Editor has performed consulting services of the Office of Councilman Bond.  The ordinance at issue in this article was not covered by any consulting agreement, and was drafted at no charge.