Solar Expo Held in North Georgia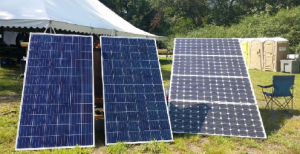 (APN) BLAIRSVILLE, Georgia — The Solar Expo and Sustainability Festival, held at the Union County Arena, in Blairsville, Georgia, from August 18 to August 20, 2017, attracted thousands of people interested in getting off the grid and/or reducing their carbon footprint.
The Solar Fest was an opportunity for folks who want to become energy self-sufficient to meet people with the skills and technical expertise to make that happen.
The three-day event offered live music, dancing, vendors, food, yoga, poetry, organic and bio-dynamic farming methods, hydroponics, workshops on solar panels, solar hot water, solar ovens, demonstrations of solar products, and much more for everyone.
All of the energy used at the festival, from the sound systems to the coolers keeping the beer and wine cold, came from solar power at the festival.  
The festival was the brainchild of Bill Fleming, who has a 4,000 square foot off-the-grid home near Blue Ridge, Georgia, as previously reported by Atlanta Progressive News.
http://atlantaprogressivenews.com/2016/05/15/off-grid-solar-home-thriving-in-north-georgia/
David Freeman, the "Green Cowboy," was one of the keynote speakers.  He is an engineer, attorney, author, utility manager, and eco-pioneer who opposes fossil fuels and nuclear energy.
Freeman refers to nuclear energy "radioactive factories making nuclear waste we don't know what to do with."
Scientists are telling us that burning fossil fuels and nuclear plants are creating threats that can end life as we know it.
"Do we wait for a pool of radioactive waste to catch fire and create the equivalent of a bomb or for another Fukushima?" Freeman asked.
Radiation is a silent killer.  Fukushima is an accident that will be ongoing indefinitely, with radiation still flowing into the Pacific Ocean and parts of Japan dead forever.
"We have a planet that is on fire and we are pouring more damn oil on the fire every day," Freeman said.
Today, we have the technologies to capture the power of the sun and wind economically.
"But are we going to make the transition soon enough or… are we too busy to save ourselves?" Freeman wondered.
He called politicians "gutless wonders who are not willing to stand up to the gas oil, coal and nuclear industry."
Another speaker was Josh McCall, a Hall County teacher and progressive seeking the Democratic nomination to challenge U.S. Rep. Doug Collins (R-GA), in Georgia's 9th U.S. Congressional District in 2018.
McCall said came out of private life because he is tired of seeing people blame society's problems on the most vulnerable and powerless people in our society.   
"The Democratic Party needs to stop being afraid of its progressive values and stop taking covert money," McCall said and added that Bernie Sanders gave him the courage and vision to see what is possible.
Tom Blue Wolf of Muscogee Creek heritage opened and closed the event with prayers and words of Earth wisdom.  He educates people on the importance of relationship with Mother Earth and each other.  
Some of the many bands that performed are Aviva and the Flying Penguins, Copious Jones, Donna Hopkins Band, The Flying Mystics, Hair of the Dog, Gopher Broke Band, Delta Moon, Deep Blue Sun, Caroline Aiken, Elise Witt, Jess Goggans, Michael Cornett, Natti Lovejoys, Ralph Roddenberry, Strung Like a Horse, Tim Cape, and Cattywampus.
(END / Copyright Atlanta Progressive News / 2017)