Atlanta Mayoral Race 2017, APN Overview Part Three: Aman, Bottoms (UPDATE 2)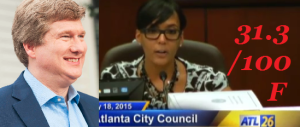 (APN) ATLANTA — In our continuing coverage of the City of Atlanta 2017 Mayoral race, this article presents an overview of two candidates: former City of Atlanta Chief Financial Officer Peter Aman and Atlanta City Councilwoman Keisha Lance Bottoms (District 11).
In Part One, Atlanta Progressive News presented an overview of Councilwoman Mary Norwood (Post 2-at-large) and Councilman Kwanza Hall (District 2).
http://atlantaprogressivenews.com/2017/07/04/atlanta-mayoral-race-2017-apn-overview-part-one-norwood-hall/
In Part Two, APN presented an overview of former City Council President Cathy Woolard and State Sen. Vincent Fort (D-Atlanta).
http://atlantaprogressivenews.com/2017/08/06/atlanta-mayoral-race-2017-apn-overview-part-two-fort-woolard/
Additional candidates, who will be reviewed in forthcoming articles, are: Council President Ceasar Mitchell, Fulton County Chairman John Eaves, and Michael Sterling.  Sneak preview: the Mitchell installment is expected to be devastating.
This APN Overview series is intended to give readers key facts about each 2017 Mayoral candidate from APN's archives and research, in order to provide a big picture survey of the nine candidates across an array of factors, including which candidates are more or less progressive.
PETER AMAN
Mr. Aman, prior to joining the Mayor Kasim Reed administration in 2010 as Chief Operating Officer (COO), was a partner with Bain & Company ("Bain").
Bain Capital became the subject of national attention during the 2012 U.S. Presidential Election, when President Barack Obama criticized then-Republican nominee Mitt Romney for his work as a founding partner of Bain Capital.
An ad by the Obama campaign recalled how Bain Capital acquired Kansas City's GST Steel in 1993 and then filed bankruptcy.  The steelworkers were denied full pension and health insurance, and the federal government had to bail out the pension plan.
"It's like a vampire," a steel worker said of Bain Capital.  "They came in and sucked the life out of us."
"It's like watching an old friend bleed to death," another said.
https://www.youtube.com/watch?v=sWiSFwZJXwE
Shortly after the new Atlanta City Council came took office in 2010, Mayor Reed and COO Aman set forth to reform Atlanta's pension plan using the same type of anti-labor policy proposals and tactics that are characteristic of Bain's playbook.
The administration's first plan and the second plan offered by Councilwoman Yolanda Adrean (District 8) would not only have completely cut most or all of the defined benefits for future City workers–replacing them with what are called "defined contributions"–the changes would have applied to existing City workers as well.
Mr. Aman was instrumental in both crafting and defending to Council these draconian proposals, which would have likely faced strong court challenges.  The administration's first proposal was called a "clawback" because they were going to be clawing back earned benefits from existing City workers.
Six Councilmembers–Felicia Moore (District 9), Natalyn Archibong (District 5), Michael Julian Bond (Post 1-at-large), CT Martin (District 10), Kwanza Hall (District 2), Joyce Sheperd (District 12)–held up the Aman/Adrean proposal through their stated opposition.
The reform plan that eventually passed Council was based on a counterproposal crafted by Councilwoman Moore along with the unions, who agreed to make additional contributions out of their paychecks in order to keep their defined benefits.
The pension debacle defines Aman.  He was so willing to break promises to existing workers, and to cut their benefits.
In 2012, then-President Obama explained the difference between the role of President and the role of a partner at a private equity firm, and the difference applies here.
"If your main argument for how to grow the economy is, 'I knew how to make a lot of money for investors,' then you are missing what this job is about," President Obama said in 2012.
"It doesn't mean you weren't good at private equity.  But that's not what my job is as President. My job is to take into account everybody, not just some."
Councilwoman Adrean, who is not seeking reelection, has endorsed Mr. Aman.
KEISHA LANCE BOTTOMS
Behind the smiling face of Keisha Lance Bottoms is someone who has launched vicious verbal attacks at Atlanta citizens from the podium – in particular, she has verbally attacked citizen advocate Ron Shakir on several occasions.
The admitted to this at a recent Mayoral debate hosted by the Atlanta Gay and Lesbian Chamber of Commerce, when asked by journalist Maria Saporta how she would be different than Mayor Kasim Reed.
"I'll smile when I cut you," Bottoms said, at the 1:08:45 point in the video posted by Georgia Voice magazine.  Presumably, this is different than Reed because he doesn't smile when "cutting you."
https://thegavoice.com/mayoral-candidates-talk-lgbt-inclusivity-atlanta-gay-chamber/
Atlanta Progressive News has uploaded to Youtube a two-part series of an exchange between Bottoms and Shakir at a 2015 Council Committee Meeting – just one example of many similar events.
https://www.youtube.com/watch?v=mukUCHaJTrA
https://www.youtube.com/watch?v=KGRcDpmUHWM
Probably the best example, though: Georgia Unfiltered posted this video of another 2015 exchange between Councilwoman Bottoms and opponents of City of Atlanta annexation at a Full Council Meeting.
https://www.youtube.com/watch?v=j6L4I54enxA
Bottoms appears at the literal bottom of the Atlanta Progressive News City Council Scorecard, which scores dozens of votes by the Atlanta City Council going back to 2003.
She has a 31.3, or an F, according to the most recent Scorecard.
Here is a review of some of the votes she has taken, which APN believes reveals her to be one of the most dangerous, potentially very harmful candidates for Mayor:
She immediately came onto the Council wanting to limit public comment.  She has supported limiting public comment several times.
She supported the Aman/Adrean pension reform plan (discussed above).
Look, at one point now-former Councilman Lamar Willis had a plan to reduce the independence of the ethics officer by allowing the Council to choose the officer from a list of three candidates, instead of by making an up or down vote.  The ordinance was criticized so harshly that even Willis voted to reject his own measure; Bottoms supported it.
She supported the sale of City Hall East without requirements for affordable housing and no public benefits;
She supported the questionnable Airport Concessions process of 2012;
She opposed legislation by Councilwoman Moore to ban the use of bullhooks on elephants by circuses in City of Atlanta limits;
She supported the new Falcons stadium;
She supported the failed Cheshire Bridge rezoning which would have purported to "amortize," or phase out, the grandfathered-in status of several adult entertainment establishments;
She supported the transfer of Civic Center for sale, without public benefits or required affordable housing;
She supported eminent domain for the Metro Atlanta Task Force for the Homeless;
She supported the privatization of downtown streets around Underground Atlanta; and
She opposed the decriminalization of cannabis.
While serving as Councilwoman, she also accepted a second full-time appointed position from Mayor Reed as the Executive Director of the Atlanta Fulton County Recreation Authority.
As someone who never saw a request from Mayor Reed that couldn't be supported, Bottoms was apparently placed at AFCRA in order to carry out Reed's agenda as it relates to the sale of the former Turner Field site.
Bottoms allowed for the Request for Proposals for the Turner Field redevelopment to go out prior to the finalization of the Livable Centers Initiative Study or the creation of a Community Benefits Agreement.
This action by Bottoms put the community in defense.  Since then, the community has achieved a Trust Fund for community benefits with several funding sources.  
However, if community benefits like affordable housing had been required in the RFP, the community wouldn't be left begging and protesting like they are today.
(END / Copyright Atlanta Progressive News / 2017).
UPDATE 1 and CORRECTIONS: (1) A previous version of this article stated that Bain & Company was the subject of criticism by the Obama Campaign in 2012; however, it was a separate, related entity called Bain Capital that was at issue at that time.  We have received a correction request to this effect from Bain & Co.'s Global Public Relations specialist.
(2) A previous version of this article stated that Aman was the Chief Financial Officer (CFO) of the City of Atlanta; in fact, he was the Chief Operating Officer (COO).