Georgians Mobilize against U.S. Senate "TrumpCare" Bill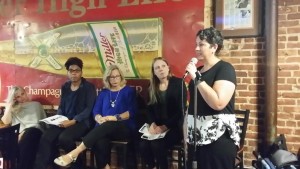 (APN) ATLANTA — As the U.S. Senate Republican majority released their much anticipated version of "Trumpcare" or the Affordable Healthcare Act (AHCA)–which is supposed to replace "Obamacare" or the Affordable Care Act (ACA)–Georgians mobilized in opposition.
Progressives are increasingly pointing to the predictable failure of the private insurance/individual mandate model of Obamacare to provide truly universal care or to lower health care costs, as demonstrating the need for single payer healthcare in the U.S.
Yet, Trumpcare would move in the direction of covering fewer people–not more–while giving tax breaks to wealthy people in the U.S..
It is mean, cruel and heartless: the Congressional Budget Office report estimates that the Senate bill would result in 22 million people who are currently ensured, becoming uninsured; and a 772 billion dollar cut from Medicaid in the next ten years.
By next year, fifteen million poor, sick, elderly, and disabled people in the U.S. will lose their healthcare, and premiums will go up for seniors.
The healthcare safety net is being dismantled, and will result in tens of thousands of deaths per year, with some estimates at 100,000 a year.
All these people will die if the Senate bill passes, to create a benefit to the top one percent, who would get an average tax savings of 45,500 dollars a year; and the 0.1 percent, who would receive an average tax cut of 250,000 dollars in 2026, according to the Tax Policy Center.
On Thursday, June 22, 2017, Resist Trump Tuesdays and Georgia Alliance for Social Justice held "A Hearing on Healthcare" at Manuel's Tavern to discuss the Senate Republicans' proposed bill.
They showed a ten minute video entitled "A Petition from the Heart," which will be delivered to U.S. Sens. David Perdue (R-GA) and Johnny Isakson (R-GA) as a plea from Georgians to protect their access to fair and affordable healthcare.
Link to the video: https://youtu.be/OmYtquhphNI
"They look at Medicaid and see people who are not like them… and don't grasp the deep impact this bill will have on everyone in our community," Janel Green, Georgia Alliance for Social Justice, said at Manuel's to a packed room.
"When they talk to people about Medicaid, the language they are using is about getting government handouts and entitlement.  They think they are cutting welfare and talk about people in a dehumanized way and that's not what Medicaid is about," Green said.
In Georgia–even though Gov. Nathan Deal refused to expand Medicaid or accept billions in federal assistance to do so under Obamacare–Medicaid still provides two million people with access to health care.
In Georgia, children make up 1.3 million, or 66 percent of, Medicaid enrollees.  Another 25 percent who are seniors and disabled people.
The remaining eight percent are low-income pregnant women, receiving breast and cervical cancer treatment, according to the Georgia Budget & Policy Institute.
These deep cuts in Medicaid would take four billion dollars out of Georgia over ten years.
Georgia hospitals would lose the most, with almost 3.4 billion in losses; children's hospitals and rural hospitals would be hardest hit by the cuts.
Nursing home facilities in Georgia report that about ninety percent of their patients are covered by Medicaid.
Will grandma or grandpa be sent home from the nursing home, or "will state governments take money out of other programs like public safety, education, transportation to fill in the Medicaid lost?" Green asked.
"It is nothing more than tax benefits, tax breaks and tax credits for the wealthiest people in the country," Wanda Mosley of the New Georgia Project said.
"The way they are doing that is to save money in this bill so they can give it away in another… because of Congressional rules, that money will eventually be directed to tax cuts for for the wealthiest," Laura Colbert, Georgians for a Healthy Future, explained.
Others who would benefit are people who can afford Health Saving Accounts and people who don't like paying for private insurance under the current Obamacare mandate, which would no longer be present and which has not been enforced since Donald Trump became President.
"Young, healthy people are the winners until they get older and not healthy," Colbert observed.
However, with fewer people paying into private insurance, the companies will likely either cut health care coverage, or raise premiums and deductibles, to make up for lost revenue; this will only make private insurance plans even less affordable or beneficial.
The Senate plan also allows U.S. states to seek waivers from some of the specific mandatory coverage areas that are in Obamacare.
Red states can get a waiver and do away with the ten essential health benefits.  "Then you start going down the road to junk healthcare," Green warned.
"If states can waive essential health benefits, the first they will wave are maternity care, mental health, and substance abuse treatment," Colbert said.
It could also price people with pre-existing conditions out of the market, where the waivers are used.
https://www.healthcare.gov/coverage/what-marketplace-plans-cover/
Someone in the the audience said, "If we can't fix it or pass it, let's go for single payer."
Many people don't understand that a single-payer system is not socialized medicine.  Medicare, for example, is already a single payer system, in which the federal government pays the bills, but hospitals and providers remain private.
For the cost of current spending on Medicare and Medicaid–which only covers some health care for some in the U.S.–all U.S. residents could have full, universal health care.  The high cost of health care is actually the high cost of insurance company profits and insurance bureaucracies.
The debate is continuing in the U.S. Senate, after the U.S. House passed its version of Trumpcare earlier this year.
The Republican majority in the U.S. Senate is short several votes due to the defections of moderate Republicans and extreme economic right-ringers.
Most recently, Senate Majority Leader Mitch McConnell (R-KY) said he was open to working with Senate Democrats on a compromise bill.
"Perdue and Isakson are about to vote on the future of our healthcare without holding a town hall or a public hearing," Caroline Stover, organizer of #ResistTrumpTuesdays, said in a press release.
"It's unbelievable that Sen. Perdue and Isakson are moving forward with this life and death matter without reaching out for input from their constituents.  We demand an open hearing."
(END/2017)