Fourteen Men Jailed for Minor Violations Bailed Out for Father's Day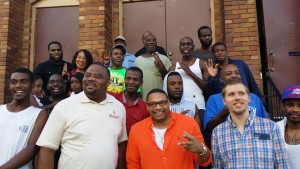 (APN) ATLANTA — The success of the Mother's Day Bail Out earlier this year when approximately one hundred "Mamas" nationwide were bailed out on Mother Day's, has led to a Father's Day bail out in Atlanta.
The ideal is it grow into a national movement to get poor and homeless people out of jail when they cannot afford to pay the bail for minor violations.
In Atlanta, the Butler Street Christian Methodist Episcopal (EMC) Church, led by Pastor Christopher Waller; and Don't Count Me Out, a non-profit organization, bailed out fourteen men who had been jailed for minor violations like spitting on the sidewalk, jay-walking, loitering, panhandling, and drinking in front of a package store.
Earlier this year, the City of Atlanta removed some so-called Quality of Life ordinances from the books after Councilman Kwanza Hall (District 2) introduced an ordinance to repeal an entire code section listing dozens of municipal violations.
http://atlantaprogressivenews.com/2016/07/29/kwanza-hall-ordinance-seeks-to-repeal-atlantas-quality-of-life-code/
The City's Law Department opined that some ordinances were unconstitutional or preempted by State law, and the Council agreed to repeal those.  However, the Council has yet to review the remaining Quality of Life ordinances, and has stalled on repealing minor cannabis ("marijuana") possession.
The men ranged from ages twenty to sixty, with over half of them currently experiencing homelessness.
The bail fines ranged from 150 to 2,700 dollars.  Pastor Waller personally donated the first 2,500 dollars toward the bail out activities and fund.
"Many of the people in jail today just shouldn't be there.  It's my calling to help them get out," Pastor Waller said in a press release.
While dressed in the fabric of general applicability, such that everyone is offered the opportunity to bail out, the bail policies in most of our nation's cities and counties are discriminatory in effect because they allows people with money the opportunity to bail out immediately, while indigent people, including those with minor violations, stay in jail.
"These people are not criminals… the jails are overcrowded with violations that should not be a crime… the majority are poverty issues," Tony Jones, Don't Count Me Out, told Atlanta Progressive News.
The men who were bailed out all have a place to go and some will return home to their families.  "No one will be left out on the street," Jones said.
The church leaders and activists have set up mentoring programs to help the men with personal development and job placement; and offers an Empowerment/Survival Retreat to deal with the trauma they have experienced.
"If you go into the jail it is predominately African American occupied and the same at other jails with these low-level charges," Monique James, Don't Count Me Out, said, adding that even some judges do not like to waste their time with these minor violations that are still on the books in Georgia.
As previously reported by APN, the criminalization of these draconian and antiquated "Qualify of Life" violations that target the poor, homeless, addicted, and mentally ill are taking a toll in the Black community because it is mainly Black, homeless men who get arrested for minor violations
http://atlantaprogressivenews.com/2016/06/28/homeless-fill-atlantas-jails-due-to-quality-of-life-policies-over-100000-qol-arrests-in-three-years/
James and others are working to develop a Justice League with lawyers, public defenders, and activists who fight for social justice to submit legislation to eliminate money bail for these very low offenses.
According to the activists, everyone cooperated with the bail out from municipal court judges, city public defenders, guards in jails, and even the warden in the jail.  "They were happy to see these men released," James said.
(END/2017)