In Court, City of Atlanta's Case for Eminent Domain Fizzles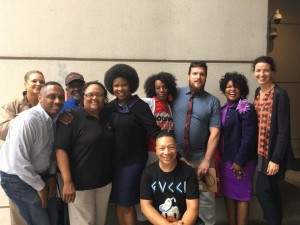 (APN) ATLANTA — The City of Atlanta's case for seizing the home of Tanya Washington, of Atlanta's Peoplestown neighborhood, by eminent domain fell apart in court on Tuesday, June 06, 2017.
Fulton County Superior Court Judge Craig Schwall heard the case.  Some thirty activists from the community came to participate in a press conference before the hearing, as well as observe the proceedings.
The City has argued for some time that it needs to take Washington's home because it proposes to create a park with a pond that could retain additional stormwater.
Washington is seeking for the court to set aside the City's declaration of taking of her home.
After threatening eminent domain over the period of the last few years, nearly all of the homeowners on an entire square block–except for three–accepted offers from the City of Atlanta to purchase their homes.
Washington is a professor of law at Georgia State University, and is also running for the Atlanta City Council District 1 seat currently held by Carla Smith.  Smith introduced the legislation that allowed the eminent domain process to move forward.
Washington; Robert and Bertha Darden; and Mattie Jackson elected to stay and fight the City.
As previously reported by Atlanta Progressive News, Mayor Kasim Reed decided to allow Mattie Jackson to stay after an APN report regarding Ms. Jackson, who is in her nineties, caused community uproar.
http://atlantaprogressivenews.com/2015/10/08/victory-as-mayor-reed-declares-mattie-jackson-can-stay-in-her-home/
The City is clearly not used to having to justify its eminent domain actions in court, seeing as how most people are afraid to fight the City in Court b- therefore, most people take the City's offers, as has occurred in Peoplestown.
"The City has a prima facie presumption that there is necessity for public use," Judge Schwall said at the beginning of the hearing, citing State law.
What this means is that the City did not have to establish through evidence that it needed Washington's home and we would start out assuming it were true.  As a result, the burden shifts to Washington to prove, instead, that the City does not need her home.
Georgia law clearly stacks the deck in favor of cities, and the City of Atlanta has abused this presumption by failing to produce a documentary record to support its case.
Despite producing more than 32,000 files to Washington only days before the hearing, none of these documents established the basic objectives for the pond, or why Washington's home specifically was needed.
Nor did the City show that it considered alternatives to the pond – something it previously admitted to APN in response to an Open Records request.
In fact, Washington's attorney, Gary Spencer, presented an email written by a City of Atlanta engineer in 2014 stating that a series of previous projects–including two upstream vaults that can store water, including one at the Turner Field Media Lot–had provided more than enough new water overflow capacity to prevent future floods.
"Was that email correct?" Judge Schwall asked of Todd Hill, the Interim Deputy Commissioner of Watershed Protection, who was on the witness stand.
"I don't know," Hill replied.
Hill attempted to cast doubt on the City's own email by stating that the email's author, Nolton Johnson, had previously stated things that were not correct.
However, when asked if there was any written rebuttal to the email, Hill said no; and when asked if there were any documents to prove that Johnson had made incorrect statements, Hill said no.
Spencer also asked the City about the Mayor's decision to spare Mattie Jackson's home.  Hill admitted the City considered Jackson's age, health, and status as a "pillar in the community" in deciding to exclude her home from the pond footprint.
Hill said the City conferred with an outside consulting firm to determine the impact of excluding Jackson's home, but that he could not remember whether he took notes regarding the firm's findings.  He said he may have written it on a sticky note, but wasn't sure, and had no documents to produce.
Jeff Moran, an engineering expert, testified that, in reviewing the documents produced by the City, he observed an "absence of a statement of… objectives.  It was never really clear to us what the objective was."
Instead, it appeared the City engaged in "reverse engineering," Moran said, which he described as "using the plan to see what objectives can be met."
"We were told we need to work within this footprint," he said, adding it was unusual that the design for the pond was not "irregularly shaped."
The court adjourned for the day after Spencer examined the two witnesses.
The City and Ms. Washington will return to court on June 19, 2017.
(END/2017)