Atlanta Mayor, Council Stall on Decriminalization of Cannabis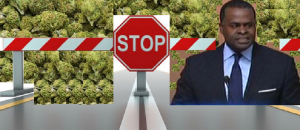 With additional reporting by Matthew Charles Cardinale
(APN) ATLANTA — Facing pressure from Mayor of Atlanta Kasim Reed, Central Atlanta Progress, and other organizations, the City Council of Atlanta has stalled on legislation that Councilman Kwanza Hall (District 2), a Mayoral candidate, introduced nearly three months ago, to lower the municipal penalties to a fine and eliminate the possibility of jail time for possession of up to one ounce cannabis (or "marijuana").
http://atlantacityga.iqm2.com/Citizens/Detail_LegiFile.aspx?ID=11889&highlightTerms=17-0-1152
After a series of Committee Meetings and Work Sessions, the community expected a yes vote on this legislation at the Full Council Meeting on April 17, 2017, but instead, the Council–in a ten to four vote–sent the legislation back to Public Safety/Legal Administration Committee after numerous Councilmembers signaled their unreadiness to support it.
The Council sent the ordinance, 17-O-1152, back to the Public Safety Committee to request that the Administration convene a group of additional stakeholders for a discussion that was supposed to be a public meeting.
The administration held that meeting with representatives of the courts, City law department, Department of Corrections, the Atlanta Police Department, and other departments several weeks ago.
Many, including some on the Council, are wondering what was the outcome of that meeting and what hang ups, if any, remain with this legislation.
"The administration is still concerned about the confusion that exists around this conversation, the language has been to decriminalize, to legalize and it's neither; it's to make it a ticketable offense," Melissa Mullinax, Senior Adviser to Mayor Reed, said at the last Public Safety Committee Meeting on May 23.
"The train has left the station on the narrative.  Activists in their call to action say 'come to city hall and make our voices heard about decriminalization of marijuana,'" Mullinax said.
"The Mayor has said he does not think people should go to jail for this, but the way the conversation has been framed in the public, it does raise serious concerns for him about confusion and what that will mean for people," Mullinax said.
The administration said it is specifically concerned about people living outside of Atlanta believing that one ounce of marijuana is legal.
Further, the administration stated its preference to defer to the State Legislature to take action to decriminalize cannabis.  Ironically, the State has considered that and has indicated its preference to defer to the federal government.
So much for that Georgia spirit of local self-determination when it doesn't suit one's policy preferences.
"DECRIMINALIZATION" IS NOT MISLEADING, ALTHOUGH PENALTY REDUCTION IS A MORE PRECISE TERM
The City of Clarkston, Georgia, reduced the fine and eliminated jail time for minor cannabis possession last year.
News media, including APN, referred to Clarkston's action as decriminalization, even though, as would be the case in Atlanta, technically, Clarkston police still have discretion to arrest under state, as opposed to municipal law.
And yet no incidents of public confusion or chaos have been reported in Clarkston.
Over the last decade or so, state and local jurisdictions across the U.S. have pursued a range of policies that generally liberalize cannabis possession.  These range from full legalization with retail stores, like in Washington, Oregon, and Colorado – to limited CBD oil programs.
The term decriminalization has generally been used to mean something short of legalization that is not limited to medical patients.
For example, it was widely reported that the State of Oregon decriminalized cannabis in 1973.  According to the Oregonian newspaper, "1973: Oregon becomes the first state to decriminalize possession of small amounts of marijuana, making it a ticket more akin to a traffic offense."
http://www.oregonlive.com/marijuana/index.ssf/2014/11/legal_marijuana_in_oregon_a_lo.html
Decriminalization was the term used in Oregon even though it was still a ticketable offense, as it currently proposed for Atlanta municipal code.
Generally, "decriminalization" has been used an umbrella term to signal no jail time; it has not meant that the offense was removed entirely from a code of ordinances.
So, as an editorial matter, APN disagrees that the term "decriminalization" is confusing.
Moreover, citizens are generally held responsible for following non-vague laws whether they understand them or not.  Requiring that the public understands a law before passing it seems to be a new standard set by the Reed administration.
Meanwhile, attorney Marissa McCall Dodson, with the Southern Center for Human Rights, has a more serious concern.
"This issue is so important for this community because Fulton County has the ninth highest rate of marijuana arrests in the country," McCall Dodson advised the Committee.
"I don't think the answer is to wait for our State General Assembly to do it.  Ninety percent of the arrests are African Americans," McCall Dodson said.
The Administration and some Council Members are concerned over different jurisdictions having different codes.
"During these conversations there has been an inference to just tell the officers to use the city code versus the state code, and they [the Police Chief] are not able to do that.  It is the officer's discretion, no one has the right to take the discretion from the officer without being on site," Katrina Taylor Parks, the Mayor's Deputy Chief of Staff, explained.
The City is also worried about its relationship with the State, if this legislation is passed and police officers decide to use the city code.
Dean Steed, a community organizer with Solutions Not Punishment Coalition, delivered 500 petition signatures supporting the legislation signed by community members.
"We know there is an overwhelming support from the community for this legislation… the community is not confused and understand the difference between a ticket and not getting arrested… because they have lived that experience," Che Johnson Long, with the Racial Justice Action Center, clarified.
"We are not talking about decriminalization or legalization, but reclassification; communities and news outlets are clear about that," Long said.
The Administration requested to go into Executive Session with the Council–whose next Full Council Meeting on Monday June 05, 2017, starting at 1:00pm–but it is not clear how this would be legally permissible under the Georgia Open Meetings Act, which only allows closed Sessions for a short list of topics such as real estate transactions and pending litigation.
Andre Dickens (Post-3-at large) said the local judges are supposed to be meeting with the Council or some portion thereof, to discuss their position in the near future, but that this meeting has not yet been scheduled.
It is not immediately clear why the judges' positions on a question of public policy are relevant, seeing as how they exist to adjudicate enforcement of public policy – not to create it.  Due to the separation of powers, in which judicial powers are limited to "cases and controversies," courts typically refrain from issuing advisory opinions on pending legislation.
(END/2017)