Democratic Socialist, kamau, Elected to South Fulton City Council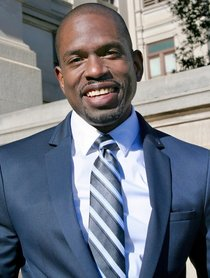 (APN) ATLANTA — On April 18, 2017, the voters of the City of South Fulton, the newly created city in south Fulton County, elected a self-proclaimed Democratic Socialist, khalid kamau, to the District 6 South Fulton City Council seat.
His name is lower-cased in the Yoruba African tradition to show that community is emphasized over the individual.
While the municipal seat is nonpartisan, it is notable that Mr. kamau was open about his political ideology and won.
While Atlanta Progressive News has raised serious concerns about the trend of new cities in Metro Atlanta over the last twelve years, the results of the recent Run-off Election bolster the claims of South Fulton's cityhood supporters regarding local representation.
That is, District 6–which includes a large portion Old National Highway, Old National Park, and Bethune Elementary School, and abuts Clayton County to the District's east–will now be represented by a Democratic Socialist, rather than a group of Fulton County Commissioners mostly comprised of Republicans and centrist Democrats.
U.S. Sen. Bernie Sanders (I-VT) made Democratic Socialism popular during his run for the Democratic nomination for President of the U.S. in 2016.
Meanwhile, Kshama Sawant, a Socialist affiliated with the group Socialist Alternative, has served for several years on the City Council of Seattle, Washington, and has promoted such causes as fifteen dollars per hour minimum wage and rent control, with wide support.
The new city of South Fulton held its first election on March 21 and five candidates competed for the District 6 City Council seat.  Mr. kamau and Charlean Parks survived to face a runoff on April 18.
Kamau easily won the run-off with a vote total of 1,127 or 66.80 percent.
His support came from many diverse groups and individuals including Ted Terry, Mayor of Clarkston; Streetgroomers; Democratic Socialists of America (DSA); Our Revolution; and Teamsters Local 728.
Building the infrastructure in the new city, making sure all City workers get paid fifteen dollars an hour with paid family leave and health benefits; and political education are some of Kamau's first priorities.
"I hope my election inspires other regular people to get involved," kamau told Atlanta Progressive News.
Bernie Sanders's platform of income inequality, living wage, Medicare for all, affordable housing, racial justice, and so much more has inspired young activists to run for public office to change the status quo.  Since his historic Presidential campaign, fourteen DSA members have won elections and that number is expected to increase with each new election.
https://berniesanders.com/issues/
"I received more support financially and time support from the DSA than from the Democratic Party of Georgia.  I will work for them forever because their principles are my principles," kamau told APN.
"For us to have someone who announces he is a member of DSA and is able to organize and mobilize voters and get support from a lot of our activists is very special.  He received support from the national DSA and from a broad front of progressives," Milt Tambor, Chair of Metro Atlanta DSA, told APN.
"He made it possible for other people to start thinking about getting into the electoral arena, for socialists and progressives to do what needs to be done to turn the tide and deal with issues of economic and social justice," Tambor concluded.
Kamau was born and raised in south Fulton and is a member of Black Lives Matter, an organizer for Fight For 15, a labor organizer for the Amalgamated Transit Union (ATU), and an at-large delegate for Bernie Sanders at the Democratic National Convention.
He has been active in Atlanta's Neighborhood Planning Units, organized a neighborhood watch program, and participated in Economic Development negotiations around the new Mercedes-Benz arena.
It was kamau's experience fighting the outsourcing of MARTA's Mobility Service workers that changed him from an activist into politics full time.
"When MARTA decided to outsource that entire department over three hundred drivers and mechanics lost their health benefits and those that were not vested lost their pensions.  It was a move to get out of the contract with Amalgamated Transportation Union (ATU), the strongest union in Georgia," kamau said.
As a driver for MARTA Mobility, kamau lost his pension and that is when he went to work with the Sanders campaign and received an advanced political education.
As a member of the South Fulton City Council, he plans to help his community and share his political knowledge with other people on how to make the government work for them.
"Generally, working class Black people are naturally progressive leaning and if they know how to interact with their government they will demand their government be progressive as well," kamau said.
"I want to identify young Black and Brown leaders and engage them in political education that is how we win back the state," kamau predicted.
(END/2017)