Councilman Bond Seeks Trust Fund for Turner Field Communities, as Smith Holds Meeting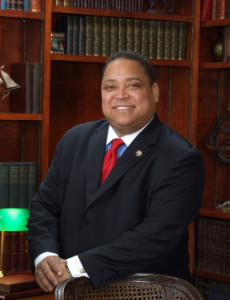 (APN) ATLANTA — Atlanta City Councilman Michael Julian Bond (Post 1-at-large) has introduced an ordinance at the Monday, February 20, 2017 Full Council Meeting, directing the Chief Financial Officer of the City of Atlanta to establish a Trust Fund to benefit the neighborhoods surrounding the Turner Field redevelopment.
The ordinance was referred to Finance/Executive Committee, where it will be heard on March 01.
Meanwhile, Councilwoman Carla Smith (District 1) held a meeting on Wednesday, February 15, 2017, with the Turner Field Community Benefit Coalition and a group of community members including Suzanne Mitchell, to discuss the possibility of securing additional benefits for the impacted neighborhoods.
Smith, Mitchell, and the Coalition have been discussing something they are calling a "Community Investment Agreement."  How this is different from a Community Benefits Agreement, as sought by the Coalition for the last two years, is not clear.
It may have seemed that with the Atlanta Fulton County Recreation Authority having finalized their sale of the Turner Field site to Georgia State University and private developers, that the opportunity to secure benefits for the communities was in the past.
However, the Coalition has not given up and, as reported by Atlanta Progressive News, has been disrupting meetings of the Atlanta City Council, making numerous public comments; and has continued putting pressure on Georgia State University.
The Coalition has taken the position that the sale agreement between the Recreation Authority and Georgia State University did not provide adequate benefits to the community.
BOND'S LEGISLATION
The Coalition met with Councilman Bond, also on February 15, to discuss their concerns.
"After having met with the representatives from the adjoining communities, this is just one piece of what we had discussed, about attempting to make the community whole beyond the initial Turner Field deal," Bond told Atlanta Progressive News.
Bond's ordinance is "to make sure there's a mechanism in place so they're continually benefiting from development within three miles so those funds can return to the community so they can have a positive impact," he said.
Bond's ordinance, as proposed, states: "That the Chief Financial Officer is authorized to establish an appropriate Trust Fund for the deposit and expenditure of those funds derived of the sale of City-owned property within a mile radius of the Turner Field Redevelopment Area."
Bond says revised his personal paper prior to its introduction to revise the area to a three mile radius.
And further: "That the Trust Account may be used solely to fund economic and community development initiatives, such as affordable housing, job training, and the Mechanicsville, Pittsburgh, Peoplestown, and Summerhill neighborhoods."
Examples of City property in the area includes the Atlanta Workforce Development Agency building, the Dunbar Center, and Four Corners Park and neighboring parcels.
Bond says even with the Turner Field sale finalized, it is not too late to secure benefits for the community "because the development is presumed to continually have an increasing impact on the communities, so the communities ought to be positioned to receive those benefits ongoing into the future."
"This is contemplated as one tool to help the community reap those benefits," Bond said.
"I'm looking forward to having joint conversations with… [Carla Smith] as we work to improve the community," Bond said.
"I was very impressed with all components of the group that I met with, the Coalition and the students that are working cooperatively with them, and I believe that their views are valid, and we as elected persons need to make sure we're responding in a way that's complementary to the goals that they are seeking," Bond said.
Bond said he wants to create a community advisory board or other formal organization to work out the details regarding how the Trust Fund will operate.
"It could be establishing those communities as Redevelopment Areas, which under State law would require a board that could look like the current groups," Bond said.
"This is something that we've been needing in place.  This is something that I think is long overdue.  It protects communities, especially low-income communities," Sherise Brown of the Coalition told APN.
"The only way it's gonna work is if there's a policy put in place.  It's protection.  So everytime developers come in our community, we don't have to run to City Hall every week.  If there's something in place they have to go by this legislation," Brown said.
SMITH'S MEETING
Councilwoman Smith tells APN that she felt positive about the meeting she held with the Coalition and community members.  About fifteen residents and advocates attended the meeting.
Brown believes the meeting with Smith was a result of the direct actions the Coalition has been taking, especially at Full Council Meetings.  "I know it's direct results of coming to City Council.  A lot of people don't like that; I don't care."
Smith said she is looking into whether money from the local Tax Allocation District could be used to fund affordable housing in the communities.
The need for, and definition of, affordable housing, has been a major point of contention, with Suzanne Mitchell insisting that there is too much affordable housing in Summerhill, but other communities calling for housing units affordable at the 0 to 30 percent Area Median Income (AMI) level.
"Zero to 30 is the most unmet need, and everybody deserves a place to call home," Brown said.
The Sale Agreement only required that GSU and the developers would produce ten percent of any residential units to be affordable at 80 percent AMI, which does not target low-income families; and with an affordability period of only fifteen years.
Smith is hoping to continue to meet with both community groups, and asked for a subgroup to work on housing issues.
"If she want to do that, I want to work with her," Brown said.
(END/2017)
EDITOR'S NOTE: In 2015 and 2016, the author of this article was a paid consultant for Councilman Bond's office, producing a constituent newsletter for the Post 1 office.