Atlanta Council Limits Public Comments, Often Lacks Quorum to Hear Comments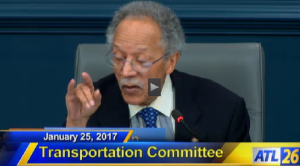 (APN) ATLANTA — Local democracy has apparently become a nuisance to the Atlanta City Council, except to the extent that its members want citizens to vote for them in November.
Six of seven of the Committees of the Atlanta City Council now have severely restrictive public comment policies, limiting the amount of time any one citizen can address the Committee no matter how many issues are on the agenda that citizens wish to address, no matter the complexity of the issue at hand, nor how many citizens show up to speak.
Prior to 2010, it was rare for there to be a time limit at Committee Meetings, and as recently as 2014, at least four of the seven meetings had no time limit.  In recent years, Councilmembers have felt emboldened to restrict public comment, even as only a few citizens regularly come down to speak at Committees.
Now, most of all of the Committee Chairs have set a two or three minute portion at the beginning of the meeting, followed by a two or three minute portion at the end, after key votes have often taken place.
And even despite the limits, several Committees repeatedly fail to muster a quorum–or a majority of members in attendance–for the Public Comment sections because Councilmembers frequently show up late, wander in and out of meetings, and leave early.
Even CT Martin (District 10), Felicia Moore (District 9), Natalyn Archibong (District 5), and Andre Dickens (Post 3-at-large)–who once chaired their committees without a time limit–have enacted new rules to limit the public.
Councilman Martin attacked one citizen, Ron Shakir, at the last Transportation Cmte Meeting, accusing him of "abusing" his two minutes.
Chairwoman Archibong, who now chairs Community Development/Human Services Committee, allows for unlimited comment at the end, a new development, although Councilmembers apparently consider that part of the meeting to be optional.
At the last CD/HS Meeting on January 24, 2017, the Editor of Atlanta Progressive News–the present writer–presented comments related to affordable housing, to as few as two or three Councilmembers on the seven member Committee.
Despite the lack of a quorum, the Chair did not adjourn the meeting.
At all three of the Committee on Council Meetings chaired by Felicia Moore so far this year, she asked citizens to deliver their comments to an audience of one or two Councilmembers prior to the meeting actually starting.
On January 03 and 17, Moore disposed of Public Comment by hearing comments without a single other member of the Committee present.
"Good morning, everyone.  Other Councilmembers will be joining us, we do not have a quorum at this very moment, but I do want to do as much as we can prior to their coming, and I know we have had some people signing up to speak to items pertaining to the Agenda.  Whoever is first go ahead, come up to the podium," Moore said on January 17.
On February 06, the Editor of Atlanta Progressive News–the present writer–questioned Chairwoman Moore about this practice.
"Until we have a quorum, I cannot call the meeting to order.  So, we are hearing from the public as a part of the discussion.  There's no action we have to take about hearing from the public.  So a lot of times, when we don't have a quorum, I try to accommodate whatever we can talk about that no action has to be taken," Moore said.
"I as the Chair am taking the prerogative, since we're waiting on a quorum… in terms of facilitating people's time that are here and us having a discussion," Moore said.
"I understand your point, and the thing that should be occurring is we should have a quorum.  If you don't want to do any more commenting until the quorum comes, that's fine," Moore said.
"We will have to check the rules of order," Moore said.
When asked about what transpired at CD/HS when there was a lack of a quorum for the public comments made at the end, Moore replied, "I think it's a courtesy for the Councilmembers to stay to hear public comment if it's at the end."
So to review, Councilmembers openly consider public comment to be optional in terms of their attendance, but even these extraneous chit chats that aren't even part of the duly noticed public meetings need to be severely limited, per this Council.
MARTIN, SHEPERD ATTACK RON SHAKIR
Ron Shakir is one of the few recurring speakers at Atlanta's Full Council Meeting and Committee Meetings, who speaks to issues such as inequality, poverty, gentrification, unequal development, and racism.
Shakir speaks on behalf of communities that face numerous meaningful barriers to citizen participation, and whose voices are frequently underrepresented in citizen participation.
However, many Councilmembers don't care for Shakir's comments or his style of delivery.  He has been attacked numerous times by Councilwoman Keisha Lance Bottoms (District 11), and faced attacks by Chairman Martin and Councilwoman Joyce Sheperd (District 12) at the last Transportation Committee meeting.
Shakir was allotted only two minutes to speak, and Shakir requested five minutes to speak.
"We got one Councilmember who says no," Martin said.
"Who's that?" Shakir asked.
"It doesn't matter.  You've got two minutes," Martin said.
"It's your strength," Shakir said, referring to the fact that Martin had previously been one of the strongest champions of unlimited public comment time on the Council.  "And like I said before, we're really gone, we're really through once you throw your hand in on standing up for our community," Shakir said.
"See you started already, calling names, and past practices is not the issue.  The issue is, you're famous for abusing the two minutes.  So if you come back in place with your conduct, we'll have ours in place," Martin said.
"Jim Crow past is a little stronger than my past.  So I just been coming down here, why we still engaged with Jim Crow rule, and being hard and cutting off people's opportunity to be engaged in their government?  That's Jim Crow mentality," Shakir said, then making his public comments.
"Mr. Shakir, this is a typical example of what we're talking about, how you're over your two minutes, that's number one.  Now don't interrupt me," Martin said when Shakir's time expired.
"That's some more of your stuff… See you like to get into these kinds of things… How long you wanna stand up?" Martin asked.
"I wanna be treated with a little respect and the fact that I gave a lot of effort to get here… But don't give me two minutes," Shakir said.
"What we're gonna do, everybody else get two minutes, now what is the pleasure of this body?  Are we ready to cut this off?" Martin asked.
"You are Chair, you can make the decision.  I've come down here eight or nine years and you've never told anyone to talk two minutes," Shakir said.
"Point of order, can we please…?" Councilwoman Sheperd said.
Security came to take Shakir away, but Martin intervened: "I don't want to call no police.  Don't bother him.  I'll handle him."
"I said what is the pleasure of this body, are they tired?  I'll listen to you all day, but we've got staff…" Martin said.  "I am going to have to ask the police if you won't respect me.  You can call us all kind of names and go through all of your antics that you want to.  We're going to be as fair as we can, but we won't be abused."
"Mr. Martin, I really recommend that we cut this off at this point.  Mr. Shakir came in late… He's asking for respect but he can't give respect, so at this point I'm gonna ask that we actually close this and adjourn the meeting," Sheperd said.
Martin turned off the microphone and adjourned the meeting.
THE COUNCIL'S LONG BATTLE AGAINST THE PUBLIC
The move to limit public comment in Committees began in 2010, when Councilwoman Joyce Sheperd set a five limit at the Community Development/Human Resources Cmte (CD/HR, now known as CD/HS).
At that time, at least three Committee Chairs (Felicia Moore, Committee on Council; Natalyn Archibong, City Utilities; CT Martin, Transportation) did not have time limits.
When Andre Dickens (Post 3-at-large) replaced Sheperd as Chair of CD/HR in 2014, he promised not to have public speaking limits.
Now, every Committee Chair has some time restriction on public speaking, although Archibong, who now chairs CD/HS, allows unlimited comment at the end, a new development that began at the last meeting.
The Council has considered on several occasions, but backed off, setting a multi-Committee public speaking limit.
The first time the Council considered setting a multi-Committee limit, it refused to disclosed the names of the seven Councilmembers who voted yea, and the eight who voted nay.  APN's Editor sued the City of Atlanta up to the Supreme Court of Georgia to force the disclosure of the vote details.
At that time, the City went to great lengths to hide the identities of those on the Council who wished to limit public comment; now they do it openly as if it were in fashion.
(END/2017)