APN Releases Atlanta Council Scorecard for 2016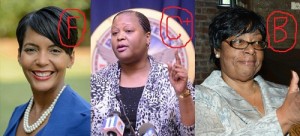 (APN) ATLANTA — As 2016 winds down and the City of Atlanta's 2017 Municipal Election cycle picks up, Atlanta Progressive News is releasing its Atlanta City Councilmember Scorecard.
APN's Scorecard is one of the most comprehensive, substantive, and transparent scorecards of the Atlanta City Council.  The Scorecard is available as a public Google Spreadsheet:
APN has been issuing this Scorecard since 2009.  The Scorecard contains sixty specific votes taken by the Full Council dating back to 2003, in which Atlanta Progressive News has taken a position for or against each legislative item or motion.
Once again, Councilwoman Natalyn Archibong (District 5) is the most progressive legislator on the City Council, with a score of 86 out of 100.
The second most progressive Atlanta Councilmember is Felicia Moore (District 9), with a score of 79.3.  Moore is running for City Council President.
By contrast, two other candidates for Council President–C.T. Martin (District 10) and Alex Wan (District 6)–have scores of 57.1 and 45.8, respectively.  This makes Moore, who seems quite content to be the only nay vote on many issues, the most progressive candidate for Atlanta City Council.
The least progressive Councilmember is Keisha Lance Bottoms (District 11), with a score of 32.6.  Bottoms is running for Mayor of Atlanta.
Mary Norwood (Post 2-at-large), who is running for Mayor, has a score of exactly fifty percent, although it is based on fewer votes than most Councilmembers – only 18.  Her score is based on a few votes taken during her first term on Council which ended in 2009 when she ran for Mayor; and several votes taken during her second term which began in 2014.
Kwanza Hall, with a score of 58.7, has the highest score of any Councilmember running for Mayor.
The ranking of the current fifteen Councilmembers are as follows:
NATALYN ARCHIBONG    86
FELICIA MOORE       79.3
MICHAEL BOND       65
ANDRE DICKENS       64.3
KWANZA HALL       58.7
CT MARTIN       57.1
MARY NORWOOD       50
YOLANDA ADREAN       48.9
ALEX WAN       45.8
IVORY YOUNG       39.3
HOWARD SHOOK       38.9
CARLA SMITH       38.6
JOYCE SHEPERD       35.4
CLETA WINSLOW       35.2
KEISHA BOTTOMS       32.6
Votes added to the Scorecard for 2015 and 2016 include:
Approval of the Fort McPherson deal at the last minute and with lack of transparency, wherein Councilwoman Moore was the only nay vote, (APN opposed);
The nomination of former Councilman Lamar Willis to the Land Bank Authority, where the Council voted seven yeas and seven nays, with Council President Ceasar Mitchell breaking the tie with an eighth nay vote.  Mr. Willis had stolen money from an injured child and was later disbarred as an attorney, (APN opposed);
Approval of Affordable Housing Impact Statements, legislation drafted by APN's Editor that was unanimously approved by the Council (APN supported);
Approval of the Pre-arrest Diversion Initiative, (APN supported);
The 2015 study of the need for a public safety facility where the Metro Atlanta Task Force for the Homeless currently resides, where only Councilwoman Moore voted nay, (APN opposed);
The 2016 legislation authorizing negotiations for purchase of the property where the Task Force for the Homeless currently resides, where again only Councilwoman Moore voted nay, noting that the 2015 study was not completed and there was no plan to house all the homeless people who would be displaced, (APN opposed);
The sale of Turner Field to the Atlanta Fulton County Recreation Authority, so it could move forward on the sale to Georgia State, even without any mandate for affordable housing and without the completion of the community benefit study, (APN opposed);
Privatization of downtown streets surrounding Underground Atlanta, (APN opposed).
(END/2016)