Council Approves Privatization of Key Downtown Atlanta's Public Streets (UPDATE 1)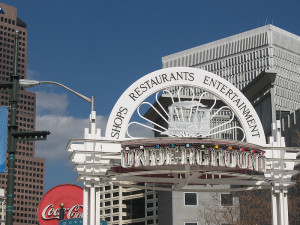 With additional reporting by Matthew Charles Cardinale
(APN) ATLANTA — The City of Atlanta has approved a controversial proposal to sell the downtown Atlanta Underground property–including the mall and the surrounding pedestrian plaza–to a developer who plans to turn some of the public spaces into private streets.
Once private, the property owner may exclude individuals whose presence they deem undesirable.
These public spaces, which are right across the street from the Five Points MARTA station, had previously in 2005 been designated part of a "Tourist Triangle" where panhandling was not allowed, as part of a City ordinance that the Law Department later admitted was unconstitutional.
Now, advocates say it appears the City is trying to get rid of panhandlers a different way..
On November 29, 2016, the City Utilities Committee considered Ordnance 16-0-1611 by Councilman Kwanza Hall (District 2) to authorize the various transactions, including abandoning the "rights of way" and authorizing their transfer.
http://atlantacityga.iqm2.com/Citizens/Detail_LegiFile.aspx?ID=10928
The ordinance passed out of Committee with a four to two vote, with Chairwoman Natalyn Archibong (District 5) and Alex Wan (District 6) voting no.
On December 05, the full Atlanta City Council voted to support this plan by a ten to four vote.  The dissenting votes were Councilmembers Felicia Moore (District 9), Mary Norwood (Post 2 at large) , Natalyn Archibong ((District 5) and Alex Wan (District 6).
Voting in favor of the for the ordinance Carla Smith (District 1), Kwanza Hall (District 2), Ivory Lee Young (District 3), Cleta Winslow (District 4, Howard Shook (District 7), C.T. Martin (District 10), Keisha Bottoms (District 11, Joyce Sheperd ( District 12), and Michael Julian Bond (Post 1 at large), and Andre Dickens (Post 3 at large).
Councilwoman Yolanda Adrean (District 8) was excused from the vote.
There was no public notification to the neighborhoods–aside from publication of the meetings agendas–about this authorization to sell the streets of Atlanta to a private company.
"They waived in the legislation the requirements for public notification…from a transparency point that is disturbing," Matt Garbett, Co-Founder of ThreadATL, told Atlanta Progressive News.
Councilman Hall defended the legislation on his Facebook page.
"I am all for public engagement… That being said, real estate deals are not for a board of 15 city council people to negotiate.  As is our normal practice, last year the Atlanta City Council gave the Downtown Development Authority the authorization to sell Underground Atlanta," Hall wrote.
Hall wrote that because the Underground Atlanta Urban Redevelopment Plan is not being amended, that separate public notice and hearing requirements in state law, O.C.G.A. 36-61-7, are not applicable.
Well, that should make everyone feel better.
"That said, I wish that NPU-M had been notified. The abandonment of Alabama and Pryor feels like it was sprung on folks, and I understand that," Councilman Hall wrote.
"I could not support the street abandonment because the legislation authorized waiving the NPU process," Councilwoman Archibong told APN.
"I strongly believe in the value and benefit of having community input.  The proposed legislation completely bypassed the community and the NPU," Archibong said.
"Now there will be an area in downtown that the public has no right to walk through…  It's a massive abandonment of public rights," Garbett said.
If the Atlanta Underground redevelopment deal ultimately goes through, the streets and sidewalks in a two block radius–including parts of lower and upper Alabama Street, upper and lower Pryor Street and Plaza Way–will belong to and be controlled by a private company, WRS Real Estate Investments, Inc.
This project may be modeled after Atlantic Station, where if one doesn't look like they belong, they will be put out.
"You don't become a great city by saying some people are not welcome here.  Diversity and the ability for that diversity to have access to the public space is necessary –  being panhandled is not the point, it is… being a human city," Garbett said.
WRS Real Estate Investments, a South Carolina developer, plans to buy the property from the City for 25 million dollars.
The property sits at the center of the chessboard of gentrification in Atlanta, just north of Turner Field redevelopment, new football stadium redevelopment, and unmitigated upscale commercial and residential development throughout historically low-income neighborhoods.
On WRS website they state: "Plans for the urban redevelopment envision a live-work-shop community with retail, hospitality, entertainment and residential space encompassing over six city blocks and 12 acres."
No mention of affordable housing.
With land acquisition costs being one of the most expensive barriers to the construction of new affordable housing–especially in areas close to transportation, services, and amenities–it would seem like, when the City of Atlanta already owns land or has an interest in it, that Atlanta policymakers would consider an affordable housing use first.
But no – that was not the vision for City Hall East (excuse me, "Ponce City Market"), Civic Center, or Turner Field – and that does not seem to be the vision for the new Atlanta Underground – where your ability to live affordably will likely be out of the question – and the freedom to walk through downtown, directly from MARTA to City Hall, the Capitol, the court houses – will be in question.
(END/2016)
CORRECTION: A previous version of this article stated in error that the developer plans to buy the property for 350 million dollars; however, that is the value to the developer of the planned new development.