APN Celebrates 11 Years of Publication; Editor Returning to Atlanta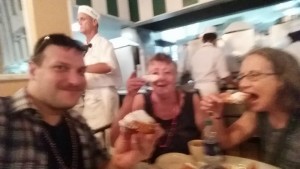 (APN) ATLANTA — Upon the eleven year anniversary of Atlanta Progressive News, Matthew Charles Cardinale released the following statement:
####
Eleven years ago, on November 23, 2005, I launched the Atlanta Progressive News – a progressive news organization in Atlanta, from a FEMA-funded hotel room on Executive Park Drive, in what is now Brookhaven, Georgia.
I had just relocated from New Orleans, Louisiana, as a result of Hurricanes Katrina and Rita.  Our e-newsletter began with a corporate filing, a domain name and hosting package, and an email list of ten people.
The mission of Atlanta Progressive News has been to cover the news that brings us closer to living wages, affordable housing, universal health care, peace, a clean environment, elections we can trust – you know, those "radical" things that we actually perceive as conservative and reasonable.
Support our work with a donation today!
http://atlantaprogressivenews.com/donate/
When we began, we were harnessing the newfound power of Internet-based news.  At that time, MySpace was a thing, podcasts were revolutionary, and Internet news was something people were not quite ready to understand.
It's difficult to truly behold how far we've come – so that most people are consuming their print news on cell phones, through Facebook renderings of online news sites; that millions of dollars have been poured into new online giants…
I never thought we would get to a point of having so many online competitors, and yet still be more important than ever!
And it's true: As people are drowning in information, we are a critical glacier in the vast ocean of corporate news, "fake" news, and Facebook Live videos.  
With over 2,700 original news articles and blog posts to date, Atlanta Progressive News remains a trusted source of independence, transparency, consistency, history, and editorial accountability.
You know, we're not just off covering the latest new hashtag and keywords.  We're interested in empowering our readers with meaningful information that requires original research.
We're covering government meetings – we're producing and updating Scorecards that track our legislators' votes at the State, County, and City levels.
We are gearing up for an enormous City of Atlanta Municipal Election cycle in 2017.  As usual, we will bring you in-depth candidate interviews based on the substantive issues that matter – we won't be swayed by every press releases or purported scandal.
In addition, we are gearing up to provide extraordinary coverage of public policy issues, especially around affordable housing.  And, with that, I have a personal announcement…
APN EDITOR RETURNING TO ATLANTA AFTER NEAR-COMPLETION OF LAW COURSEWORK
Sensing extraordinary opportunities to make significant new contributions to enacting affordable housing policy in Atlanta over the next year's municipal election cycle, I've decided the "next right move" is to return my home and office to the Atlanta area.
As many of you know, after living in Atlanta from 2005 to 2013, I received a full tuition scholarship to attend Gonzaga University School of Law beginning in the Fall of 2013.
I have been managing Atlanta Progressive News from the West Coast for the last nearly 3.5 years, while attending law school!  But after 2.5 years in Spokane, Washington, and another year in Portland, Oregon, I'm ready to come home.
Fortunately, I am 92.22 percent done with law school, and have only a few credits to finish, which I can finish in the Atlanta area.
On a personal note, I have missed y'all!  They are dry as toast on the West Coast, and I can't do it anymore.
In 2014, as a law school project, I drafted an affordable housing ordinance, Affordable Housing Impact Statements, that was unanimously adopted by the City Council of Atlanta thanks to the leadership of Andre Dickens, and the model we created is now pending in several other cities!
Now, with all eyes on gentrification, skyrocketing housing prices, and City of Atlanta housing policy, especially around the Atlanta Beltline, I believe there is an exceptional opportunity to push substantive housing policies.
Atlanta has received national recognition for the Impact Statement ordinance; now it's time to use the Impact Statements to inform our next steps.
Part of APN's fundraising goal for the rest of the year is to raise enough money to support relocation expenses for the APN Office to Atlanta.
We are looking to raise $6,000 in 2016, and so far have raised $3,008.11 from 44 readers.  Only $2,991.89 left to go!
http://atlantaprogressivenews.com/donate/
(END/2016)