Why Jill Stein is Not on the Ballot in Georgia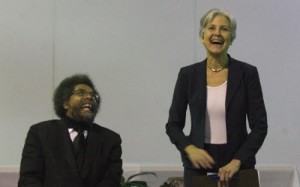 With additional reporting by Matthew Charles Cardinale
(APN) ATLANTA — Green Party nominee for President of the U.S. Jill Stein may be polling nationally at four percent, but she is not on the ballot in Georgia even after a federal district court set a new threshold for petition signatures for statewide minor party nominees.
http://atlantaprogressivenews.com/2016/03/18/breaking-georgia-ballot-access-law-stricken-for-presidential-candidates/
http://atlantaprogressivenews.com/2016/04/25/georgia-green-constitution-parties-push-forward-on-petitions-for-ballot-access-despite-state-appeal/
The Green Party of Georgia–which sought to take advantage of the ruling–collected approximately 13,000 signatures; only submitted about 10,000; and fewer than six thousand were validated by the Georgia Secretary of State's Office, Atlanta Progressive News has learned.
As previously reported by APN, had the Green Party gained ballot access in Georgia for Jill Stein in the November 2016 General Election; and had Stein received at least one percent of the vote statewide, then the Green Party would have obtained a similar status in Georgia to that of the Libertarian Party of Georgia – meaning it would have become able to run its candidates statewide without petitioning.
The Party made a highly optimistic announcement about its submission of signatures earlier this year.
http://atlantaprogressivenews.com/2016/07/21/green-party-submits-signatures-to-appear-on-georgia-u-s-presidential-ballot/
However, unfortunately for the cause of ballot access and voter choice, the Georgia Green Party was unsuccessful at qualifying Stein for this year's General Election.
The new threshold of 7,500 remains in place unless the Georgia Legislature sets a new standard; however, to be constitutional, the standard will have lower than the previous standard, of one percent of registered voters statewide, which was stricken.
"Slightly under 10,000 signatures were submitted, while as many as 3,000… were not submitted because of a form size reduction, pages not notarized, sheets turned in after the deadline, and one petitioner that filled in all information on their sheets in their own hand aside from signatures," Al Herman, Treasurer for the Georgia Green Party, told Atlanta Progressive News.
"According to our records, county officials determined that 5,925 signatures were valid on Stein's nomination petitions.  I believe the campaign submitted approximately 10,000 signatures," Candice Broce, Press Secretary for the Office of Georgia Secretary of State Brian Kemp, told APN.
When asked why the signatures were rejected, Broce told APN, "The most common reasons are that people who signed were not registered to vote; the signature was not legible; or the signature did not match the signature on file with county officials."
"The county election supervisors have the discretion to reject signatures for many reasons," Herman said.
"There seems to be little accountability for their reasons to reject signatures," Herman said.
It is unclear how many people were beating the streets for signatures during the three and half month long effort to meet the 7,500 signature requirement.
Professional petition gathering organizations across the country, as a general rule, whether for an issue or for a candidate, typically aim to gather at least double the required amount.
The Party declined to pursue a legal challenge, which Herman said would have been "fruitless."
The Green Party nationally is still pushing for Stein to receive five percent of the votes, in order to become a federally recognized party and thus a recipient of federal funds for campaigns.
Meanwhile, Ballot Access News reported that State Sen. Josh McKoon (R-Columbus) plans to introduce legislation in 2017 that would remove petition requirements altogether for minor party and independent candidates in Georgia.
(END/2016)