Settlement Talks in Homeless Task Force Case, as Trial Date Nears
With research by Gloria Tatum.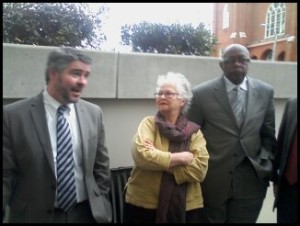 (APN) ATLANTA — With an early October 2016 trial date looming, the Metro Atlanta Task Force for the Homeless appears to be discussing a possible settlement in its lawsuit against the numerous defendants–Central Atlanta Progress (CAP), Atlanta Downtown Improvement District (ADID), Emanuel Fialkow, Emory University, and others–Atlanta Progressive News has learned.
Based on court records obtained by APN and contextual clues, a possible settlement may be within reach, although no details have yet been made public.
The lack of pre-trial motions being filed in the case–while mediation is ongoing and the trial date is looming–suggests that the parties have reason to believe they will not be going to trial.
When reached by phone today, one Board Member for the Task Force did not deny that a possible settlement had been reached, adding that they were not in a position to discuss the matter.
CAP and the other defendants, as previously reported by Atlanta Progressive News, conspired along with the City of Atlanta to sabotage the shelter's operations over a period of several years.
The Task Force has been in litigation for several years regarding its tort claims, as well as its related dispute over who owns title to the building.
In November 2015, the Supreme Court of Georgia upheld a Fulton County Superior Court ruling that found that the Task Force had viable claims for a jury to consider, including its tort claims and claims regarding title of the building.
http://atlantaprogressivenews.com/2015/11/23/task-force-for-the-homeless-wins-favorable-georgia-supreme-court-ruling/
The case had been remitted back to Fulton County Superior Court.
In a February 23, 2016 hearing, Fulton County Superior Court Judge Craig Schwall, set trial for October 04, 2016, according to a transcript filed with the court yesterday, August 15.
Schwall adjourned the hearing, according to the transcript, but then re-opened the hearing after being reminded to bring up a possible new mediator.
"Oh, wait, wait.  Don't leave.  I left out a huge thing I want to talk to you about.  Thank you, Mr. Strickland," Schwall said, referring to Special Master Frank Strickland.
"There's a lawyer that I have a lot of respect for that has approached me wanting to mediate this case, okay, and he tells me that he's got ties to all of you, and his name is Halsey Knapp," Schwall said.
"He says he has ties to parties, lawyers, and the like, and he would like me to give him the opportunity to mediate this case, and he feels like if he could get the City of Atlanta to the table, and Emory University to the table, we might be able to make some headway," Judge Schwall said.
"Is that something you all would consider?  Now, I am not going to make you do it.  But he came up to me at church — I want everybody to know I was in church, all right," Schwall said.
"And he came up to me and asked me, he said I know the lawyers, I know the parties, I know — I think I know Mr. Hartrampf," Schwall said, referring to one of the Task Force's Board Members, Carl Hartrampf.
"And he says, I think I'm the guy that can make some headway if I can get Emory University and the City of Atlanta to the table.  I'm not going to order it.  I just want to throw that out there," Schwall said.
At the hearing, Task Force attorney Steve Hall agreed to pursue the mediation, as long as the trial would remain on schedule.
"As long as we are trucking towards the trial," Hall said.
"No, nothing will stop that trial," Schwall replied.
Overall, the City of Atlanta and other parties have engaged in multiple strategies to close the Task Force in recent years.
In September 2014, the shelter avoided being shut down by the City over 580,000 dollars in water bills — even though the City has allowed other corporate customers to accrue even greater debts.  Anonymous donors materialized with funds to pay the City to keep the Task Force open.
http://atlantaprogressivenews.com/2014/10/06/beaty-angels-are-helping-homeless-task-force/
http://www.wsbtv.com/news/2-investigates/water-meter-issue-allows-buckhead-condo-to-avoid-paying-for-15-years/402686090
In December 2015, Atlanta City Councilman Kwanza Hall (District 2) introduced a resolution to study the feasibility of obtaining the shelter by eminent domain, to use it for a public safety building.
Hall told APN yesterday, August 15, that he was unaware of the status of this study.  APN has made oral and written requests for a copy from Katrina Taylor-Parks in City of Atlanta Mayor Kasim Reed's office, but has not received a response to date.
Weeks ago, in July 2016, Mayor Reed again vowed to close the shelter as one of his final acts as Mayor, recently telling the City Club of Buckhead that he would move forward on his threats of eminent domain against the Task Force, according to the Atlanta Journal-Constitution.
Mayor Reed also stated his plans to seek a Homeless Opportunity Bond, which potentially could raise revenue for new shelters.  Few details have been revealed about this bond.
"We're going to come out with a Homeless Opportunity Bond," Mayor Reed said to the City Club.  "So we're gonna practice the politics of the soft and the hard."
"We're not just gonna be tough and close the shelter… but the people who are there are going to be in better facilities than they've ever been before, they're just not going to be large facilities that hold four hundred people at once.  They're going to be scattered, smaller facilities where we can focus on greater care and treatment of those individuals," Reed said.
"So I think I'm gonna make the moral argument that people are going to be treated better," Reed said of his eminent domain scheme.
However, no Homeless Opportunity Bond has been established to date.
Meanwhile, it is questionable as to whether the Task Force–if it were to move from Peachtree and Pine as part of any agreement–would be able to secure another location to replace the lost shelter beds.
Efforts to open a new shelter in the Atlanta's Pittsburgh neighborhood have met with a response of outcry from some in the community.
"Today, the Andrew P. Stewart Center (APSC) formally announced its opposition to the City of Atlanta's plan to establish a homeless shelter at 836 Metropolitan Parkway (a publicly‐owned property located in Atlanta's Pittsburgh neighborhood)," one organization announced in a press release dated August 15.
"APSC's opposition to the City's plan is motivated by the city's lack of transparency during the process of planning for the proposed shelter," the APSC said.
"Placing a homeless shelter in a blighted neighborhood poses acute challenges" Ashley Hicks, APSC's Program Director, said.  "The City of Atlanta and its development partners must proceed
with caution when proposing a homeless shelter for a neighborhood as vulnerable as Pittsburgh."
Stacy Horn Koch, a consultant to the City and the former interim Executive Director of Atlanta Continuum of Care, said at a July 20 meeting hosted by Councilwoman Joyce Sheperd (District 12), that the proposed shelter in Pittsburgh community would have approximately 75 beds and clients could stay at the shelter for no more than 45 days, according the ASPC.
The Task Force does not place limits based on a number of days a resident can stay there.
Therefore, it is not merely the number of beds that is of concern.  The Task Force has tended to serve the hardest-to-serve, the hardest-to-place homeless individuals with its beds.
Meanwhile, the Open Door Community, a long-standing shelter in Atlanta's Midtown neighborhood on Ponce de Leon, revealed in recent weeks that it will be shutting its doors, removing yet another homeless shelter from Atlanta's list of options.
(END/2016)