Atlanta Pre-Arrest Diversion Initiative Marks Official Launch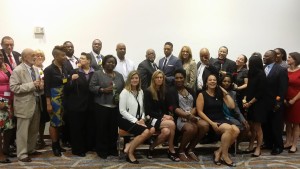 (APN) ATLANTA — Last month, in June 2016, the City of Atlanta and Fulton County officially launched the Pre-Arrest Diversion (PAD) Initiative to divert from the criminal justice system people whose infractions are driven mainly by addiction, mental illness, and poverty.
The launch makes Atlanta/Fulton County the fifth jurisdiction in the U.S. to embrace the PAD program.  The project will be implemented in February 2017 and the initial location has not been decided yet.
Atlanta Progressive News has been following the Initiative from its inception as an idea.  Atlanta advocates have travelled to Seattle, Washington, to learn about its implementation there; as well as to Washington, D.C., where they participated in a White House summit.
http://atlantaprogressivenews.com/2015/06/08/activists-officials-take-fact-finding-trip-to-seattle-for-lead-program/
http://atlantaprogressivenews.com/2015/07/26/atlantans-had-productive-white-house-visit-for-lead-symposium/
http://atlantaprogressivenews.com/2015/12/11/atlanta-council-passes-pre-arrest-diversion-peachtree-pine-acquisition-study/
"We have a culture that criminalizes people who should never be in front of me," Fulton County Superior Court Judge Constance Russell said at the launch.
Judge Russell thinks PAD is a common sense program that will help get people out of the criminal justice system and into social programs where they can receive the help they need.
The PAD Design Team will decide on the parameter of the program, conduct training for the officers, find resources to sustain the initiative, and provide technical assistance to service providers.
The Design Team is made up of 43 individuals representing different agencies and organizations.
A partial list of stakeholders includes several judges, District Attorney Paul Howard, representatives from the Atlanta Police Department (APD), social workers, community organizations, representatives from Morehouse School of Medicine, and the Racial Justice Action Center.
Che Johnson-Long and LeRoy w. Evans are Co-Coordinators of the PAD program.
"If the persistent challenges of addiction and survival-driven sex work could be solved by the criminal justice system, we would have solved them in Atlanta a few thousand arrests ago," Councilman Kwanza Hall (District 2) said in a press release.
PAD will provide quality social services to help individuals break the revolving door cycle of jail–probation–and back to jail, thereby reducing recidivism.  This will reduce the number of people in an expensive and ineffective criminal justice system, improve public safety, and save money.
In other cities where PAD has been implemented, there has been a sixty percent reduction in recidivism.
PAD participants will have access to substance abuse and mental health treatment, housing, job training, and legal assistance.
As previously reported by APN, and according to police records obtained by Marshall Rancifer, Founder, Justice for All Coalition, the APD is arresting thousand of people each year for petty infractions.
http://atlantaprogressivenews.com/2016/06/28/homeless-fill-atlantas-jails-due-to-quality-of-life-policies-over-100000-qol-arrests-in-three-years/
The number of "Quality of Life" arrests for 2015 was 20,912, with 18,316 being arrests of Black people.
Quality of Life arrest includes loitering, trespassing, panhandling, public intoxication, disorderly conduct, urinating in public, jaywalking, and no identification.
A report drafted by trans and queer people in Atlanta regarding interactions with the Atlanta Police Department (APD) exposes even worst statistics and problems.
"We found that over one in twelve trans women of color… [report having been] sexually assaulted by Atlanta police; and over 80 percent had been profiled, stopped or harassed by the APD," Toni-Michelle Williams told APN.
"The police have never been held accountable for those crimes… We are calling for decriminalization of certain ordinances that affect homelessness, mental illness, and trans folks," Williams said.
(END/2016)