Green Party Submits Signatures to Appear on Georgia U.S. Presidential Ballot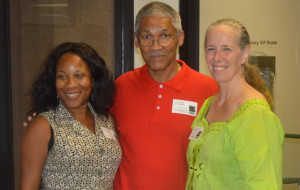 (APN) ATLANTA — On Tuesday, July 12, 2016, the Green Party of Georgia submitted petition signatures to get their Presidential candidate, Jill Stein, on the ballot in Georgia for the November 08, 2016 General Election.
"Tuesday morning, the Georgia Green Party filed with the Elections Division for the Georgia Secretary of State's office a nomination petition consisting of 1,672 pages of signatures from Georgia voters," the Party stated in a July 13 press release.
If Stein does get on the ballot, it will be a historic moment for the Party – and one that could help the Party secure future ballot access for its statewide candidates.
As previously reported by Atlanta Progressive News, Georgia has one of the worst ballot access laws in the nation for independent and minor party candidates.  A recent federal court ruling lowered the threshold for independent and minor party U.S. Presidential candidates to 7,500 signatures.
http://atlantaprogressivenews.com/2016/03/18/breaking-georgia-ballot-access-law-stricken-for-presidential-candidates/
http://atlantaprogressivenews.com/2016/04/25/georgia-green-constitution-parties-push-forward-on-petitions-for-ballot-access-despite-state-appeal/
"State Party leadership are extending their appreciation to dozens of petition circulators from around and beyond Georgia who collected signatures in the hot Georgia Summer sun," the Party's press release stated.
"We began the verification process, and are coordinating with county officials, for signatures submitted by the Georgia Green Party and other political body groups," Candice Broce, press secretary for Secretary of State Brian Kemp's office, told Atlanta Progressive News.
As far as the number of signatures submitted by the Party, "I can't give a total number as of yet.  We are working on completing verification, which should be complete around beginning of August," Broce said.
"I can confirm that the amount of signatures [required] is 7,500, as a result of the recent ruling setting that threshold," Broce said.
APN asked the Party how many signatures it submitted; and, while it could not provide a number, it said it believed the amount was somewhere between ten and twelve thousand.
A cushion over the 7,500 is likely required, in case signatures are thrown out.
Independent and minor party candidates–who are arguably less likely to vote in Georgia when they lack candidates who reflect their values–are at risk of having their voter registration purged in Georgia for lack of voting, a practice that is also currently under litigation.
Thus, it is not a done deal that the Party will appear on the ballot.  But the Party is quite optimistic.
"Our earlier ballot access victory in court made possible this ballot access vistory [sic] in the streets, and makes possible our next ballot access victory at the polls," Hugh Esco, Co-chair of the Georgia Green Party, said in a statement.
The Party noted the potential for the Green Party to use this ballot access victory to perpetuate ballot access for its statewide candidates – something the Libertarian Party of Georgia has done for several years.
A minor political party in Georgia, known as a political body in the Election Code, that receives at least one percent of the vote in any statewide election, may nominate by convention its candidates for statewide office for the next four years.
"The Georgia Election Code provides for a means to retain a ballot line, avoiding the cost of repeated petition drives.
Indeed, this is a monumental feat for the Georgia Greens, who since Ralph Nader's historic run for President in 2000 have suffered from a lack of fair ballot access, internal struggles, and a lack of candidates.
Stein, who has secured the Party's nomination and also was the nominee in 2012, has visited Atlanta several times.
http://atlantaprogressivenews.com/2015/11/29/jill-stein-cornell-west-visit-atlanta-to-promote-green-party-ballot-access-in-georgia/
HOW DID THEY DO IT?
"The last two weeks were busy and action packed.  Dr. Stein traveled to Georgia to prime the pumps for the final push, including a press conference when we filed her list of Electors with the Secretary of State; rallies at UGA and one at the Interdenominational Theological College (an historic Black university); and TV interviews with CNN and Public Access," Al Herman, Georgia Greens Party secretary told APN..
"Many folk responded to her clarion call and worked long days in the sweltering Georgia heat and humidity requesting petition signatures at farmers' markets, public transportation hubs, festivals, and parks," Herman said.
"We received some funding from the GPUS Ballot Access Committee (Green Party of the U.S.), and some petitioners who were offered compensation will be paid by the Stein campaign," Herman said.
"The GGP field strategy was supported by individuals traveling from out of state to lend a hand in the effort, but most signatures were acquired from motivated Georgia volunteers," Herman said.
Bringing back the energy of the Nader 2000 campaign, the Georgia Greens are putting all their energies behind Jill Stein's Presidential race.
"The enthusiasm of support for this campaign is very reminiscent of Nader 2000, with a few key differences.  This time, probably in response to the public's outcry for solutions outside of the two party system, the media has started covering the efforts of third parties, lifting both Greens and Libertarians to unprecedented levels of support," Herman said.
"However, voters that have bought into the 'spoiler myth' are wary of supporting Greens in 2016, fearing a Trump Presidency, despite the indication that Georgia's electoral votes will probably go to the Republicans and Trump, as they have for the last several election cycles, affording Georgia voters in November the freedom to 'vote their hopes, not their fears,'" Herman said.
COLUMBUS COUNTY CASE FILED, DISMISSED
According to Ballot Access News, Columbus County attorney Mike Garner had filed suit in Muscogee County, challenging Georgia's five percent petition requirement for non-statewide candidates.
Garner claimed the amount of signatures he needed (5,226) to run for Clerk of Superior Court as an independent candidate, exceeds the total number of votes received from voters for the same position in the Primary Election.
Richard Winger, publisher of Ballot Access News out of San Francisco, told APN that Garner had dropped his case.
(END/2016)