Homeless Fill Atlanta's Jails due to "Quality of Life" Policies; Over 100,000 QOL Arrests in Three Years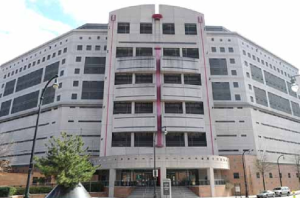 (APN) ATLANTA — There is a tremendous shortage of affordable housing units and shelter beds in the City of Atlanta – but, this shortage would be so much worse if the City of Atlanta weren't locking so many homeless people up in cages.
The City of Atlanta's criminalization homeless people and other marginalized communities continues through the enforcement of so-called "Quality of Life" (QOL) ordinances.
The total number Quality of Life arrests from 2012 to 2015 in Atlanta was 104,069 people, Atlanta Progressive News has learned.
Out of that total, 90,316 were arrests of Black people.
This information comes from Atlanta police records provided to APN by Marshall Rancifer, a long-time homeless advocate who has done contract work with APN.
QOL crimes can be anything from loitering, trespassing, panhandling, drinking in public, public intoxication, disorderly conduct, urinating in public, dumping trash, and occupying placarded properties or unlawful occupancy.
As previously reported by APN, in 2012, the City of Atlanta adopted a new, deplorable anti-panhandling law, placing "time, place, and manner" restrictions on "commercial solicitation," which includes panhandling.
http://atlantaprogressivenews.com/2012/09/28/mayors-panhandling-proposal-allows-180-days-in-jail-even-on-first-offense-update-1/
The numbers show the disparities in arrest between the Black community in Atlanta, and all other racial groups, including Whites, Asian Americans, Native Americans, and Hispanics in Atlanta for QOL violations during that time period.
"Quality of Life arrests target homeless and marginalized people," Rancifer told APN.
"Whose life are they improving?" Rancifer asks.
"It certainly isn't improving the quality of life of poor folks because they are the ones being arrested for QOL violations, which mostly applies to the mentally ill and homeless populations," Rancifer said.
"It's so people don't have to look at homeless folks or deal with them – that's whose lives it's improving," Rancifer said.
Many areas of the QOL laws are vague.  They appear to allow police officers unlimited discretion to determine who is loitering and what is disorderly conduct.
These policies discriminate against certain communities and against people who, due to poverty, homelessness, or mental illness, have no choice but to engage in QOL activities in public.
How can one use a bathroom when one does not have a home and cannot find a public facility to use.
This is not just an Atlanta problem, but a national problem.
"We are solving social problems with incarceration and that is the least inexpensive way to solve social issues.  We can't arrest our way out of homelessness, substance use and abuse, or mental illness," Mona Bennett, Associate Director, Atlanta Harm Reduction Coalition, told APN.
Rancifer has noticed an increase in QOL arrests in Atlanta's English Avenue neighborhood, a/k/a "the Bluff," and part of the Vine City neighborhood.  This is where the new stadium is being built to house the Atlanta Falcons.
"They are targeting people on English Avenue now for stuff as simple as walking in the road when there are no sidewalks," Rancifer said.
"The stadium is coming and the area is being gentrified  and real estate speculators are buying up land and houses.  Renters are being turned out of their houses and people in the English Avenue area are being arrested on QOL violations," Bennett said.
Those arrested usually lose whatever small possession they have.  If they had a minimum wage job or a room to live in, that is gone; and now they have a police record.
Lawmakers living in a privileged bubble pass QOL laws that negatively impact society's most vulnerable members, and make their lives harder.
Without a support system, many of these arrestees go back to the same area and become part of a revolving door of arrests, jail, release, and back to jail again.
"This doesn't have to happen… We need more homeless services, more alcohol and drug treatment services, and more community resources for everyone in the community," Bennett said.
Other U.S. cities have shown that connecting people with social services; and treatment, when necessary, is cheaper than jailing people.
http://atlantaprogressivenews.com/2015/07/26/atlantans-had-productive-white-house-visit-for-lead-symposium/
"It is cheaper to house and help people than to keep  putting them in jail.  But with all the privatization of correctional services, now jails and prisons need product; and the product generally are the homeless people; and the taxpayers pay for a system that does not work but hurts," Bennett explained.
What Atlanta is doing is unconscionable.
(END/2016)