Trump Talks to Supporters inside the Fox; APN Covers Opposition Outside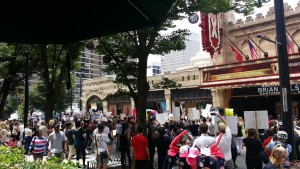 (APN) ATLANTA — On Wednesday, June 15, 2016, inside the Fox Theater in Atlanta's Midtown neighborhood, the presumptive Republican presidential nominee Donald Trump talked to his loyal followers.
Meanwhile, outside on the sidewalk, hundreds of anti-Trump folks gathered to protest his policy platform, which would discriminate against so many minorities in the U.S.
The lines going into the Fox were short and people dwindled in slowly.
The atmosphere outside was non-violent with loud chanting.
After an hour on the sidewalk, the crowd rushed into the street, blocking traffic, and chanting, "Hey Donald go back to the woods, your policies are racist and your party is no good."
The Trump opposition held space in the street for about thirty minutes before the police moved in and slowly, inch by inch, moved them back to the sidewalk.
It was during the process of getting everyone out of the street that the police arrested five people on disorderly conduct charges.  They were brought to the City of Atlanta Pretrial Detention Center.
At the beginning of the rally, two Black men had an argument over Trump –  with one supporting Trump and one opposing Trump; they were not arrested.
"Only a few Black people support Trump, and those are waking up to see how he is dividing the country," Dre Propst, co-founder of Black Lives Matter Atlanta, told Atlanta Progressive News.
Referring to the recent massacre at Pulse, the gay nightclub in Orlando, Florida: "Everyone was there; it was gay, straight, Black, White, Latino and Muslim folks that went to the club to dance, and have a good time – not bothering anyone," Propst said.
"For somebody to shoot up the club and kill people, it hurts so bad.  I'm part of the LGBT community and I could have been there.  I knew someone who was killed there, Shane Tomlinson – he always comes to Atlanta to perform in the club," Propst said.
"They should ban automatic assault weapons because it gets into the wrong hands," Propst said.
Trump exploited the Orlando massacre to further demonize all Muslim people, and to advocate for more guns.
Opinions of the crowd were displayed on signs that ranged from "Love Trumps Hate," "Deport Trump," "Muslims are Not the Enemy," "Build Bridges not Walls," "Forward Together not One Step Back," "Trump No Eminent Domain for Private Gain," and "Trump is a Fascist Thug."
Others had more whimsical signs – "Trump Hates Grits" and "Can We Trust Your Judgement With That Hair?"
APN asked a few participants about their thoughts on Trump as a Presidential nominee.
"I'm here to protest Trump because he is a danger to this county.  I take it personally; he is a danger to my family, to my friends, and my way of life," Hannah Hawkins, a Japanese American, told APN.
Hawkins is aware of the internment camps that housed over 100,000 Japanese Americans during World War II, and fears the same thing will happen again if Trump becomes President.
"He is scapegoating minorities… Mexicans, Muslims, and anyone who is not White.  If you don't feel threatened now, it's just a matter of time.  I don't want this country becoming some kind of fascist, apartheid hellhole, so I'm going to do everything I can to keep him from getting power," Hawkins said.
"Trump has rallied a lot of folks who have very bigoted and narrow-minded views about minority groups across America; including Muslims, Latinos, and LGBTQ folks," Nusaiba Mubarak told APN.
"It's scary the amount of people who are willing to follow such a person who promotes such hatred and incites such violence," Mubarak said.
Critics wonder how Trump can win when he has alienated the majority of women, Blacks, Latinos, Muslims, and the now the LGBTQ community.  They question – are there really that many bigoted people in U.S. to elect Trump President of the United States?
A group from Iowa were at a convention in Atlanta and came out to protest Trump's position on eminent domain.
"Trump supports eminent domain, he does not see it as a problem.  Landowners in Iowa have lost their land to eminent domain for the Bakken Pipeline," Ed Fallon from Iowa told APN.
Here is a link to Trump's speech inside the Fox Theater
https://www.youtube.com/watch?v=dAQwoh9RxQ8
(END/2016)