Former DeKalb Officer Pleads Not Guilty in Death of Anthony Hill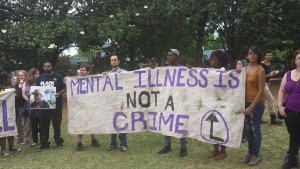 (APN) DECATUR — At an arraignment hearing, former DeKalb County Police Officer Robert Olsen pled not guilty to all charges in the shooting death of Anthony Hill.
Reading of the formal charges was waived, and the entire proceeding took less than five minutes.
Olsen was indicted on January 21, 2016 on six counts for the murder of Anthony Hill.  Those charges include two counts of felony murder, one count of aggravated assault, one count of making a false statement, and two counts of violation of oath by a public officer.
http://atlantaprogressivenews.com/2016/01/22/officer-robert-olsen-indicted-arrested-for-murder-of-anthony-hill/
"We need mental health response units in DeKalb County, so this does not happen to another person," Bridget Anderson, Hill's girlfriend, said to a group of supporters gathered outside the Decatur courthouse.
On March 09, 2015, Olsen shot and killed 27 year old Hill who was wandering naked and unarmed on the grounds of his apartment complex.
Hill, a veteran of the U.S. Invasion of Iraq, was suffering from Post Traumatic Stress Disorder (PTSD) and bipolar disorder; and was in the grips of a mental health crisis when Officer Olsen shot him in the street and he died.
http://atlantaprogressivenews.com/2015/03/14/rally-hold-for-dekalb-police-killing-of-anthony-hill/
"It was upsetting to hear him [Olsen], plea not guilty to all charges but not surprising," Devyn Stringer of Rise Up Georgia, told Atlanta Progressive News.
"It's the first step to justice, and we have a long way to go," Carolyn Giummo, Hill's mother, said.
Giummo thinks police officers definately need to have special training on how to deal with people who are mentally ill.
In San Antonio, Texas, Hill would have received help not shot and killed.  The San Antonio Police have a Crisis Intervention Training (CIT) program that trains police officers how to help people experiencing mental health problems.
http://atlantaprogressivenews.com/2015/03/23/feature-in-san-antonio-anthony-hill-wouldve-been-helped-not-shot/
"The next legal step will probably be to set a trial date.  One thing we see repeated in these cases is they drag it out until the public loses interest and there's not as much public counter-protest.  We are going to continue to put pressure on them; and we want justice now, not three years from now," Stringer said.
DeKalb County District Attorney, Robert James, was leading the prosecution team, but lost to Sherry Boston in the March 2016 election.
Hill's family and friends are hopeful Boston will aggressively prosecute Olsen.  Boston positions herself as a reformer.
(END/2016)