HB 722, In-State Cultivation, Gutted, but Peake Fights Back with Referendum Proposal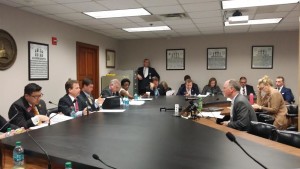 (APN) ATLANTA — On Monday, February 22, 2016, the House Judiciary Non-Civil Committee eliminated  in-state cultivation of medical cannabis from HB 722.
The revised HB 722 still adds several medical conditions to Georgia's existing medical cannabis immunity laws; and adds one cannabinoid, Tetrahydrocannabinol Acid (THCA).
HB 722 has been gutted from 24 pages down to only seven.
"I feel like the Walking Dead.  I must look like I have been disemboweled," Rep. Allen Peake (R-Macon) told the committee.
Cannabinoid THCA was added because Georgia still has medical refugees in Colorado using THCA, which works best for their medical conditions.
The additional medical conditions that will be eligible for the medical cannabis registry are Tourette's Syndrome; Epidermoysis Bullosa, a rare skin disorder; Autism Spectrum Disorder; HIV and AIDS; Peripheral Neuropathy; and Terminal Illness with a life expectancy of less than two years.
Intractable Pain and Post Traumatic Stress Disorder were eliminated because some representatives were concerned it was too broad and would lead to recreational use.
As Atlanta Progressive News reported earlier, State Rep. Ed Setzler (R-Acworth)  seems to believe that chronic pain sufferers are using medical cannabis for recreational reasons, not to relieve their pain.
http://atlantaprogressivenews.com/2016/02/03/rep-peakes-hb-722-in-state-cultivation-gets-a-committee-hearing/
"The issue of cultivation of medical cannabis in Georgia is not going to go away.  Our citizens have spoken clearly that they want us to find a safe, regulated solution for medical cannabis in Georgia.  Until we find a solution for access in Georgia , we haven't solved the problem for our citizens," Rep. Peake told the committee.
Committee Chair, State Rep. Rich Golick (R-Smyrna) thinks the watered down version of the bill will pass the Committee and the House.
The bill was amended to add a new code section that allows manufacturer of low THC oil to ship it to a person registered with the Department of Public Health under Code Section 31-2A-18.
This bill does not preclude the idea that a state-controlled program operated within the agricultural department may give members more comfort and security from a public safety, enforcement, and oversight standpoint, one member suggested.
Some representatives continue to ask how much THC does it takes for a hallucinogenic effect.   Cannabis (marijuana) may be psychoactive, but it is not a hallucinogenic; it never has been and never will be.  It does not cause hallucinations.
Opposition to in-state cultivation came from the Georgia Sheriff's Association, Georgia Prosecutors, Georgia Baptist Convention Board, Faith and Freedom Coalition, Families in Action, and, as always, from Gov. Nathan Deal and his Republican leadership.
Proponents agree that physicians should decide the THC dosage; not law enforcement or conservative Christians.
On Wednesday, February 24, 2016, the final bill passed the House Judiciary Non-Civil Committee unanimously and is headed for a House vote.
A few additional changes were made.  Low THC was capped at five percent and Post Traumatic Stress Disorder was added back in the bill.
Rep. Setzler did not support PTSD inclusion in the bill, but eventually voted for the bill.  He said it is below the dignity of our veterans to suggest they need medical cannabis.
"I do not understand how using medical cannabis will solve their psychological problems," Rep. Setzler said.
"This seem to me like a reward because you have done some hard things for the county… so we are going to reward you by putting something in this bill that you want," Rep. Setzler said to the committee.
Rep. Setzler also suggested that people would go physican shopping to find PTSD-friendly doctors, so they could get put on the path of five percent THC oil for their condition.
"It's insulting to me that you can't make the distinction between medical use and recreation use of cannabis," one family member told him.
Proponents of HB 722 wonder why would a person go through all the red tape and trouble to get five percent THC oil, when they can get 20 to 50 percent THC almost anywhere in Georgia.
Outside the committee room, patients are frustrated with state and federal laws that block legal access to medical cannabis.
Over one hundred desperate parents plan to break federal and state law to get the medicine their children need.
"We refuse to allow another worthless bill to be passed that doesn't help everybody.  When will Gov. Deal stand up and defend the families of Georgia against federal agents, when we make it public what we're doing?" Dale Jackson, a parent, said in a television news interview.
HB 1077, a non-binding statewide referendum
Rep. Peake already has a plan B in the wake of the gutting of HB 722.
Rep. Peake and others have filed, HB 1077, to provide for a nonbinding statewide referendum on the question of whether the State of Georgia should establish a strict regulatory structure that would allow for the limited licensure for growing, processing, and dispensing medical cannabis oil in Georgia for citizens with certain severe illnesses that are registered with the State.
http://www.legis.ga.gov/Legislation/en-US/display/20152016/HB/1077
HB 1077 will go through the same process as any bill.  Rep. Peake is also exploring putting a referendum on the Democratic and Republican primary ballot, which will not need approval by the General Assembly.
Polls have consistently shown the vast majority of Georgians support medical cannabis and a controlled in-state cultivation program.
Law enforcement and Gov. Deal continue to go against the will of Georgia citizens and against scientific research on cannabis that proves it has medical value.
(END/2016)