APN Capitol Journal: 2016, Week Six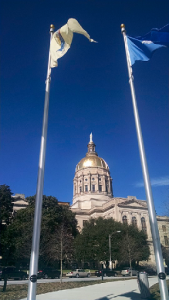 (APN) ATLANTA — This installment of Capitol Journal covers Week Six of the 2016 year of the 2015-2016 Legislative Session of the Georgia General Assembly.
Legislative Session Day 21 (Tuesday, Feb. 16, 2016)
The biggest news of the day is the new religious freedom "Franken-Bill" – which combines HB 757 (the relatively innocuous Pastor Protection Act) with SB 284 (First Amendment Defense Act).
The Pastor Protection Act was merely a resolution stating the sense of the Legislature that pastors do not have to perform same-sex marriages if they do not wish to; however, it is merely a restatement of federal First Amendment law and does not actually change the law in any way.
Not surprisingly, the substitute was offered in committee without anyone having chance to review it before offering testimony.
And a move to table bill, so legislators could have a day to review it, was killed.  It passed out of committee by voice vote.
SR 675, making English the official language of Georgia, also had a brief hearing and passed out of committee.  Sponsor, Sen. Josh McKoon (R-Columbus) had uber racist/xenophobic D.A. King come testify in support.
Park Cannon, who was endorsed by APN, won the Run-off race in the Special Election for House District 58.
HB 768, "ABLE," paving the way for the creation of special savings accounts for those living with disabilities, was scheduled to go before House Ways & Means Income Tax Subcommittee.  It passed out of subcommittee and will be before the full committee today.
Campus Carry moves forward, after being added to agenda last minute.
Legislative Session Day 22 (Wednesday, Feb. 17, 2016)
HB 555, which increases reporting requirements, in particular for minors using judicial bypass to receive abortion care without parental notification, passed out of the House, 119 to 51.
HB 762, banning the sale of aborted fetal tissue, passed out of the House, 166 to 2.
The religious freedom press conference circuit continues, with clergy against FADA (the First Amendment Defense Act speaking out on the Capitol steps.
ABLE (discussed above) passed out of committee.
SB 282, Georgia Firearm Industry Nondiscrimination Act, passed out of the Senate 39 to 16.  If adopted, this law would provide that banks cannot refuse to do business with entities engaged in "lawful commerce of firearms."
Introduced today, HB 1036 would "enact a temporary moratorium on the use of eminent domain for construction of petroleum pipelines."
Also, State Sen. Fran Millar (R-Dunwoody) has introduced a bill to eliminate the DeKalb CEO position.
Legislative Session Day 23 (Thursday, Feb. 18, 2016)
SB 302, The Provider Directory Improvement Act, passed out of the Senate Insurance and Labor Committee.
SB 330, a bill to make additional tax revenue available to MARTA, had a follow up hearing and passed out of committee.
http://atlantaprogressivenews.com/2016/02/21/marta-rail-expansion-half-penny-passes-senate-committee/
SB 309, a minor religious freedom bill for student athletes, passed out of the Senate with a vote of 39 to 16.
HB 713, on terminating parental rights for children conceived by rape, passed out of a House Juvenile Justice subcommittee.
Georgia Legislature has now approved the amended fiscal year 2016 budget, which included the transportation funds from HB 170.
SR 717, prohibiting legislators from being appointed to other positions within two years of serving, failed to get a quorum for its hearing.
Legislative Session Day 24 (Friday, Feb. 19, 2016)
HB 757, the hybrid religious freedom bill described above, passed the Senate 38 to 14, with the vote going along party lines.
Three hours of debate touched on the poor vetting process the bill received in committee earlier this week.
Also the Budget passed out of the House… onto the Senate now.  State Rep. David Stover (R – Newnan) was the only person to vote against it.
(END/2016)